Where to buy long shorts for girls
Disclosure: Highlights Along the Way is a participant in the Amazon Services LLC Associates Program, an affiliate advertising program designed to provide a means for sites to earn advertising fees by advertising and linking to amazon.com.
My daughters are older now, but we still have lots of of visitors who want to find out where we get longer shorts for girls. Our girls preferred longer shorts than what was in most stores, and I was annoyed that girl's shorts were always made shorter than boys. If you are looking for a place to find longer shorts for girls, we have several here you can purchase online.

Spring, Summer, and Fall often call for shorts and a tshirt. If you are looking for comfortable and cute shorts that also fit a school dress code, we have several options below. Shorts can still be adorable but also comfy!
We are not prudes, but we found it to simply be a little too 'sexy' for children. In addition to that, short shorts were not comfortable; our girls often wanted to get 'boy' shorts instead, especially for sports. While I am against sexist dress codes that say girls cannot wear short shorts while most of the shorts being sold are overly short; we really just wanted to find something that worked for our family. We like to reward businesses that make shorts for girls that are a comparable length to those for boys, especially for the littlest of kids. These are some of our favorite long shorts for girls below. I hope it is a helpful list.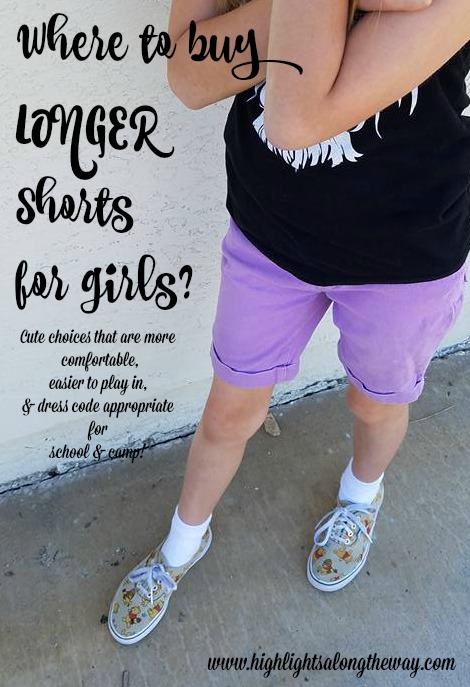 Long Girl's Shorts
A few years back I remember reading about a mom who could not find long shorts for her daughter. As a mother of two young girls, I have also found longer shorts few and far between. Short shorts are all over the place, but longer shorts are simply not as widely available. Shorter shorts simply not as comfortable. While we do not wear uniforms at our school, the dress code does not permit short shorts. In California we wear shorts year round, so I am always on the lookout for shorts with a longer length for my girls.
When shopping for spring and summer clothing in stores there might be one or two pairs of long shorts, if any at all. While we do really love to try on clothing in stores, the internet just gives us more choices. I have noticed some of our favorite brands may carry only short shorts in stores, but have longer options online.
Below I am sharing a few pairs of stylish shorts for your little girl. My fashionista daughter says they are stylish and on trend, just longer than most. We have purchased a few of these shorts in various colors for both of our girls. We just wanted to pass the sites with longer shorts for girls along for those who might be interested. Because we are shopping online, I only included shorts with a free shipping option! All of these shorts are from Amazon where Amazon Prime members enjoy FREE shipping! No sense in running around to a ton of stores that may not have long shorts, these will be delivered to your door at no extra charge!
Longer shorts not only make me more comfortable, my daughter says they are easier to play in. A child's first priority is playing, and longer shorts make it a little easier to do that for my daughter. Short shorts make her uncomfortable when she is climbing on a play structure. She also says that when she wears shorter shorts she has burned her legs on a hot play structure. When her shorts come nearly to her knees she doesn't have to worry about burning the back of her legs or feeling like she is revealing too much. I want my kiddo to play to her heart's content. I don't want her to sit out because her clothing makes it harder to do that. For that reason and so many more, we are loving these long shorts options!
Take a look with your little girl and see if any work for you too! I am hoping this is helpful for families that are shopping right now, but I know styles change quickly. If this post is popular I will go through and switch out the links for current direct links. If by chance the shorts are not available, these sites are known for having longer shorts so simply search for similar items once you are there and you will likely find the most current availability! Happy shopping…. and playing!
These first shorts below are a current family favorite and they went straight in our shopping bag. Classic Levis last forever and I plan on passing them down from my oldest daughter to my littlest. There are a couple more choices below too! If this post becomes popular, I will be sure to check with our other affiliates for shorts with excellent rates to share in a longer list. For now, here are a few of our favorites to make your Spring and Summer shopping a snap!
My daughter is living in these right now. High waist and stretchy. They have an almost 5 star rating on Amazon and I agree!
This acid wash jean short with floral trim is on my daughter's wish list. It kinda reminds me of the 1990s!
Want an on trend spring color? The Children's Place has you covered!
These are so cute! They aren't quite as long as the others, but the cute lace trim makes it just perfect in our opinions.
Raise your hand if you hate that you have to take your daughter to the boy's section to find shorts she can play soccer in? We went to Target the other day and the girl's sports clothes were all short shorts – what the heck is that all about! Our kids want to be active and tiny shorts are just not going to work for soccer. We love these long girl's soccer shorts that come in a variety of colors! We love the pink and purple for our girly girl, but I also love that we can get just about any team color!
Looking for ultimate comfort in long shorts? These have an elastic waistband and stretchy fabric. Ahhhh!
For those that don't want length quite to the knee, but still want more coverage than most shorts, there are a few with just a slightly longer length that I love! Look at these sweet shorts for little girls?! I love all the colors, the yellow is my favorite, but check out the others!
I hope this list is helpful for moms like me that just want to find longer shorts for their girls. My son is able to play comfortably in long shorts that are easy to find. Girl's shorts in similar lengths were always a challenge for me in stores. I am not at all suggesting that girls 'need' to wear longer shorts, but many like mine prefer it.