Winnie the Pooh Party : Pretty Cute If I do Say So Myself!

This past weekend we celebrated our Little Miss C turning Three with a Winnie The Pooh Themed Birthday Party!  If you are planning a Winnie the Pooh themed birthday party there are TONS of ideas out there – here are a few we used.  Not all are super original, some we are quite proud to have thought up all on our own.
As I have stated before, our parties are never super fancy and if I am being honest, we are pretty cheap.  We try to have age appropriate food, some really yummy treats, and one form of entertainment – in this case a bounce house.  We rarely have games – it's too much work and the kids just want to run around being crazy anyway so we just let them do that.  Moms and Dads get to hang out and talk while their kids wear themselves out with lots of bouncy fun – everybody wins!
We don't go overboard with themes, but I have found that adding in just a few touches and kinda looking for the 'themed spin' to what you were going to do anyone is lots of fun!
*Tigger's Bounce House!*
If you can get a bounce house this is so much fun and perfect for a Winnie the Pooh theme because Tigger is so very bouncy!  Bounce houses used to be so expensive but they are quite a bit less expensive now.  We found one that cleaned with green cleaners and dropped off for TWO days for less than $100 – not too shabby!
Winnie the Pooh came for pictures!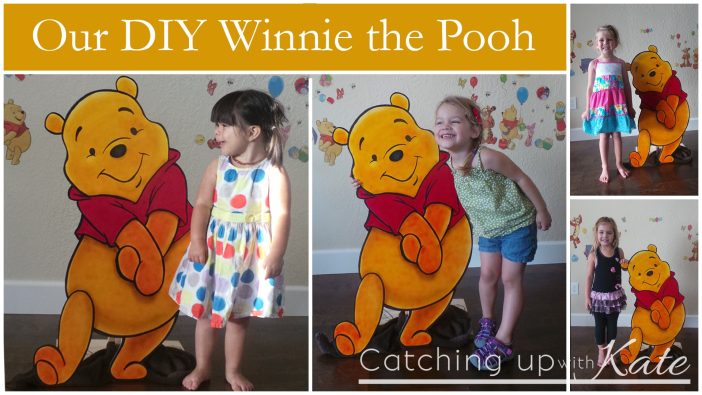 Daddy made a cardboard cut out – this was a little more complicated than our Olaf cardboard cutout because we did not have a printable.  Daddy hand drew it Winnie the Pooh and then air brushed him.  Obviously this isn't a craft for everyone, but considering his random set of skills it was obvious.  We are saving it for our niece's party and then donating to a children's hospital.  It took a little bit of time, but it only really cost a couple dollars to make!  We don't really do a lot of goody bag stuff but we think it is fun to pop a picture of our friends in their thank you card – it's better than a bag full plastic junk right?  We think so!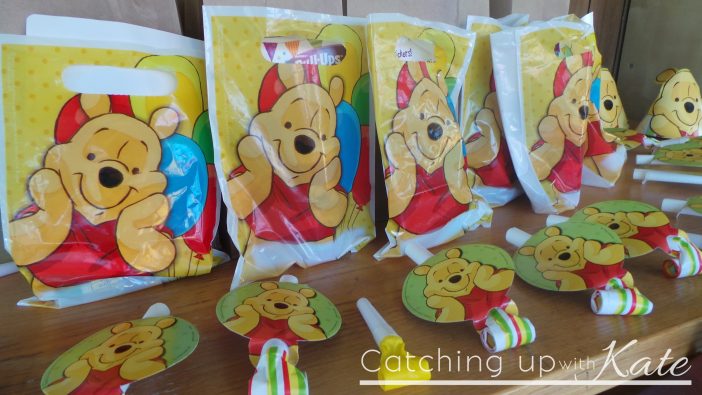 We found some awesome Winnie the Pooh themed party supplies on BirthdayExpress.com .  We found TONS of stuff and ultimately went with the complete Party in a Box – this is like an easy button – just about everything you will need from plates and napkins to balloons and goody bags – all in one click.  Party blowers for our friends while at the party (sorry neighbors), and in the bags we put dollar store bubbles and a sheet of stickers that Pull Ups sent us.  We spare no expense my friends.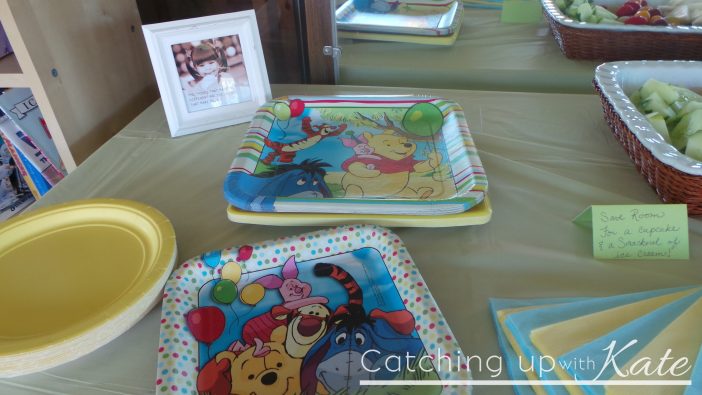 You can see in the top corner of the picture we also used old frames and put photos of the birthday girl this last year with Winnie the Pooh quotes.  It was a cute little touch.  The phrases we used….
"The Things That Make Me Different Are The Things That Make Me!"
"When I saw You I Knew A Great Adventure Was About To Happen"
"Promise me you'll always remember: You're braver than you believe, and stronger than you seem, and smarter than you think."
and
"Sometimes the Smallest Things Take Up The Most Room In Your Heart."
Oh A.A. Milne with your adorable quotes that make me tear up!
Themed Winnie the Pooh Food
Use the word "Hunny" as often as possible and voila – it is a themed item!
We typically have our parties in the middle of the day but like to have finger sandwiches for little guests.  At this party we had two kinds….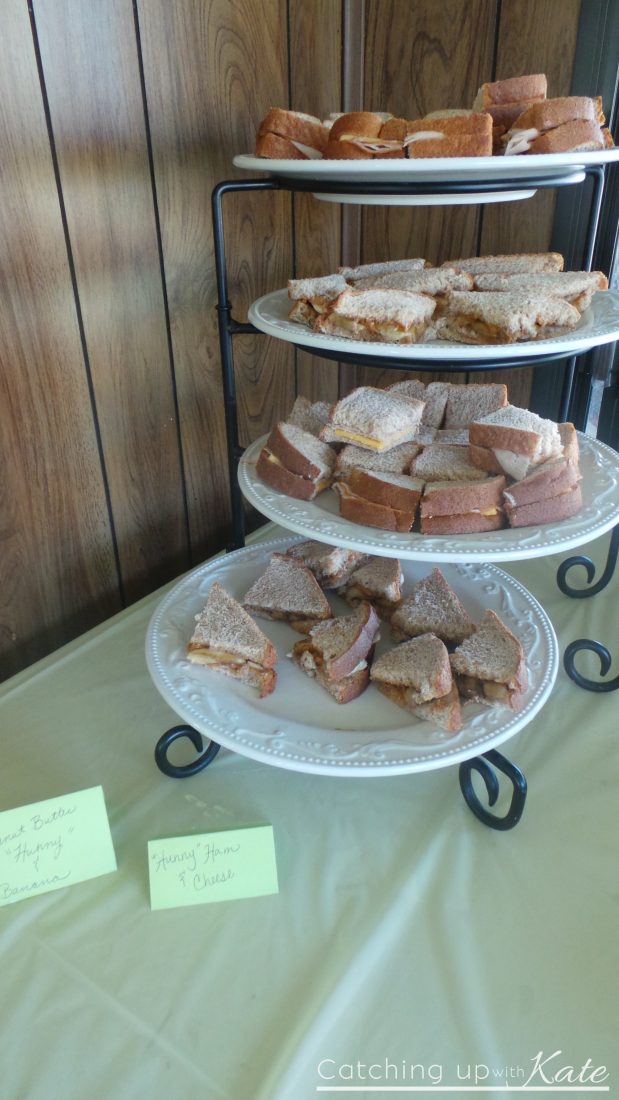 "Hunny Ham & Cheese" – just wheat bread, honey ham, and Tillamook cheddar – nothing fancy, but we used the word "hunny" so we are clever.
"Peanut Butter, Banana, and "Hunny"" – we did it again but with peanut butter, banana, and honey this time.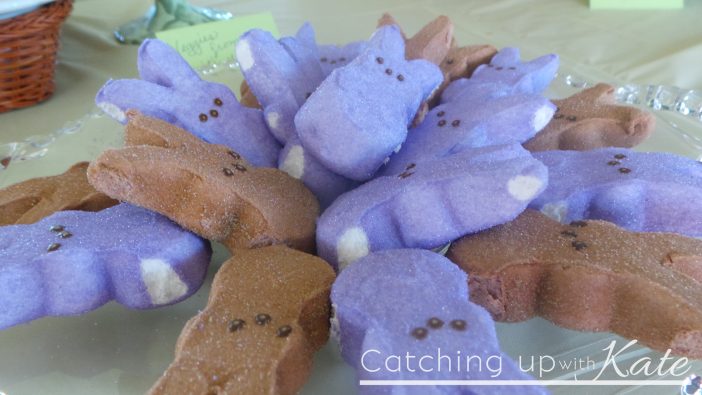 We also had some Bunny Peeps (Peeps sent us a big old box of Peeps at Easter time for our What to do with Peeps article and believe it or not, those things will keep forever) – if you are having a Winnie The Pooh Party literally any time of the year, grab a couple packages of Bunny Peeps on after Easter Clearance and save them, I can all but guarantee they won't spoil while you wait.  We decided they were Pooh's friend "Rabbit".  It's a bit of a stretch I know…. but there wasn't even one left over so I am gonna call that a win too.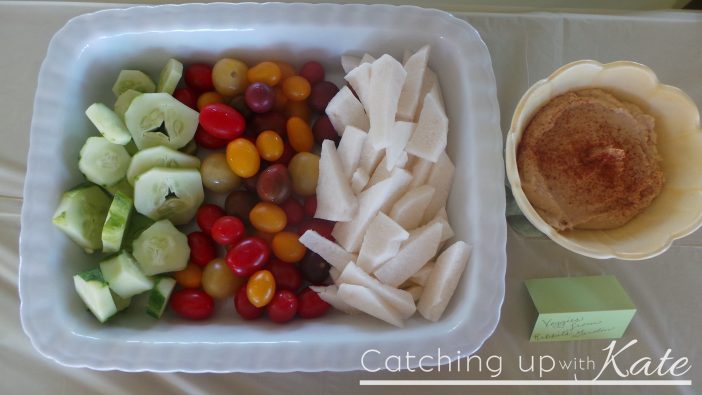 Speaking of Rabbit  – we also had a vegetable tray that we labeled "Veggies from Rabbit's Garden" and people thought it was quite clever.  The cucumbers were actually from our garden and we were super proud of ourselves!
I just couldn't handle this cuteness – one kiddo picked a tomato right off the vine for her brother who eats them like an apple just like me.  Kid after my own heart!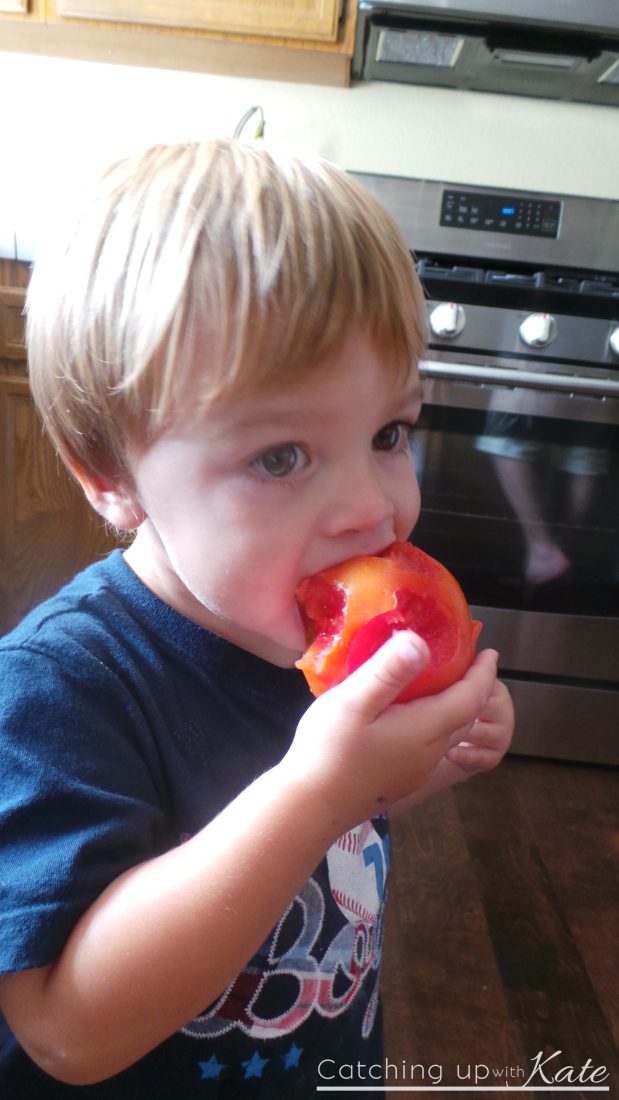 Put the word "Smackerel" in front of whatever you are serving for dessert and all of a sudden you are themed.  We wrote "Save some room for a smackerel of ice cream" – I'm not gonna win any creativity awards, but I thought it was cute.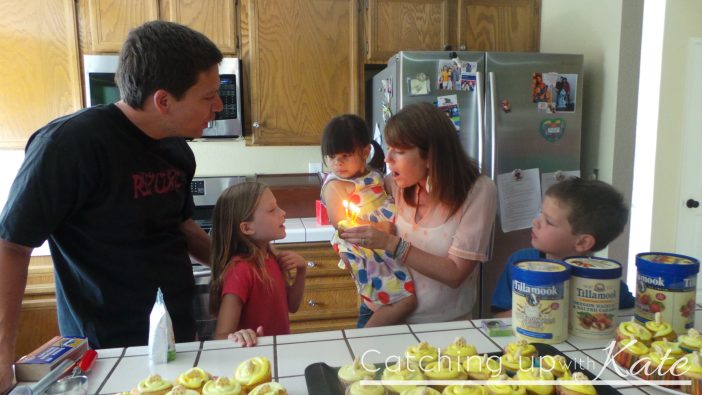 And our cupcakes were pretty darn cute if I do say so myself.  When we make our own cupcakes we tend to do the same thing over and over.  Whatever clearance cupcake mix I can find at Target (bonus points for coupons and cartwheel),  frosting in the appropriate color (start with pure white frosting and dye it), and a picture of the theme on a toothpick – tada!  Happy Birthday! (Check out our Frozen Cupcakes <—- here)
This year I saw several blog post pins with a 'honeycomb' on top of a cupcake and I thought, well that sure is cute!  This is not my idea, and I wish I could credit the first person with that simple, creative, and super cheap idea- but I have no idea.  Whoever you are – that is genius!
So I had some yellow natural food coloring that was in my swag bag at the Natural Food Expo and that was awesome because Pooh Bear is yellowish and so are beehives (sort of).  Point is, I had free and non-chemically food coloring and that was not going to go to waste.  I squeeze whatever kinda theme I can out of what I've got.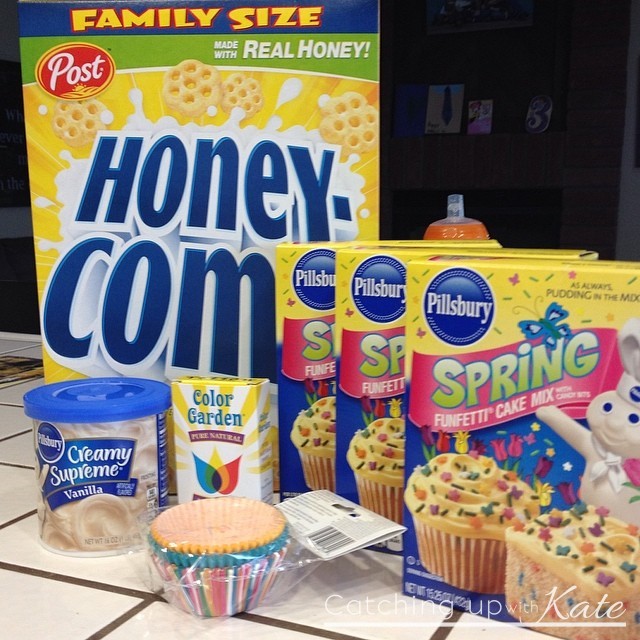 I had some Easter Themed Cupcake mix that was 90% off because it was Easter Themed (whatever, it is white cake mix with sprinkles inside and wasn't gonna expire til the end of the year) – my only regret was that I didn't have a coupon to make them completely free, I also bought cheap cupcake liners, a huge box of Honeycomb Cereal because that was the only size they sold, and that free food coloring was waiting for me at home – and we basically went to town.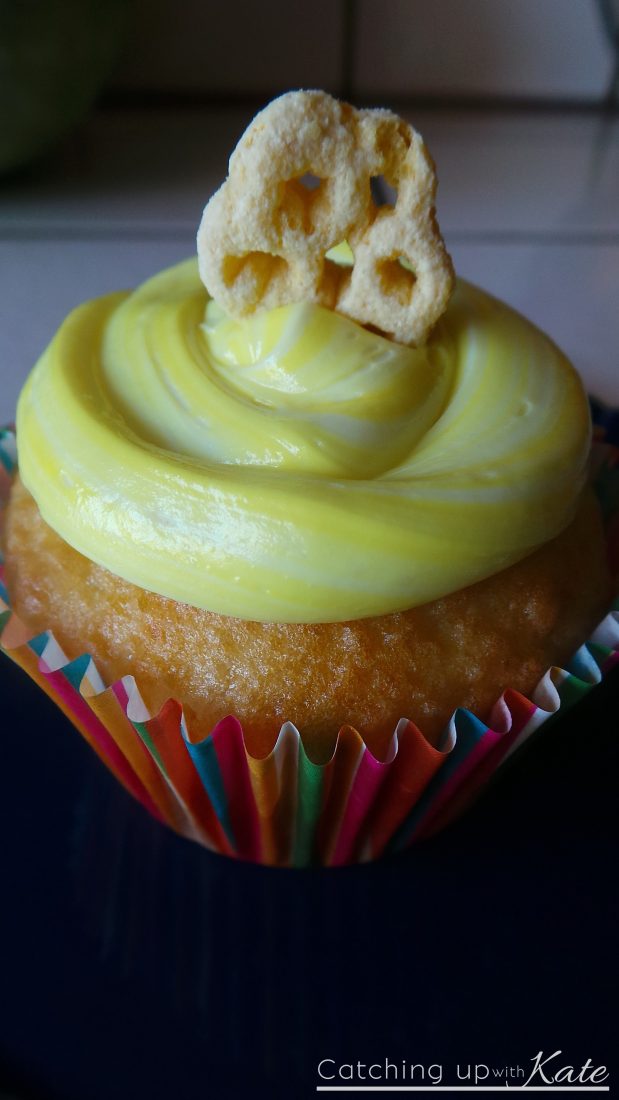 Pretty Adorable Right?
*White Cupcake mix with colorful sprinkles inside.  Pure white frosting with "color garden" yellow food coloring marbled in and a tight swirl that I tried to make look like a beehive (although most people didn't get it), and a little Honey Comb on top.  So Easy!*
You may remember her 2nd Birthday we did our best to have a Minnie Mouse Bowtique Themed Birthday Party and Big Sister recently had a Frozen Themed Birthday Party!  Stay tuned for LEGO Star Wars in October!
If you are looking to purchase items for your birthday party there are hundreds of party supplies at Birthday Express and here is a deal for FREE shipping! (I drove all around town looking for Frozen birthday party supplies a few months ago – little did I know I could have ordered it from my couch and they would deliver it – ugh!)
So that is about all there is to a Winnie The Pooh Birthday Party!  It was pretty easy, cheap, and our little girl was thrilled!