Everything You Need to Throw a Wish Birthday Party
Disclosure: Highlights Along the Way is a participant in the Amazon Services LLC Associates Program, an affiliate advertising program designed to provide a means for sites to earn advertising fees by advertising and linking to amazon.com. This site uses affiliate links.
There's no doubt that WISH is one of the most popular movies and most popular birthday party themes. The whole world is super excited for WISH, and it's one of our favorite classic, iconic Disney movies. If you're wishing for a magical day, we are here to help make it fast, easy, and fun. Throwing a WISH birthday party for your little princess Asha is sure to make her day special.
We have curated the perfect collection of things to perfect the theming on your Wish birthday party. Check out our three delicious and easy dessert recipes, printable invitations, coloring sheets, costumes to get, party sets, gift guide, and even more! Everything you need to know to have an amazing Wish party is right here. From WISH decorations, to WISH desserts, to WISH entertainment, to WISH party sets, and even WISH costumes, we've got you covered!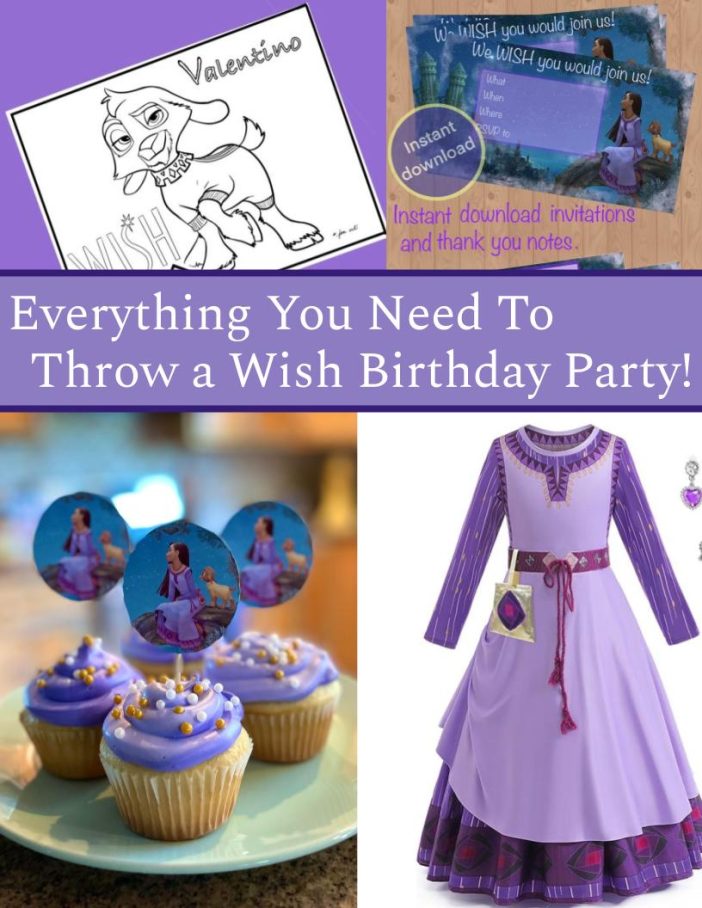 Wish Birthday Invitations
Before you start planning your child's special day, you'll need to send out some invitations. Once you have the date selected for your Wish birthday party, use our instant download Wish Birthday Invitations to spread the word!
These Birthday invitations are available on our Etsy store. When you purchase, you get an instant download that you can save to your computer and print as many copies as you want.
Princess Asha Costume for Girls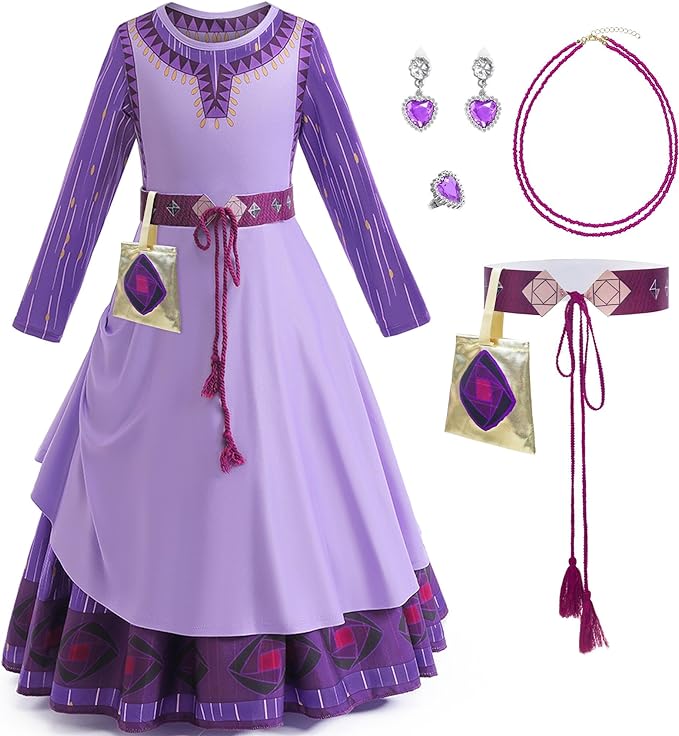 The first thing you absolutely need for the beautiful birthday girl is this gorgeous Asha cosplay dress and accessories.
Asha's dress is a beautiful mix of lilac, purple, and burgundy. The edges of the top skirt are pleated on the right side to hold it up just like hers does in the movie. This set is complete with the accessories from the movie itself. It includes a belt, mini purse, necklace, earrings, and a ring. For this reason, this is the best Asha dress you can find. Dress up is a classic birthday activity and girls will love being a princess for a day.
For more Wish costume ideas, you can check out our post with more WISH Costume ideas and options here.
Wish Cupcakes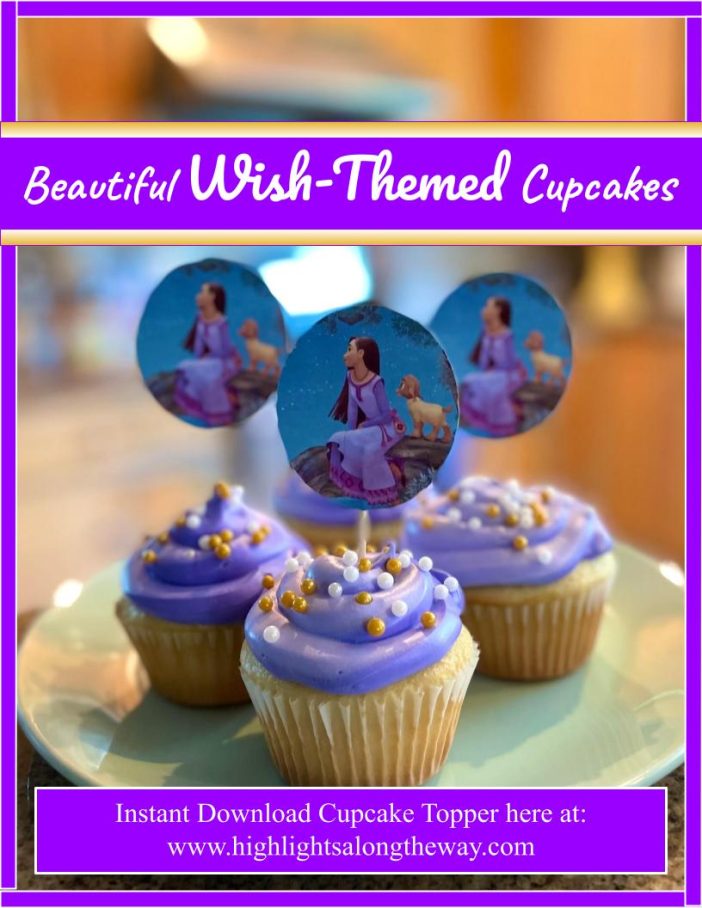 Every birthday party needs cupcakes and it's easy to go with store-bought. But instead of those regular cupcakes, try our easy Wish-themed cupcakes. They are DIY and delicious. And they are perfect for setting the theme for your Wish Birthday Party.
All you need is to make them is your choice of Boxed Cupcake Mix (plus the water, eggs, and oil required), Purple frosting, Pearl Sprinkles, and our printable cupcake toppers!
That's it! Check out our Wish Cupcakes Recipe for all the details, tips, and tricks to making your cupcakes both adorable and delicious.
These adorable wish cupcakes are super easy to make. All you need to do to make them is swirl purple frosting on top, add some magical pearl sprinkles, and add our printable Asha cupcake toppers.
Chocolate Dipped Pretzels Magic Wands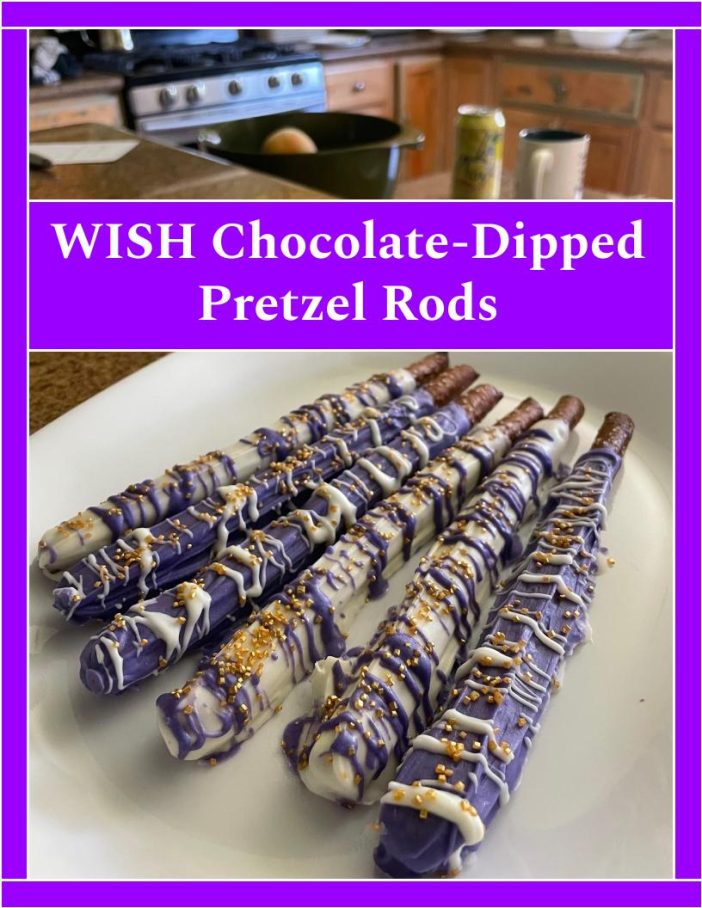 The snack you definitely need is you very own Magic Wands! These WISH Chocolate Dipped Pretzel Recipe are super fun to make and eat. This recipe is super easy to make and the end result is even more tasty than it looks. They are the perfect mix of salty and sweet. These can be served with cupcakes as a dessert, or you can present them as a party favor to your guests.

How to make them is pretty self-explanatory, but we have plenty of tips and tricks for working with chocolate to save time and effort. All you need to make them is: large pretzel sticks, white chocolate chips, purple food dye, and gold or silver sprinkles.
Free Printable Wish Coloring Pages
Every party needs some party activities. To make it nice and easy, check out our free Printable WISH Coloring Pages. They are instantly downloadable, and you can print as many as you want for free! Our WISH coloring sheets feature Asha and Valentino and we have lots of different choices that kids will love.
I always recommend coloring over crafts because not only can the kids take it home when they are finished, all you need is colored pencils, markers, or crayons. Even characters masks and simple crafts like that use scissors and glue or tape, which is a lot more cleanup at the end of the day. So to save some time, and try our coloring sheets instead.
Wish Birthday Party Set
The last thing you need to throw your perfect Wish birthday party is a pack of party supplies. These are by far the easiest thing you can do for theming, and you can even order them online.
Here are my picks. The first set includes plates, napkins, and a tablecloth all featuring images from the movie wish. And the second set has adorable party favor bags that you can fill with candy and give to the kids on the way out.
Amazon.com: 41 pcs Wish Asha movie Themed Party Supplies, 20 Plates, 20 Napkins and 1 Tablecloth, wish movie Birthday Party Decorations for Boys and Girls : Toys & Games
Amazon.com: 12 Pack Wish Movie Party Favor Gift Bags Birthday Party Supplies for Wish Movie Party Decorations : Toys & Games
Wish Birthday Party Gift Guide:
If you're looking for gift ideas for your little princess, check out our Wish Gift Guide for ideas and links to buy gifts online.
Watch the Official Wish Trailer here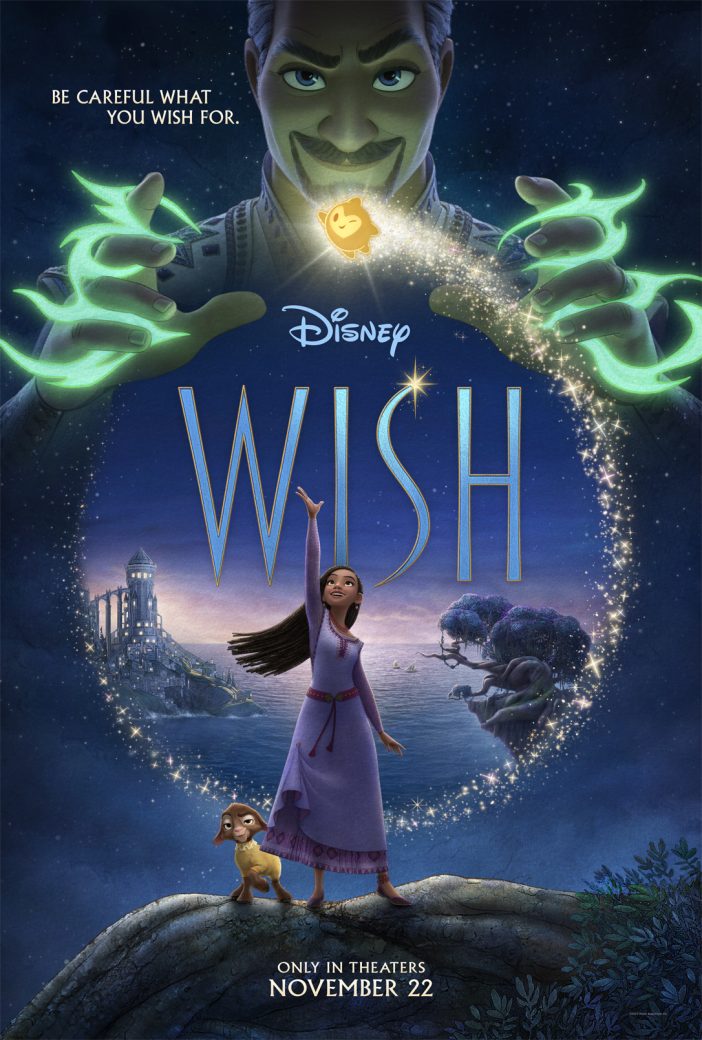 WISH– Directors Chris Buck and Fawn Veerasunthorn shared details about Disney Animation's 62nd feature, an all-new original musical adventure that centers on one core belief: There is no greater power in the universe than someone with a true wish in their heart. Opening in U.S. theaters on Nov. 22, "Wish" takes place once upon a time in Rosas—a fantastical, fictional island where wishes can literally and magically come true. When Asha, a sharp-witted idealist, learns a hard truth, she makes a wish so powerful that it is answered by a cosmic force—a little ball of boundless energy called Star. Together, Asha and Star confront a most formidable foe—the ruler of Rosas, King Magnifico—to save her community and prove that when the will of one courageous human connects with the magic of the stars, wondrous things can happen.
We hope this post helped you throw the best Wish themed birthday party. Birthday parties are always better with the magic of Disney. We are so excited to welcome Princess Asha to the list of our favorite Disney princesses. Make sure to check out our other birthday guides and party posts like Everything You Need to Throw an Elemental Birthday Party! Have a magical day.