WISH Coloring Pages
Disclosure: This is fan art inspired by Disney. Disney licensed printables will be shared when available.
WISH is an animated film coming from Walt Disney animation studios in 2023. Guests and media at D23 Expo enjoyed a sneak peek at the story and characters of this new film. To celebrate, we are sharing coloring pages featuring the cutest characters in WISH. Click to download or print activity sheets featuring Valentino, Asha, and more characters from WISH.
Who are the main characters in Wish?
I always think Disney has outdone themselves with strong characters and adorable side kicks, but they have somehow leveled up. Asha is a strong 17 year old girl who I am very excited to learn more about. I am very excited that there is a new Disney heroine of color. I am excited to learn more about her story in this new film. While Asha may be very cool, I am most excited about Valentino. Valentino is her sweet little side kick. Valentino is not only a baby goat, but he wears pajamas. A baby goat in jammies? I cannot deal with the cute. I immediately had to draw him. The coloring pages available right now are fan art made by me. While I am sure far better coloring sheets are coming your way, I am sharing my humble attempt here for kids who cannot tell the difference. Below there is a set of four coloring pages featuring my fan art of both Asha and Valeninto. I hope you will share with the Disney fans in your life!
Read the updated information available about WISH here and enjoy free printable activity sheets at the bottom of this post. WISH is sure to be a hit with kids of all ages. This post will continue to be updated as new information becomes available.
WISH is Hand Drawn Animation
Animation nerds rejoice! Wish is the first hand drawn animated feature film in years. I cannot wait for the return of this art form!
What is WISH about?
On Friday inside the 7,000-seat Hall D23, Jennifer Lee, chief creative officer of Walt Disney Animation Studios announced Wish, an epic original animated musical inspired by the studios' legacy of films and features all-new songs by Grammy®-nominated artist Julia Michaels. The magical story, which looks ahead to the next 100 years for the studio and explores how the wishing star that so many Disney characters wished upon came to be, is set in Rosas, a fantasy kingdom where wishes literally can come true. Inspired by watercolor illustrations of fairytales that fascinated Walt Disney, the look of the film blends a timeless watercolor style with contemporary 3D CG animation. Attendees were introduced to 17-year-old Asha—a smart and driven optimist with a sharp wit whose impassioned plea to the stars calls down an actual star from the sky. Impossibly curious and a little ball of boundless energy, Star is a giant beacon for chaos. Filmmakers Chris Buck and Fawn Veerasunthorn and actor Alan Tudyk (the voice of Valentino the goat) joined Lee on stage before introducing the voice of Asha, recent Oscar® winner Ariana DeBose, who brought down the house singing "More for Us," an all-new original song from the film, which hits theaters in 2023.
Wish Teaser Trailer
As soon as the Wish teaser trailer is available, we will add it here!

When is "WISH" Coming to Theaters?
The animated film "WISH" releases November 2023. Disney traditionally releases an animated film every Thanksgiving weekend. Our family tradition is to see an animated film on Thanksgiving afternoon. I will let you know as soon as I have the exact date!
When will WISH be on Disney+?
It is very likely that Wish will be on Disney+ at some point. At this time, no Disney Plus dates has been announced. WISH will hit theaters exclusively first. As soon as the Disney+ date is announced for WISH I will be sure to update this article.
What is "WISH" Rated?
No rating has been released for "WISH". We will update as soon as that information is available. While many Disney animated films are rated G for all audiences, in recent years most cartoons have been rated PG. I would guess that WISH will be rated G or PG so that it will be suitable for most ages.
Wish Activity Sheets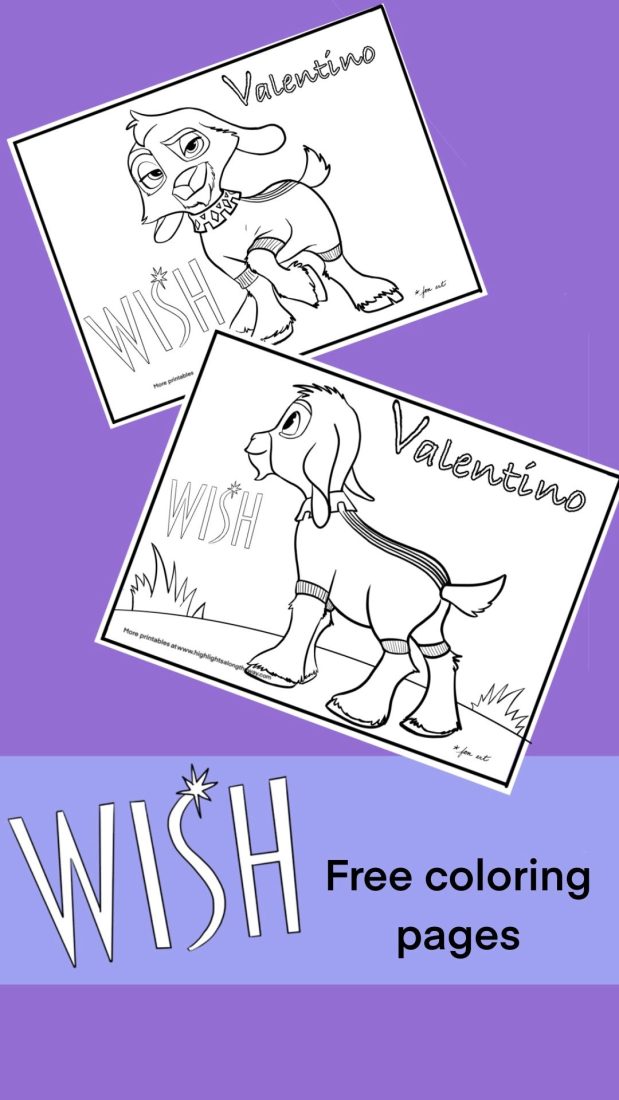 Valentino Coloring Page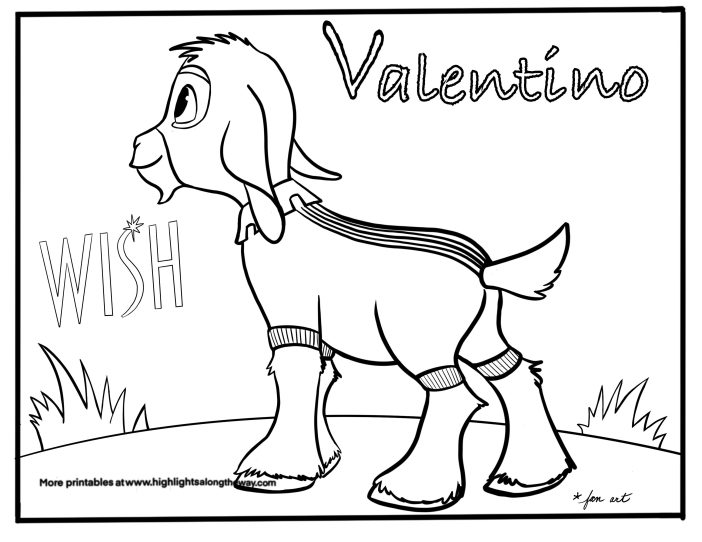 Asha Printable Coloring Page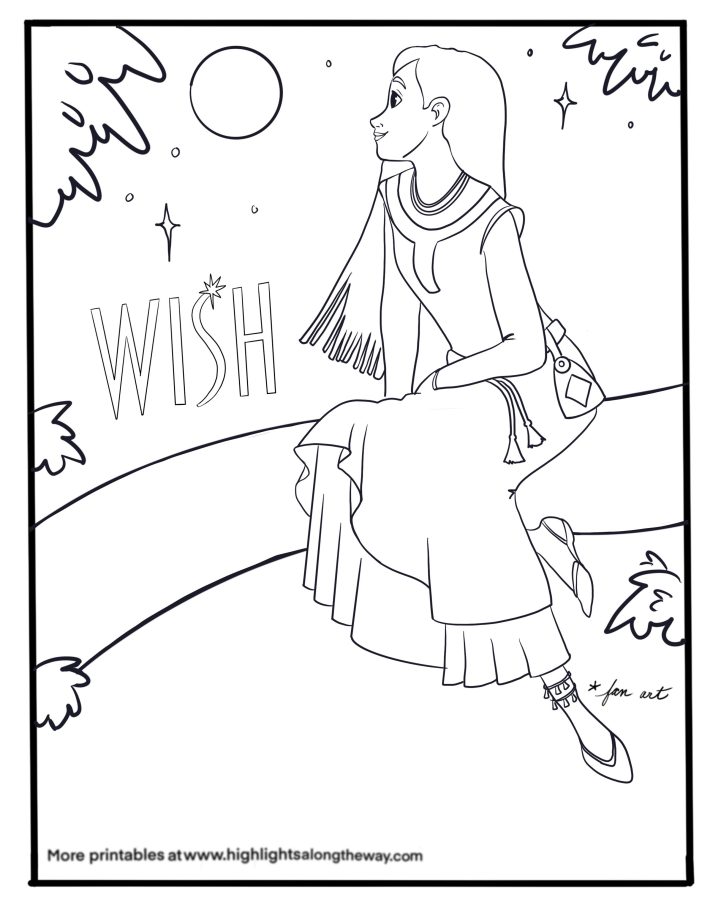 Baby Goat in Pajamas Coloring Page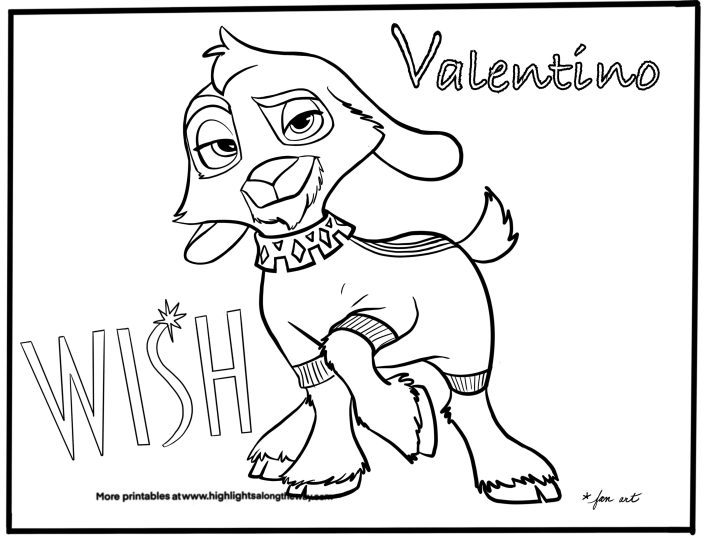 Asha Printable Activity sheet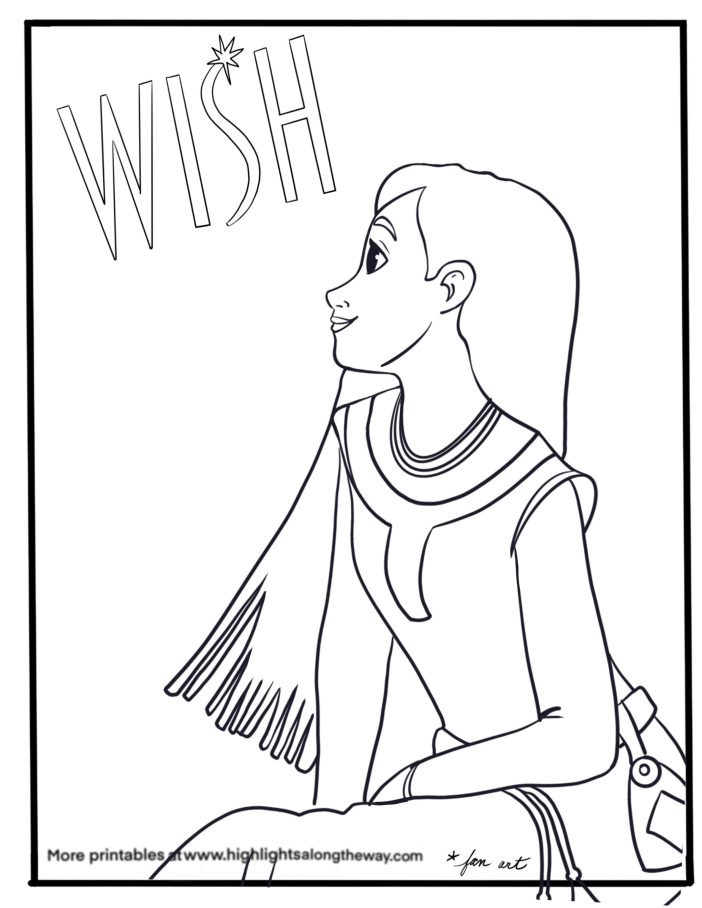 Updates on WISH!
https://www.instagram.com/disneyanimation/
https://twitter.com/DisneyAnimation
https://www.facebook.com/DisneyAnimation
If you enjoy these printable coloring sheets to anticipate the animated film WISH, make sure to check out our printable section featuring Flora and Ulysses Coloring Sheets, Go Dog, Go! Coloring sheets Gabby's Dollhouse Coloring Sheets , We Can Be Heroes Coloring Sheets, Sharkboy and Lavagirl Coloring Sheets, American Girl Doll Coloring Sheets , Olaf Coloring Sheets, Coco Coloring Sheets , Trolls Coloring Sheets , and so many more on our site.