Wish Together Sweepstakes Disney!
An incredible Sweepstakes from Disney was just announced! Disney just announced a campaign to "Wish Together" in celebration of their work with Make a Wish and their new animated film, "Wish". Disney fans are invited to enter the Sweepstakes at WISH TOGETHER to discover how they can partner with Make a Wish, and also enter for an magical dream vacation at the same time.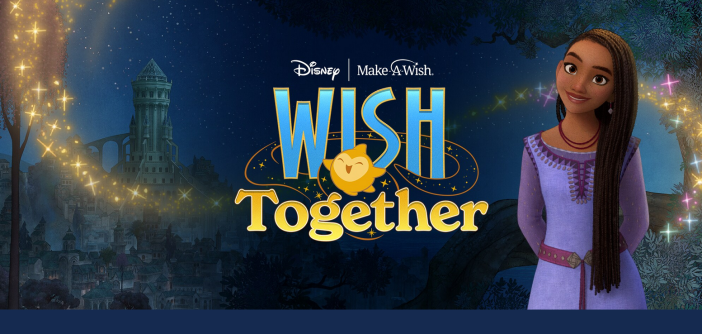 Make-A-Wish grants life-changing wishes for children who are impacted by difficult disabilities and diseases. Disney has been partnering with Make-A-Wish for decades to provide wish kids and their families magical trips to create joy filled memories. There are many ways you can help a family have their wish granted, one is simply entering this giveaway for your family!
Wish Sweepstakes Disney World and Cruise Vacation!
In honor and anticipation of the campaign, and the Nov. 22 theatrical release of Disney Animation's all-new musical animated comedy "Wish," set in a magical kingdom where wishes come true, enter the "Wish Together Sweepstakes"* for a chance to win a dream come true on land and sea with a very special family vacation for four. Prize includes a three-night stay in a Club Level Concierge room at a Disney Deluxe Resort hotel at Walt Disney World® Resort along with a Disney Cruise Line® vacation to The Bahamas aboard the Disney Wish in a 1-bedroom Concierge Suite with verandah and an array of merchandise from shopDisney and more.
Enter for your chance to win a Trip to Walt Disney World and a Disney Cruise – help a kid have their wish granted at the same time!
For every free entry received now through January 31, 2024, Disney will donate $5 to Make-A-Wish up to $1 million to grant life-changing wishes for children with critical illnesses. Join Disney and Make-A-Wish to #WishTogether.**
"At Disney, we've always believed in the magic of making wishes come true. Our relationship with Make-A-Wish has spanned over four decades, and it's a testament to our commitment to delivering joy to children and their families," said Lisa Haines, Senior Vice President, Corporate Social Responsibility, The Walt Disney Company. "With the 'Wish Together' campaign, we are thrilled to invite fans to bring to life the spirit of our latest film 'Wish'— while coming together to support Make-A-Wish."
"The release of 'Wish' provides the perfect opportunity to talk about the power of wishing and the lasting impact wishes can have in the lives of wish kids and their families," said Leslie Motter, President and CEO, Make-A-Wish America. "Historically, one out of every two wishes that we grant in the U.S. involves Disney, and we can't wait to be able to make even more wishes possible thanks to the 'Wish Together' campaign."
In addition to the sweepstakes, a new "Wish" product collection enchants with a range of offerings including costumes and accessories, apparel, and toys such as a singing doll and light-up plush. To add even more magic to the collection from the Walt Disney Animation Studios film, "Wish," Disney will donate 10% of the sale price to Make-A-Wish, up to $1 million, for each of these items sold. Donations only apply to sales at US Disney stores, shopDisney.com, Disney Cruise Line® ships, and Disney-owned locations at Disneyland®Resort and Walt Disney World® Resort.
For more than 40 years, Disney and Make-A-Wish have worked together to grant life-changing wishes for kids facing critical illnesses and their families, starting when the first official wish was granted at Disneyland® Resort. Disney is honored to be the world's largest wish granter for Make-A-Wish, joining together to make more than 150,000 wishes come true globally. These life-changing experiences help bring strength, joy, and a greater sense of hope to wish kids and their families when it's needed most.
Disney's WISH Together Sweepstakes!
About Make-A-Wish
Make-A-Wish creates life-changing wishes for children with critical illnesses. Founded in Phoenix, Arizona, Make-A-Wish is the #1 most trusted nonprofit operating locally in all 50 states throughout the U.S. Together with generous donors, supporters, staff and more than 24,000 volunteers across the country, Make-A-Wish delivers hope and joy to children and their families when they need it most. Make-A-Wish aims to bring the power of wishing to every child with a critical illness because wish experiences can help improve emotional and physical health. Since 1980, Make-A-Wish has granted more than 550,000 wishes in 50 countries worldwide; more than 360,000 wishes in the U.S. and its territories alone. For more information about Make-A-Wish America, visit wish.org.
We have several friends who have enjoyed magical trips through Make-A-Wish! This charity and it's partnership with Disney is truly magical. Thank you to Disney for this incredible opportunity to partner with Disney to make dreams come true!
What is WISH?

In "Wish," Asha, a sharp-witted idealist, makes a wish so powerful that it is answered by a cosmic force—a little ball of boundless energy called Star. Together, Asha and Star confront a most formidable foe—the ruler of Rosas, King Magnifico—to save her community and prove that when the will of one courageous human connects with the magic of the stars, wondrous things can happen. Featuring the voices of Academy Award®-winning actor Ariana DeBose as Asha, Chris Pine as Magnifico, and Alan Tudyk as Asha's favorite goat, Valentino, the film is helmed by Oscar®-winning director Chris Buck and Fawn Veerasunthorn, and produced by Peter Del Vecho and Juan Pablo Reyes Lancaster Jones. Jennifer Lee executive produces—Lee and Allison Moore are writers on the project. With original songs by Grammy®-nominated singer/songwriter Julia Michaels and Grammy-winning producer/songwriter/musician Benjamin Rice, plus score by composer Dave Metzger, "Wish" opens only in theaters on Nov. 22, 2023.
NO PURCHASE NECESSARY. Enter the Sweepstakes between 10/4/23 at 2:00 AM PT and 1/31/24 at 11:59 PM PT. Open to legal residents of the 50 U.S./D.C.; 13+. Limit 1 entry per person per day. GRAND PRIZE WINNER MUST BE ABLE TO TRAVEL MAY 3, 2024 – MAY 10, 2024 OR AUGUST 23, 2024 – AUGUST 30, 2024. Maximum donation is $1 million dollars. Donation by Disney to Make-A-Wish Foundation of America. Visit http://disneywishtogether.com/rules for full details on how to enter, eligibility requirements, odds of winning, prize descriptions and limitations. Void where prohibited. Sponsor: ABC, Inc., d/b/a Walt Disney Studios Motion Pictures, 500 S Buena Vista St., Burbank, CA 91521.
**Donation will be made directly to the Make-A-Wish Foundation of America on or before March 31, 2024 following completion of Sweepstakes period on January 31, 2024. No fees or other amounts will be deducted from donation by Disney.