Wreck it Ralph Coloring Sheets
Disclosure: This site uses affiliate links
Ralph Breaks the Internet, AKA "Wreck it Ralph 2" hits theaters everywhere on November 21, 2018.  We love how Walt Disney Animation Studios always puts out an awesome family friendly movie right before Thanksgiving.  Disney is kind enough to send us high resolution coloring sheets and activity sheets associated with new animated movies. I am thrilled to share the new Ralph Breaks printable coloring and activity sheets.  These official Wreck it Ralph coloring sheets are approved for you to print out and use at home and school! Enjoy printing and coloring as many as you like right form your home computer!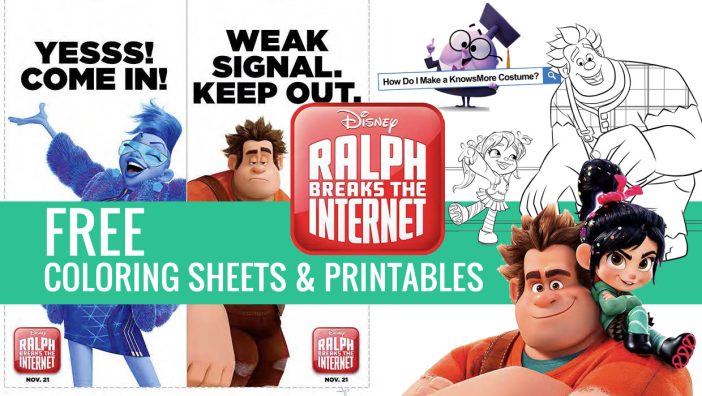 I just attended the Red Carpet Premiere of Ralph Breaks the Internet and Disney geeks will love to see who I got a picture with at the after party! Make sure to check out that linked post!
Ralph Breaks the Internet is a fun story that we loved even more than the first Wreck it Ralph Movie.  The characters have richer stories, the visual development of the Internet as a place is incredible, and the story is just so clever.  We loved this movie and can't wait to share more.  In the meantime, our kids are loving that they get to color and make cool Wreck it Ralph themed crafts.  I think we might just have to make this awesome Knowsmore costume for "Disney Days" at school or even for Halloween!
Looking for Ralph Breaks the Internet Gifts? Shop the 25% off "Friends and Family" Sale going on right now on Shop Disney! Use the code DISNEYPAL for 25% off! (limited time)
Below are some awesome printables, feel free to print out as many as you want!
Vanellope and Ralph Coloring sheet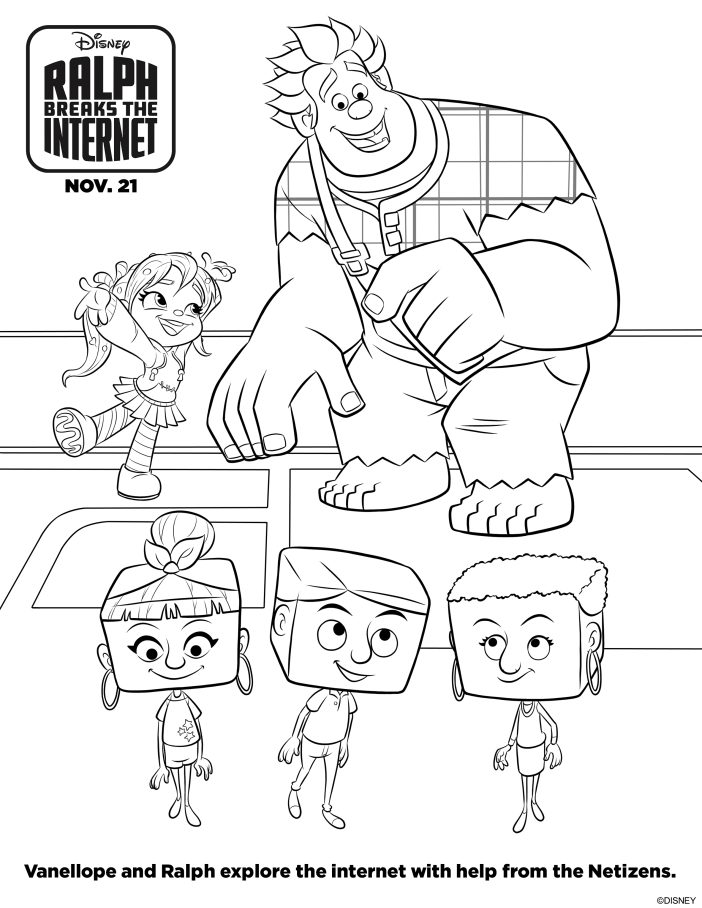 Yesss, Vanellope, and Ralph Coloring Sheet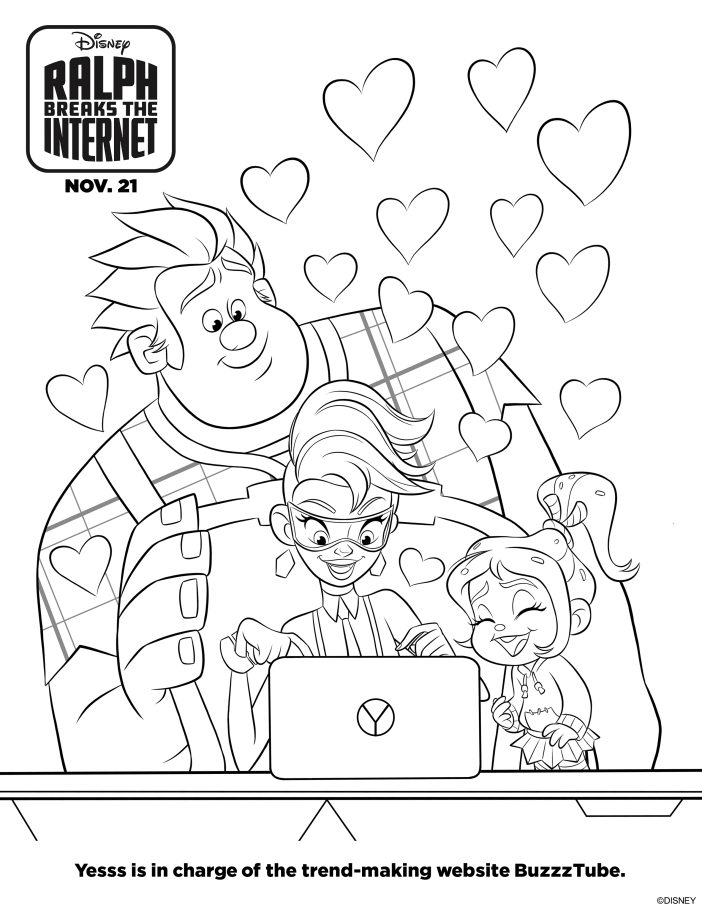 Shank coloring sheet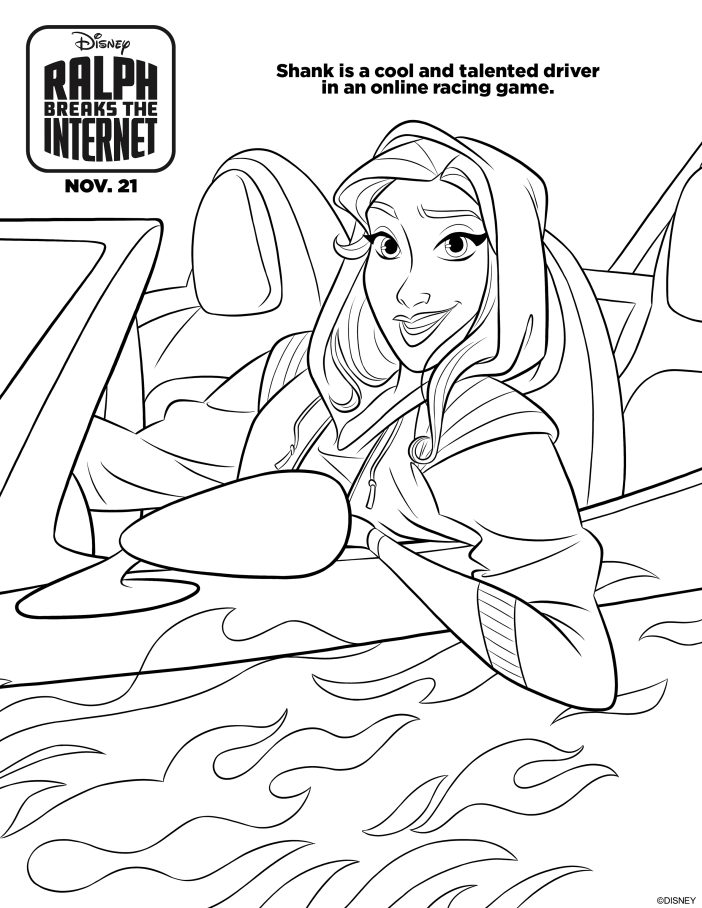 Fun Ralph Breaks the Internet Door Hanger Craft, click the image below to download all the door hangers.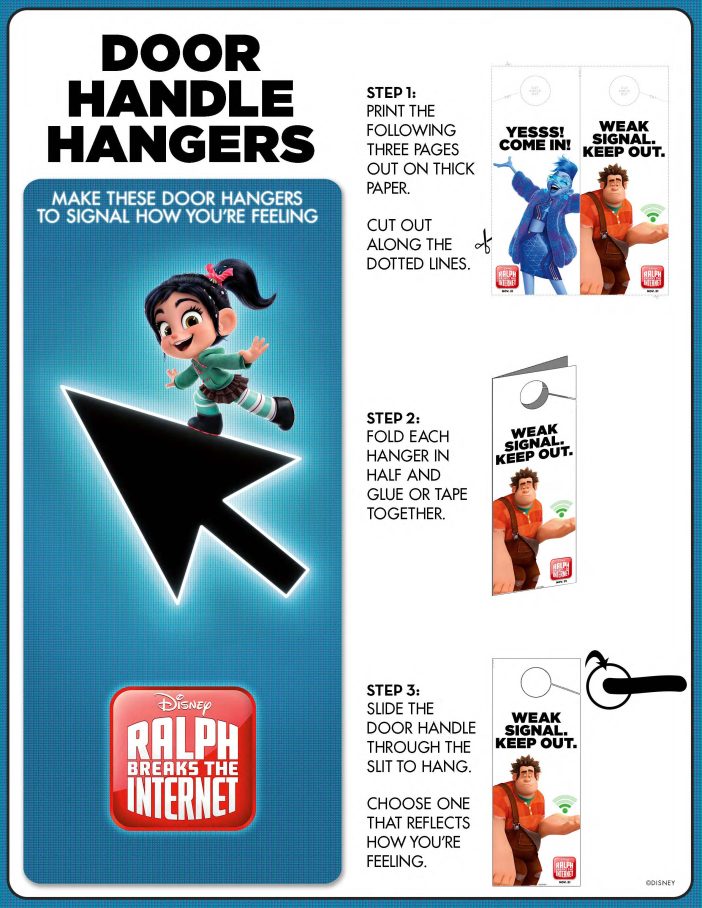 Spot the Difference Printable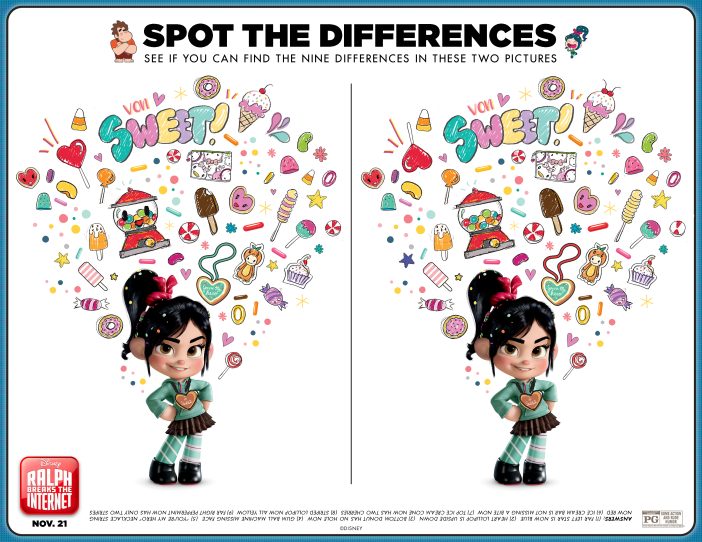 Memory Card Game – Wreck it Ralph Style! Click the image below to download the complete PDF game.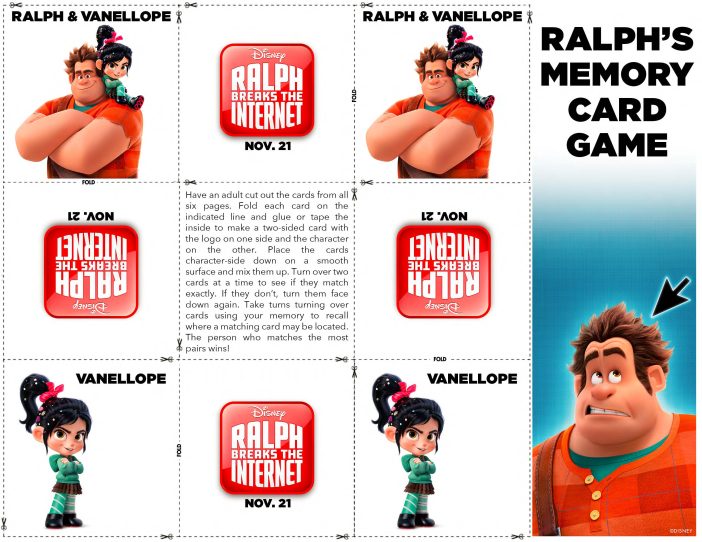 Design your Own Net User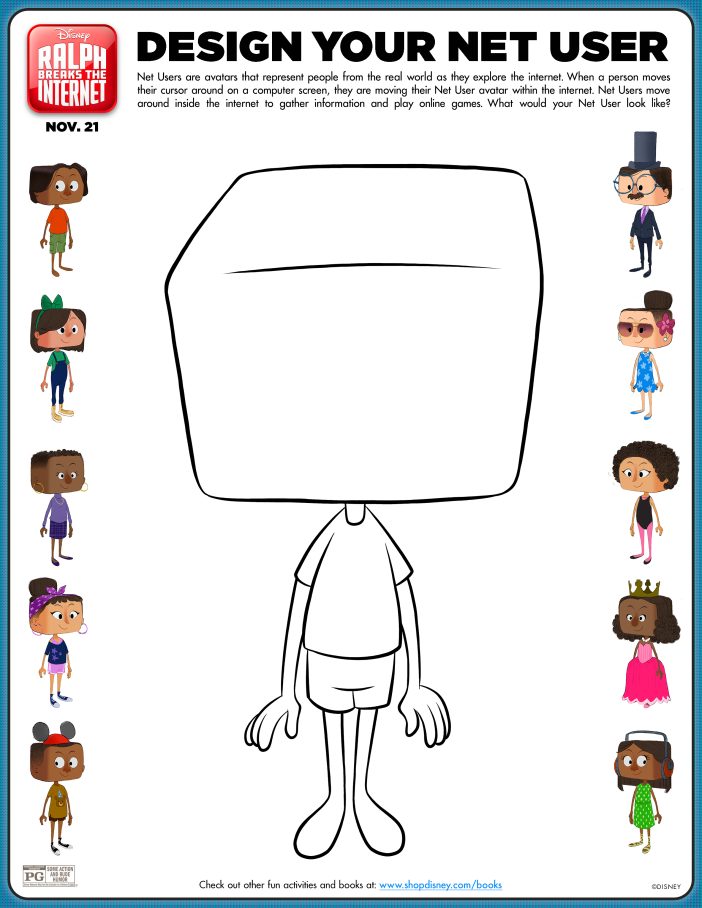 Make your own DIY Knowsmore Costumes. Click the image below to download the complete Knowsmore Costume PDF.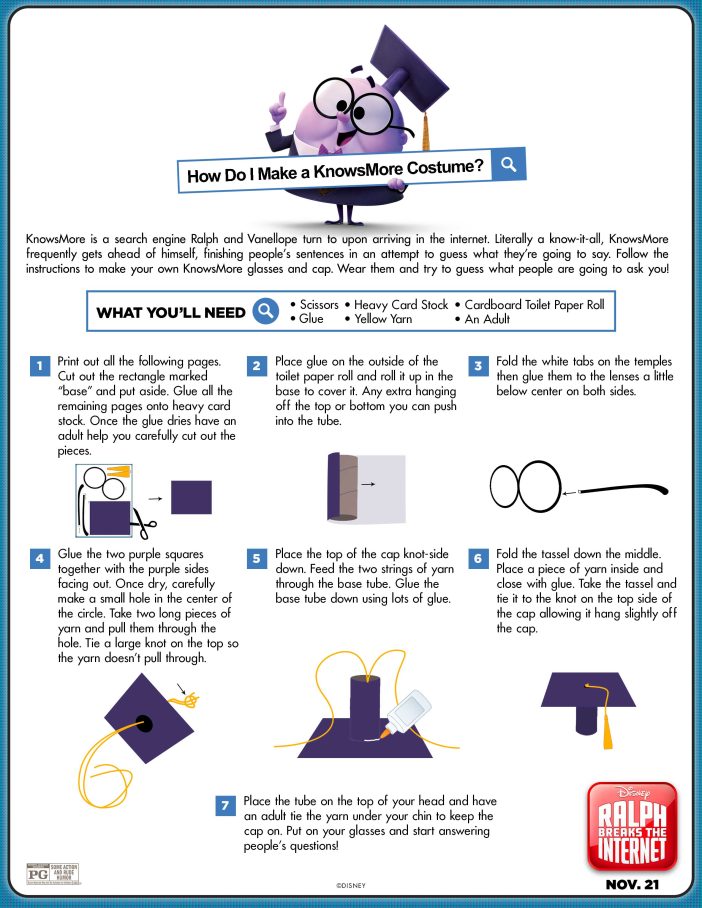 Print out as many of these as you would like! Make sure to check out our other licensed printable coloring sheets.  Our most popular Disney printable activity sheets are Olaf, Coco and Cars 3 – but we have dozens more!
In RALPH BREAKS THE INTERNET, video-game bad guy Ralph (voice of John C. Reilly) and best friend Vanellope von Schweetz (voice of Sarah Silverman) leave the comforts of Litwak's arcade in an attempt to save her game, Sugar Rush. Their quest takes them to the vast, uncharted world of the internet where they rely on the citizens of the internet—the Netizens—to help navigate their way. Lending a virtual hand are Yesss (voice of Taraji P. Henson), the head algorithm and the heart and soul of the trend-making site "BuzzzTube," and Shank (voice of Gal Gadot), a tough-as-nails driver from a gritty online auto-racing game called Slaughter Race, a place Vanellope wholeheartedly embraces—so much so that Ralph worries he may lose the only friend he's ever had. Directed by Rich Moore ("Zootopia," "Wreck-It Ralph") and Phil Johnston (co-writer "Wreck-It Ralph," "Zootopia," writer, "Cedar Rapids"), and produced by Clark Spencer ("Zootopia," "Wreck-It Ralph," "Bolt," "Lilo & Stitch"), "Ralph Breaks the Internet" hits theaters on Nov. 21, 2018.
Like WRECK-IT RALPH on Facebook: https://www.facebook.com/WreckItRalph/
Follow WRECK-IT RALPH on Twitter: https://twitter.com/wreckitralph
Follow WRECK-IT RALPH on Instagram: https://www.instagram.com/wreckitralph/
Visit the official RALPH BREAKS THE INTERNET website here: https://movies.disney.com/ralph-breaks-the-internet-wreck-it-ralph-2