Wrinkle in Time Coloring Pages
Disclosure: Highlights Along the Way is a participant in the Amazon Services LLC Associates Program, an affiliate advertising program designed to provide a means for sites to earn advertising fees by advertising and linking to amazon.com. This site is also a ShopDisney affiliate.
Disney's A Wrinkle in Time Coloring Sheets are perfect for school and home. Click and print coloring pages and activity sheets based on the Disney film. The classic book "A Wrinkle in Time" comes to life on the big screen and in these cool freebies. Thank you to Disney for sending them over!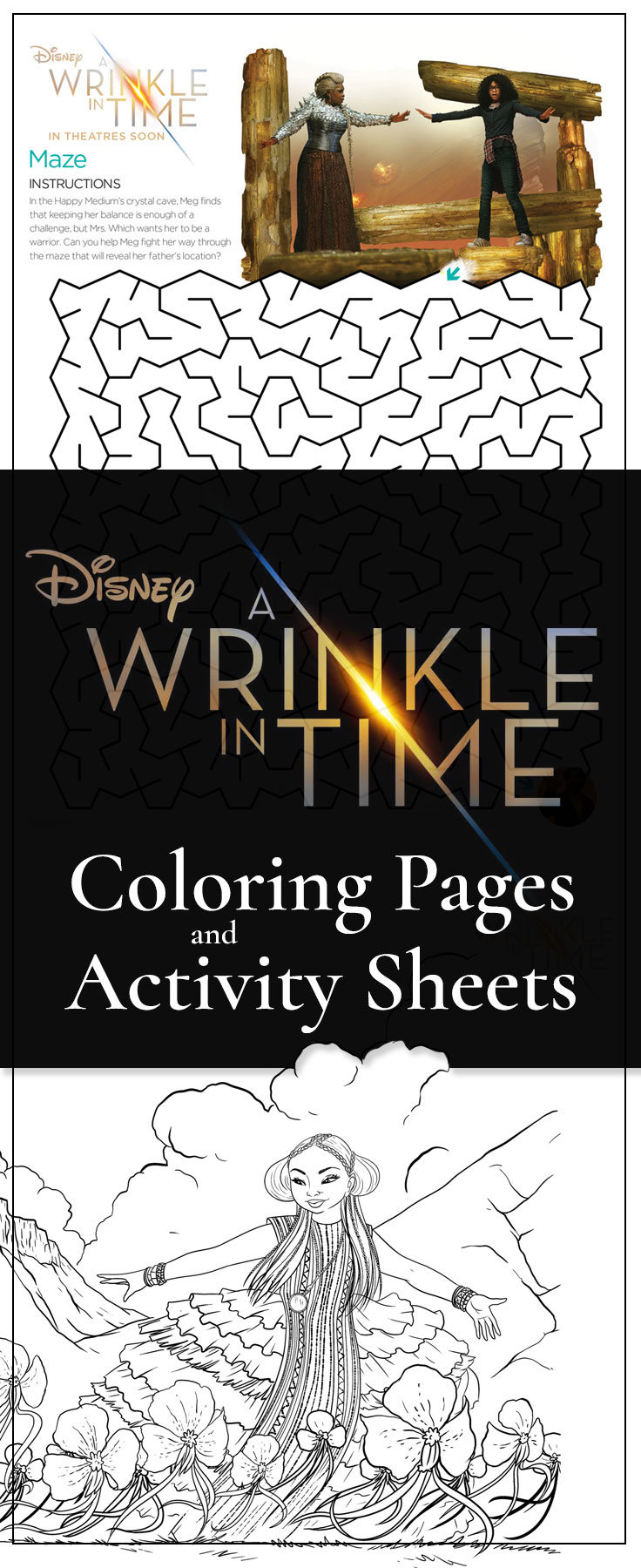 A Wrinkle in Time is a classic novel that has thrilled generations of children. The wait is almost over for Disney's A Wrinkle in Time to hit theaters on March 9th. Director Ava DuVernay brings the epic adventure "A Wrinkle in Time" by Madeleine L'Engle to life on the big screen. This timeless classic book turned feature film is sure to captivate audiences as the characters embark on a journey across time and space. Disney has provided amazing free A Wrinkle in Time Coloring pages and activity sheets for fans! Below you can click and print whatever Wrinkle in Time printables you choose!
In case you have never heard of the Wrinkle in Time books and the upcoming movie, we have a fun synopsis of what it is all about below.
"From visionary director Ava DuVernay comes Disney's "A Wrinkle in Time," an epic adventure based on Madeleine L'Engle's timeless classic which takes audiences across dimensions of time and space, examining the nature of darkness versus light and, ultimately, the triumph of love. Through one girl's transformative journey led by three celestial guides, we discover that strength comes from embracing one's individuality and that the best way to triumph over fear is to travel by one's own light.
Meg Murry is a typical middle school student struggling with issues of self-worth who just wants to fit in. The daughter of two world-renowned physicists, she is intelligent and uniquely gifted, as is Meg's youngermbrother, Charles Wallace, but she has yet to realize it for herself. Complicating matters is the mysteriousmdisappearance of Mr. Murry, which has left Meg devastated and her mother broken-hearted. CharlesmWallace introduces Meg and her fellow classmate Calvin to three celestial beings (Mrs. Which, Mrs.mWhatsit and Mrs. Who) who have journeyed to Earth to help search for their father, and together they embark on their formidable quest. Travelling via a wrinkling of time and space known as tessering, they are transported to worlds beyond their imagination where they must confront a powerful evil force. To make it back home to Earth, Meg must face the darkness within herself in order to harness the strength necessary to defeat the darkness rapidly enveloping the Universe.
Directed by Oscar® nominee Ava DuVernay from a screenplay by Oscar winner Jennifer Lee based upon the beloved novel by Madeleine L'Engle, "A Wrinkle in Time" stars: two-time Academy Award® nominee Oprah Winfrey as Mrs. Which, Oscar winner Reese Witherspoon as Mrs. Whatsit, Emmy® nominee Mindy Kaling as Mrs. Who, Gugu Mbatha-Raw as Mrs. Murry, Michael Peňa as Red and introducing Storm Reid as Meg Murry, with two-time Emmy winner Zach Galifianakis as The Happy Medium and Emmy nominee Chris Pine as Mr. Murry. Produced by Jim Whitaker and Catherine Hand with Doug Merrifield serving as executive producer, the film also boasts an impressive creative team featuring some of the most talented and skilled craft persons working today, including: Tobias Schliessler, ASC as director of photography, Naomi Shohan as production designer, Oscar®-nominee Spencer Averick as film editor and two-time Academy Award®-nominee Paco Delgado as costume designer." Disney official Boilerplate
"A Wrinkle in Time" opens nationwide on March 9, 2018.
Our house rules is that kids have to read the book before you see the movie. Our kids have read the entire Wrinkle in Time series and highly recommend it for kids about their age. My 5th grader especially loved the time travel and the theme of good verses evil. Readers always wonder our thoughts on whether a movie is appropriate for kids. At the time of this post, we have not seen the movie, but I have heard it is family friendly. The movie carries a PG rating and it is always best to read reviews and see if it is the right fit for your family. A Wrinkle in Time runs for one hour and 49 minutes.
You can find A Wrinkle in Time at just about every library across America for FREE! If your kids are anything like ours, they often want to read exciting classics over and over again. We purchased the entire series for our kindle so the kids can read it over and over again!
If your kids are really into A Wrinkle in Time, you should see the newest offerings from ShopDisney. The Wrinkle in Time store on ShopDisney includes clothing, jewelry, collectible dolls, and more!
Below are the official and licensed A Wrinkle in Time coloring pages and activity sheets. These are a fun activity to use in a classroom that is reading through the book. We love free Disney printables to keep us entertained on rainy days, long car rides, and just to extend the fun of the film. Feel free to print and share. We love when you pin our printables to your pin board on Pinterest! Share with other A Wrinkle in Time fans!
A Wrinkle in Time Coloring pages