Zooey Zephyr Instant Download Printable Coloring Activity Page
Instantly download a free activity page featuring Zooey Zephyr. Zephyr is in the news now, and will go down in history as a pivotal person in the current human rights movement in America. We are adding Zephyr to our growing library of political activist coloring pages and activity sheets. Simply click to download and print instantly. Most of our coloring pages are free for home and school use.
Coloring pages and activity sheets are inexpensive and sometimes free educational resources for teachers everywhere. Coloring while listening to a lesson is a great way to help children retain information about the important figure or event.Children can learn hate or they can learn acceptance and compassion. Teaching children about those who fight for compassion will lead to more open minded and compassionate kids and society.
Zooey is a brave woman who is working hard to make the United States of America safer for everyone. While many are trying to silence her, many are demanding "Let her Speak!" Zephyr was elected, but that does not mean that people are not still fighting against her.
This printable is free to use in school, home, and church. Please share this site with other teachers directly. We offer these printables for free in the hopes of growing our website. Thank you for visiting and printing, Make sure to check out our other free printable coloring pages for fun and educational purposes.
Looking for more political activism activity sheets? The Tennessee Three Coloring Pages, Katie Porter activity pages, We Say Gay coloring page, Dolores Huerta coloring page, and more!
If you are having trouble downloading this image, it may be because you have disabled pop up ads. This printable is not an ad, but if you have disabled pop ups, you may have issues printing this item. We suggest temporarily allowing pop-ups so you will be able to print out this page as well as any others you may like on our site.
Zooey Zephyr Printable Activity Page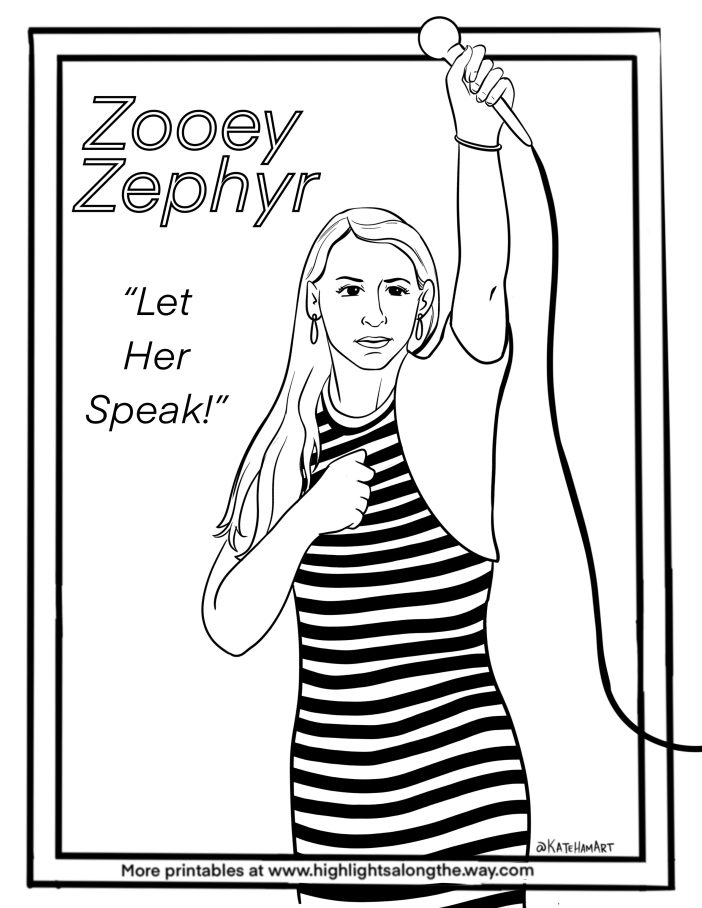 Who is Zooey Zephyr?
Zooey Zephyr is an American politician and university administrator who represents Missoula in the 100th district in the Montana House of Representatives. Zephyr is a member of the Democratic Party, she was elected in the 2022 election, making her the first openly transgender person to be elected to the state legislature in Montana. She was sworn in as a representative on January 2, 2023