Planning a trip to Costa Rica
Disclosure: Our trip was hosted, opinions are our own. This site uses affiliate links.
Planning a trip to Costa Rica?  Costa Rica is a beautiful destination for families, couples, and even a solo trip.  Here we have shared what we learned on our trip to Costa Rica.  This tropical paradise is unlike anywhere we have ever been, but there were a few things we wished we had known before our journey.  Before you pack your bags, make sure to check out our pictures and tips!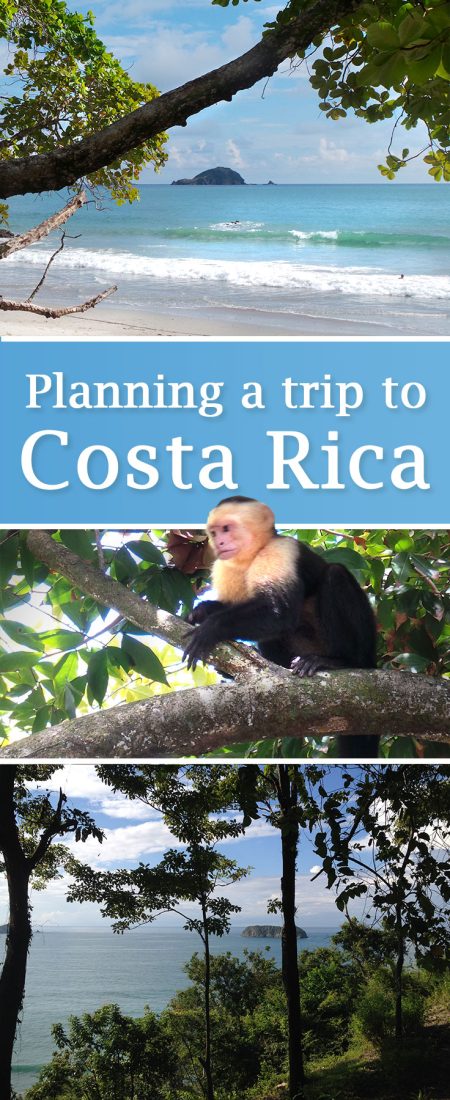 My husband and I enjoyed 7 days of Pura Vida earlier this month on our first trip to Costa Rica and it was incredible!  We were the humble guests of the Costa Rica Tourism Bureau, there for a FAM trip on ECO-Tourism as part of the Gift of Happiness Tour. I could not be more thrilled to now be qualified to share tips on planning a trip to Costa Rica. Here are a couple things you might find helpful if you are considering a trip to this tropical country …………..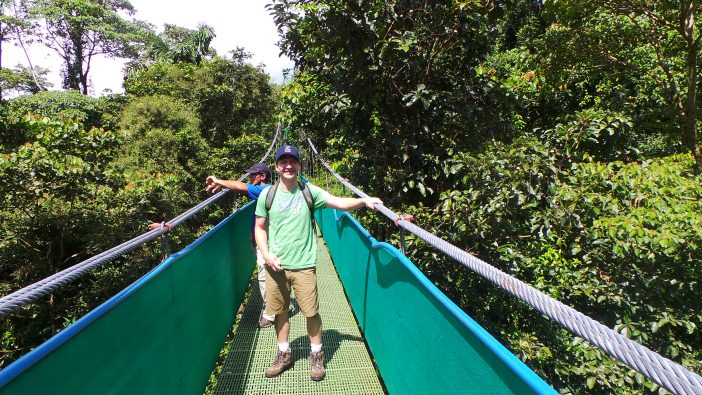 The outlets are the same in Costa Rica as they are in the United States.
The water is perfectly safe to drink just about everywhere.  Double check with your guide, but we traveled to several different cities and regions and always drank water from the tap.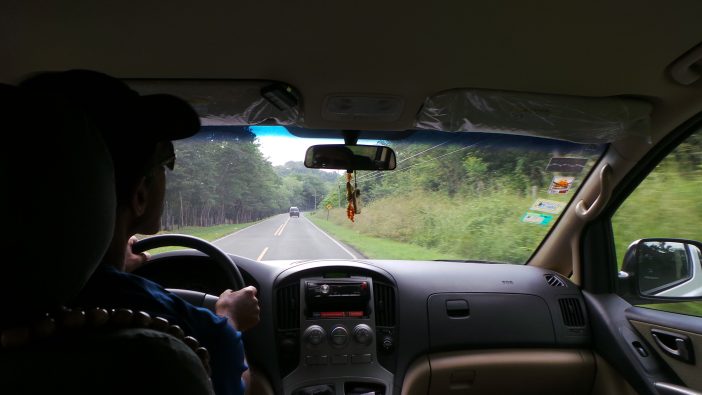 I would not suggest a rental car.  Make sure to get a travel guide of some sort – either a personal Costa Rican Travel Guide or go on a tour bus.  It is VERY different than America, and I cannot imagine just hoping into a rental car and getting where I needed to go.  Streets are not labeled as accurately as in the U.S., also, traffic laws seems to be different.  Seriously, a tour bus or guide is the way to go in my opinion.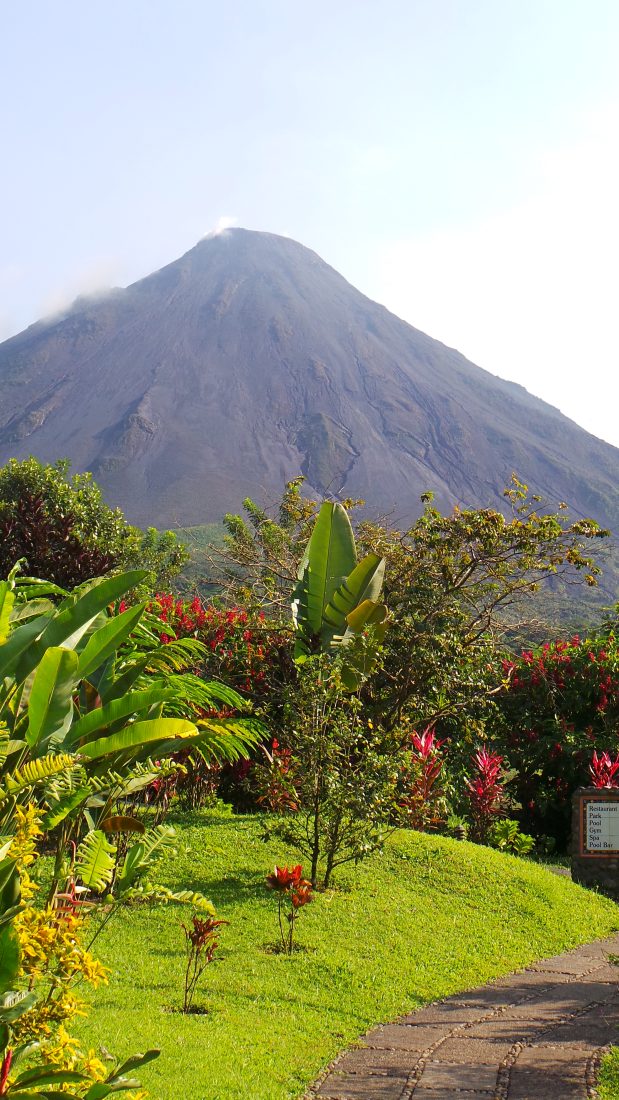 A gecko will be in your room, and you need to be OK with that.  We were staying in a luxury hotel in Costa Rica and overheard our neighbor screaming at the concierge about a gecko in her room….. come on lady.  No matter what kind of hotel you are staying, no matter how luxurious, there will be a gecko in your room.  Geckos are harmless to you, but deadly to tropical insects, so you should let him stay.  They are also adorable.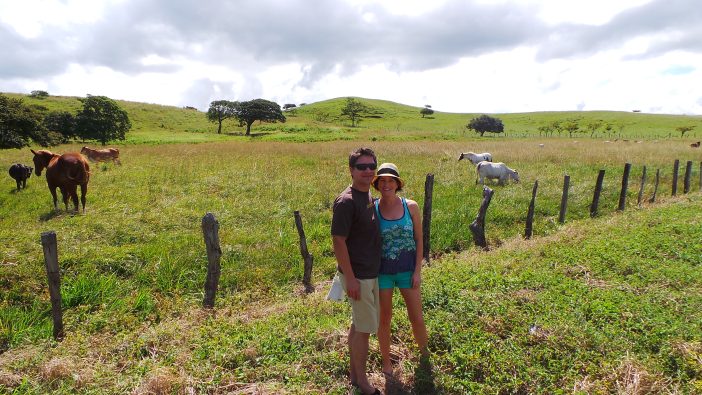 American Dollars are excepted virtually everywhere.  The official money of Costa Rica is called the "Colones" – or this is what I have been told.  We never needed to change out our money.  American money was not only accepted everywhere we went on our 7 day trip, but it was also given back as change.  The 2nd to last day we were running low on cash so we went to the ATM – where we had the option of Colones or American Dollars.  The current exchange rate is 500 Colones to One American Dollar.  At many stores and restaurants prices were printed in both Colones and Dollars, but if it is not, it is very easy to figure out the difference.  We only shopped with $20 bills and smaller, I have heard that larger bills are harder to use.  All that to say, if you are planning a trip to Costa Rica, you can probably just use US dollars.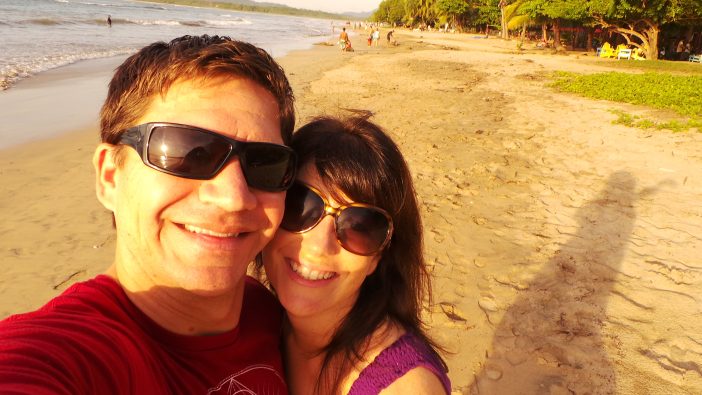 If your hair is at all frizzy it is a really good idea to plan on having it braided the entire time.  Even if you do have a defrizzing treatment, it is a good idea to bring a hair straightener.  I got a Brazilian Blowout before I left, but I still wish I had brought a hair straightener, my hair was still a bit frizzy.  So if you are planning a trip to Costa Rica just bring a hair straightener or go with the flow. haha!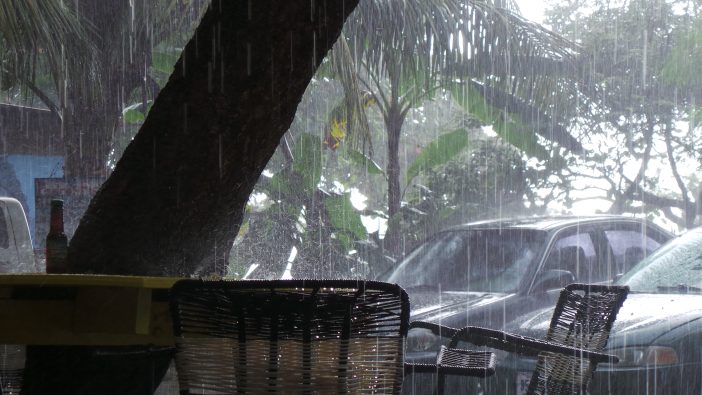 It tends to rain daily, and it is REALLY hard rain.  Make sure to be prepared.  Many hotels will have an umbrella by your door, and also at the restaurants.  It is a good idea to have ziploc type baggies in your purse for your phone and camera.  It is also a good idea to have waterproof hiking boots rather than tennis shoes, if you get caught in the rain your shoes may be wet for days.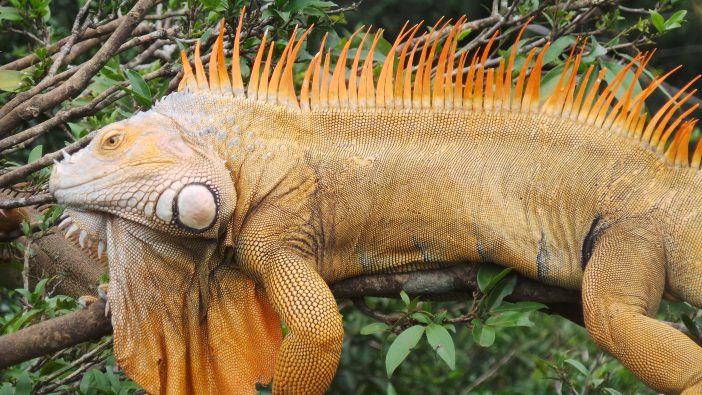 Don't feed the animals.  Monkeys, squirrels, iguanas and more might look at you with sad eyes right outside your hotel room, but seriously – don't feed them.  Feeding them not only disrupts natures balance, it is unhealthy for the animals and it is illegal.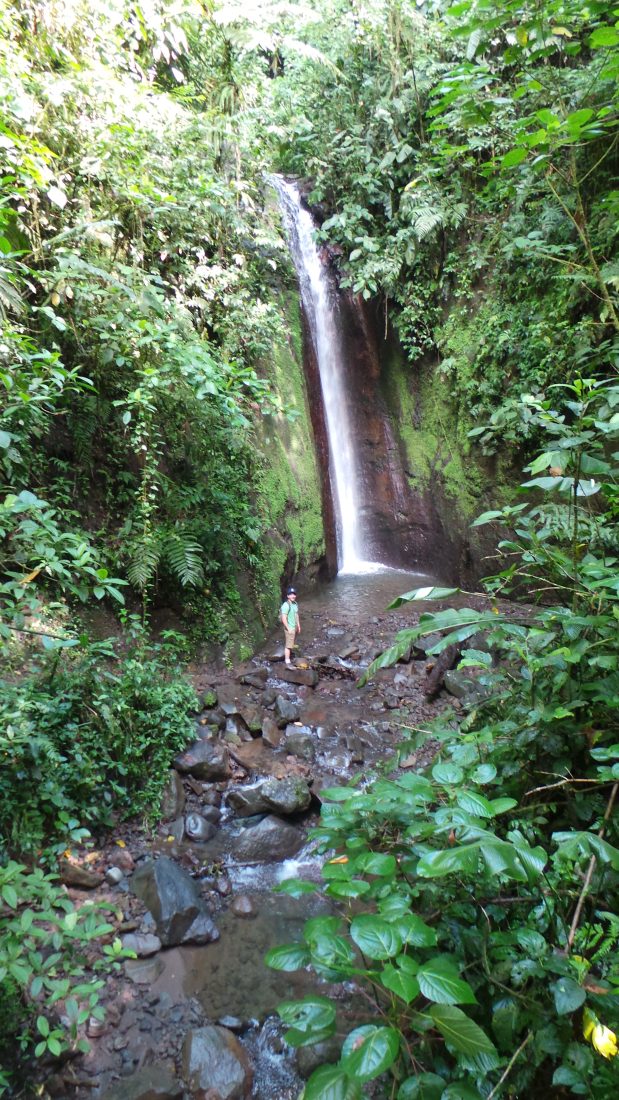 Costa Rica is a beautiful location for couples but it is also extremely family friendly!  Our next trip will be with kids in tow!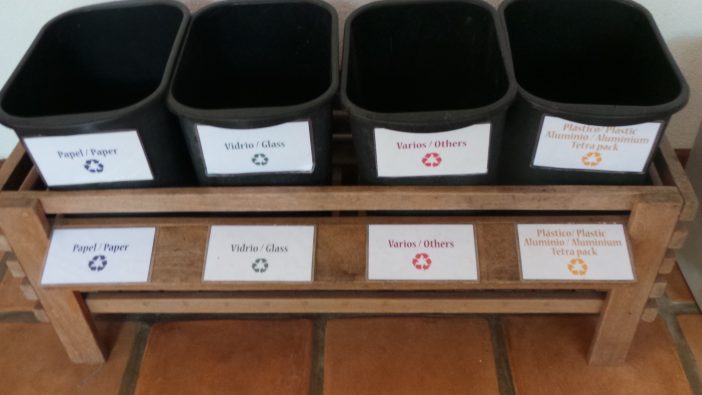 Costa Rica is very eco conscious – every resort we stayed at had recycling bins in public areas of the resort and in our rooms.  You will also see other efforts used to reduce the carbon footprint of locals and tourists all over Costa Rica.  For those who are looking for a country that promotes Eco-Tourism – Costa Rica is your place!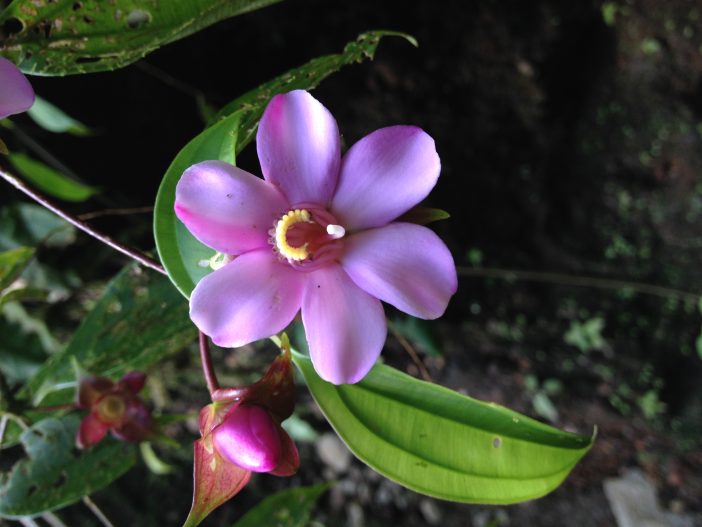 If you decide to come back home it costs $29 (US dollars) to leave the airport (as of 2013).  No biggie, but you probably don't want to be surprised.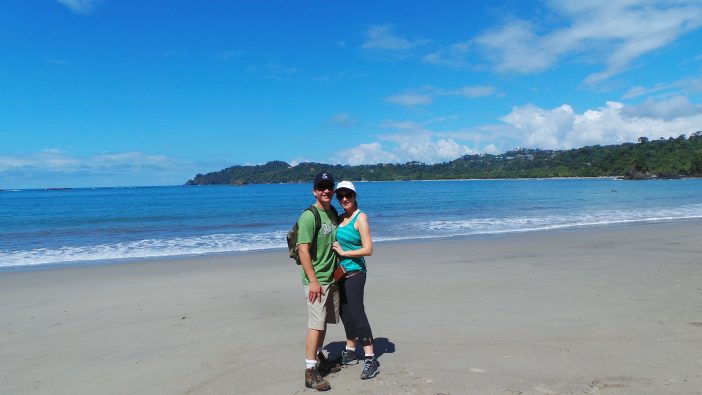 Fun fact if you are preoccupied by the likelihood of a shark attack everywhere you go like I am – there have been very few shark attacks in Costa Rica.  Man eating sharks apparently aren't big fans of Costa Rica, or this is what they told me.  I loved watching my husband surf, I even took a surf lesson!  The water is crystal clear and so warm.
Oh! One more thing you need to know before you go……….. come hungry!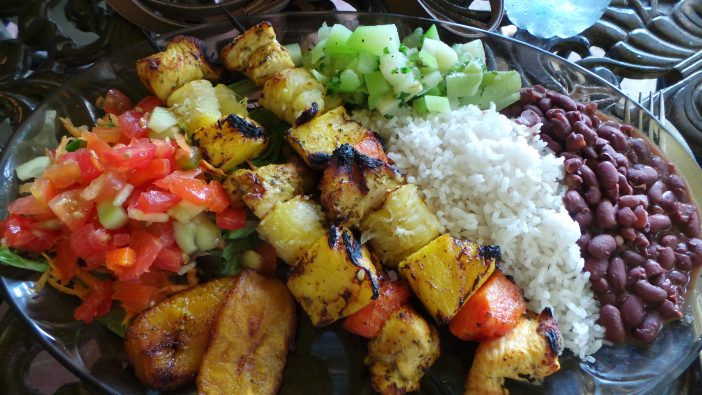 *All photos are mine and may not be used without written permission from me.*