Reclaimed Wood Sign : DIY Decor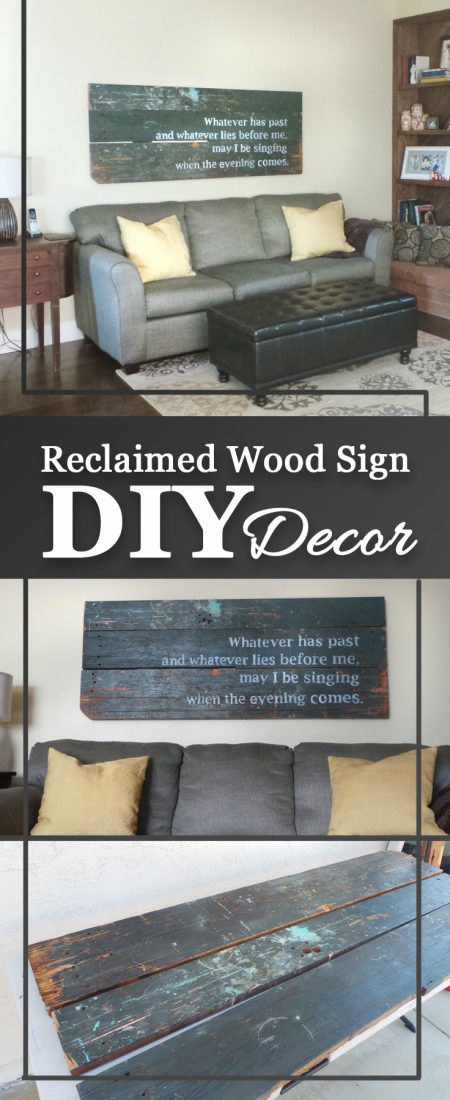 We are having so much fun decorating our new fixer upper on a shoe string budget.  I love thrifting, garage sailing, and re-purposing hand me downs and what others might consider discards into something that makes our new house feel a bit more like home.  This is the story of our Reclaimed Wood Sign DIY!
Our latest feature in our house was completely free, all it took was time and the ability to see it's potential. It also kept something my dad and husband would have thrown away out of a landfill – budget win! Environmental win!  As you all know, our new home came with several 'to do' projects.  The garage was a bit of a disaster, not terrible, but it just had some trash all about, and it was not very functional.  One of the first projects Harry and I my dad did after flooring was putting some closets on one side of the garage.  As they did that they had to pull out weird makeshift things the previous owner had in there.  At one point I walked in on Harry pulling up what appeared to be like a weird work bench thingy – it was covered in several different colors of paint, it had holes in it, small nails, big nails.  In a word – GORGEOUS.  Gorgeous to me that is. Perfect for a Reclaimed Wood Sign – DIY of course!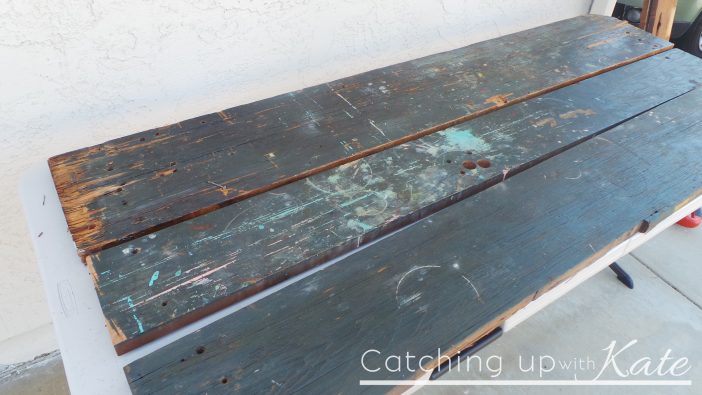 "Oooohh!  What are you going to do with that?!" Me
"This?" Harry
"Yeah! It's pretty!" Me
*weird glance between my husband and my father that seemed to say "What the h?"
"I think it's trash Babe." Harry
"NUH UH!  THAT is a wood sign for over our couch!" Me
*weird look continues and then a sigh*
"For real, you know how I keep showing you pieces of old wood with verses on them and I keep saying I want to make one? THIS is the wood I want to use!" Me
"Really Kate?" Harry
"Yep, just watch, can you just save it?" Me
Now, my husband rarely believes me when I have a crazy vision, but he generally goes along with it – which I appreciate.
*Please note* I am only sharing this because I am beyond proud of how my husband made this beautiful, inspirational piece of art out of kind of nothing.  This isn't a complete instructional 'how too' – there are many websites out there that can teach you much more articulately than we can – I am just sharing our experience.
Check out how the hubs took what was essentially garbage and turned it into art!  Four main pieces became the front of the sign, the least fancy looking became the pieces that kept the front together.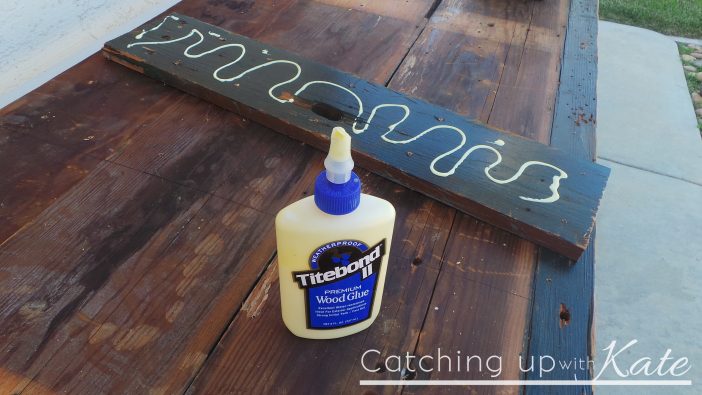 Check out the process and the finished project…..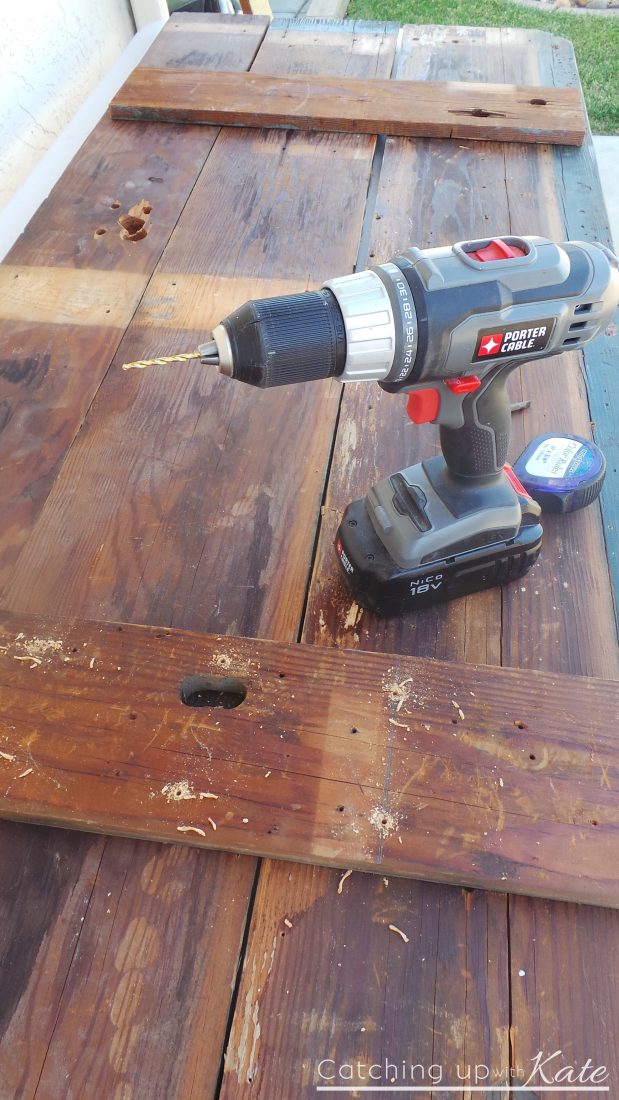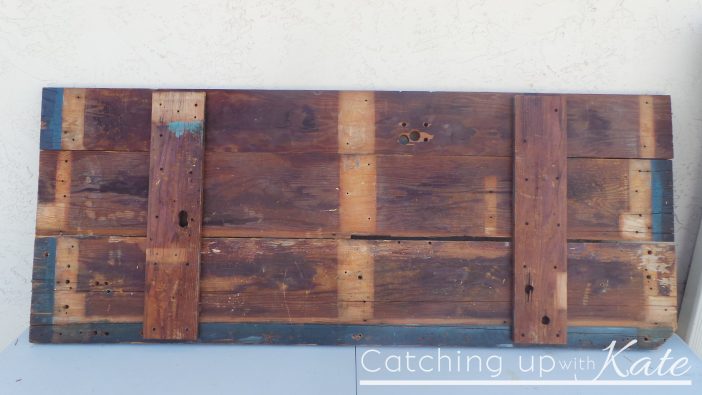 Once the sign was put together it was time to start writing out our verse.  "Whatever has past and whatever lies before me, may I be signing when the evening comes." – some of you may know the song – it is one of our family's favorites.
Harry used an old art projector to project the words into the 'canvas'.  This was done in the dark, the only light came from the projector, the picture below is light because of the flash on the camera.  He traced the projected words with a white pencil.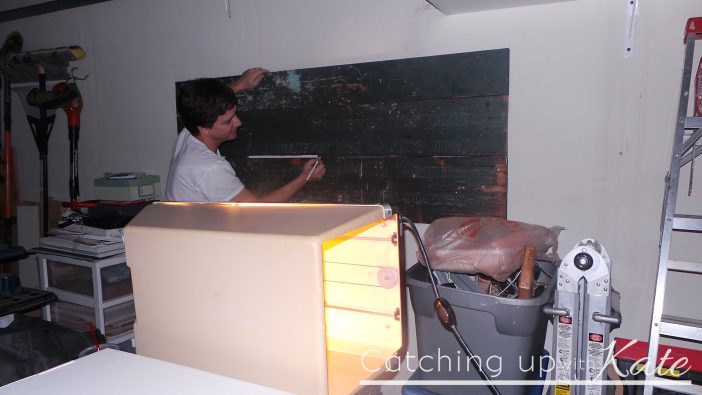 The next morning, I took the same printout and painted in the words.  I used the Swiss Coffee Behr paint we had left over from the trim in our house and cut it with water for a white wash effect.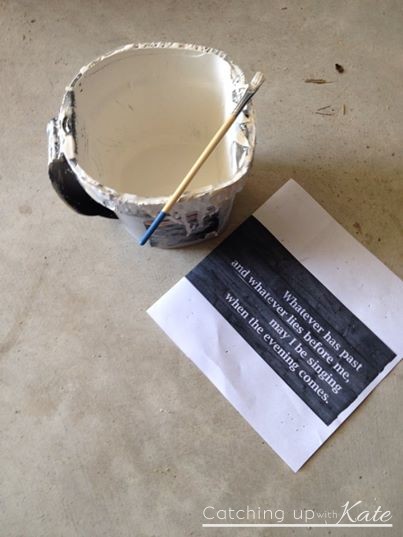 Half way through…….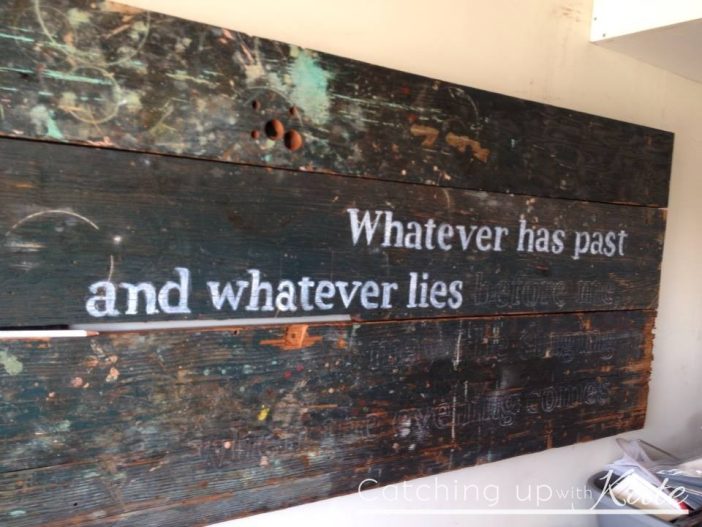 It was important to me that the letters were evenly spaced, but not absolutely perfect.  I wanted them to be a little weathered looking, just like the sign itself.  I wanted it to be part of the reclaimed wood, not to stand out too much.
In my opinion, the results are pretty spectacular!  I am not exactly an interior designer, but I sure do like to try!  Our budget makes it complicated, but I love to create a beautiful space with what we have.  We have had so many compliments from friends and family!  Now I am not suggesting everything destined for a trash bin can be turned into art – but in the case of distressed wood, I do think you can often make a beautiful conversation piece for your home!  Keep your eyes peeled people!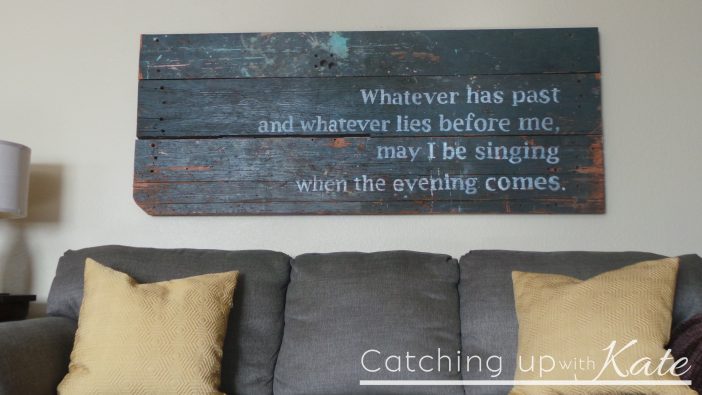 There are parts of me that wish I could just walk into a Pottery Barn or Anthropologie and buy everything I wanted for our home, but it is really only a small, very lazy part of me.  I look around our little living room (and really our whole house) and I can see a story everywhere I look.  I kinda like the story, so I suppose it is worth the extra effort.