101 Dalmatians Floyd Norman Interview & drawing demo *video*
Disclosure: I attended an all expenses paid trip to Disney Studios where I met Floyd. While posts were expected as part of this trip, opinions are my own.
101 Dalmatians is back out of the Disney vault!  101 Dalmatians is a Disney classic from the 1960s and true animation treasure!  101 is a Classic for sure, but so many people don't realize it was truly revolutionary for it's time.  While Disney was known for ground breaking animation techniques from the very beginning (first with sound, first in color, first feature length, etc, etc) not many people know how 101 Dalmatians was the first to use Xerox and it likely saved Walt Disney Animation Studios!  At least that is what my new friend Floyd Norman said when we all hung out that one time.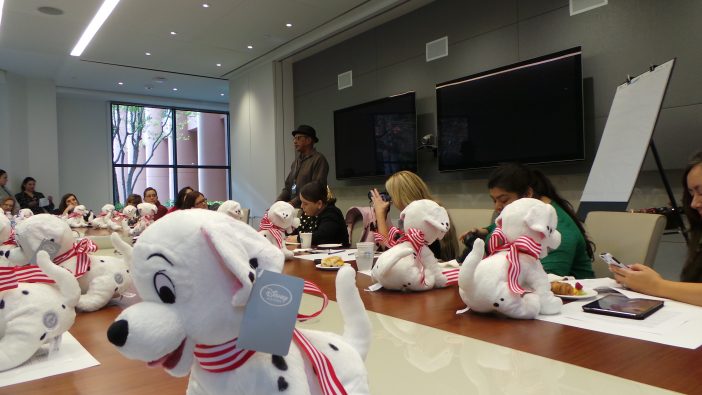 look at all those puppies!
A couple months ago I was at Disney Studios and I was able to meet real life Disney Animator Floyd Norman……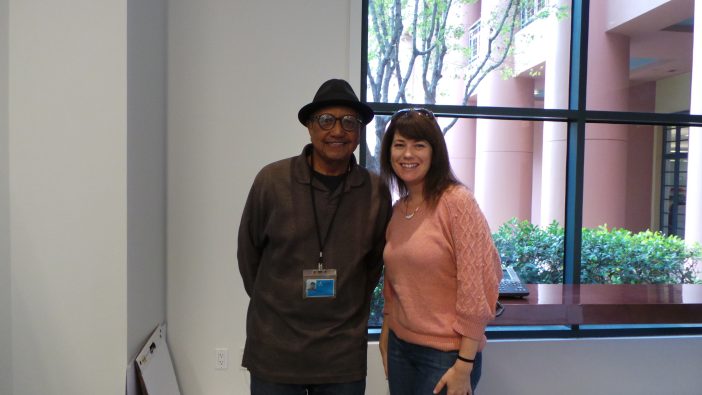 #ANIMATIONSTUDENTGEEKOUTMOMENT
Floyd Norman is kind of amazing – he is humble but has had an incredible life and shared some extraordinary stories!
Here are some fun facts about Floyd Norman……
Floyd walked onto the Disney lot just out of high school and asked animators how he could work there someday.  Animators took the time to share about the studio and encourage him to go to school.
He attended Art Center in Pasadena California.
Floyd was hired at Walt Disney Studios shortly after graduating.
Floyd Norman was named a Disney Legend in 2007.
He worked on some of the most amazing Disney Classics such as Sleeping Beauty, 101 Dalmatians, The Jungle Book, and more!
Floyd technically retired after Monster's Inc in 2000, but returned shortly after.
Of all the movies he worked on, Floyd Norman says his favorite movie was The Jungle Book.
He is a classic – he says Mickey Mouse is his favorite character of all time.
Floyd is in his eighties and can still be seen regularly on the Disney lot mentoring and encouraging this generations artists.
"Today work is more like fun, I get paid to play."  says Floyd Norman of still working at Walt Disney Studios today.
******
Some fun facts about 101 Dalmatians…..
101 Dalmatians was the movie just after Sleeping Beauty; which was successful but so expensive to produce.
Xerox was used for the first time in animation to replicate the puppies.
With the technology of Xerox; 101 Dalmatians took half the artists and less time to finish than Sleeping Beauty.
Walt Disney according to Floyd Norman disliked the 'hairiness' of the lines when using Xerox.
101 Dalmatians was one of the top grossing animated films of all time (adjusted for inflation) and quite likely saved the studio!
******
Now since you weren't able to be there with me, I asked if I was able to take video of Floyd's drawing for my Animation loving friends and they said "Yes!" – yay!  Below is a quick video of Floyd making it look easy!
Do you have a little animation buff in your house?  Check out these downloadable 101 Dalmatians printables!  Learn how to draw Cruela from a real live animator.  Learn fun facts about how Xerox revolutionized the animation industry!  And lots more!
If you do not have 101 Dalmatians (or you have it on VHS like we did) I highly suggest adding this classic to your collection!