Tween Books Prize Pack from American Girl!
Disclosure: Thank you to American Girl for sending complimentary products for us to share as well as the giveaway prize pack.
We are the proud parents of a tween girl.  Twelve years old is such a fun age, but it can also be challenging!  Growing up is hard, but we want to be as encouraging as possible. While open communication and unconditional love is the obvious base for helping a kid win at growing up, we've also found some amazing resources to help her be the best that she can be. American Girl has a giant library of books for tweens and teens. We have gone through several of these new books together and I am so impressed. I am thrilled to not only share a little about each of these books, but also offer a prize pack to one lucky subscriber!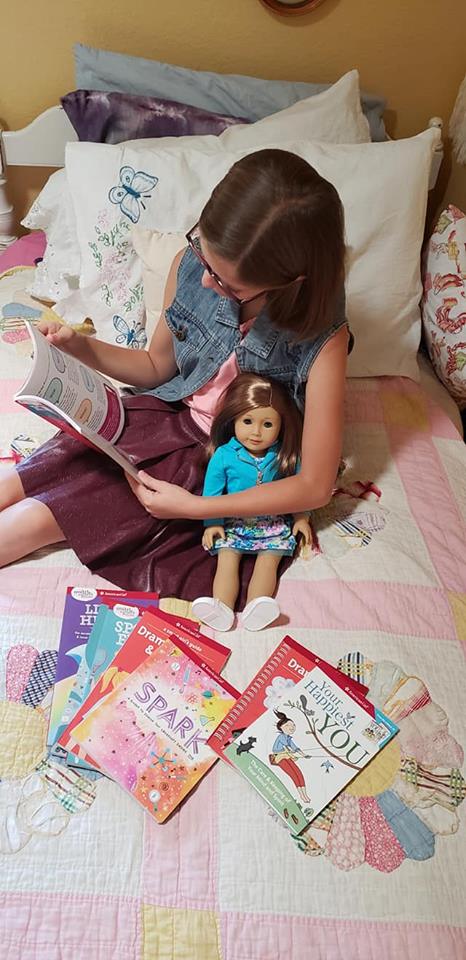 Our tween is in love with American Girl.  While we used to think this might be a fleeting phase when she was littler, we have found that American Girl has so many fun things for tweens.  She may have outgrown Bitty Babies and some other things, but American Girl still has so many fun books, clothing, and of course dolls that she loves! She found an on trend "back to school" outfit as well as a library of new books to help her navigate middle school life.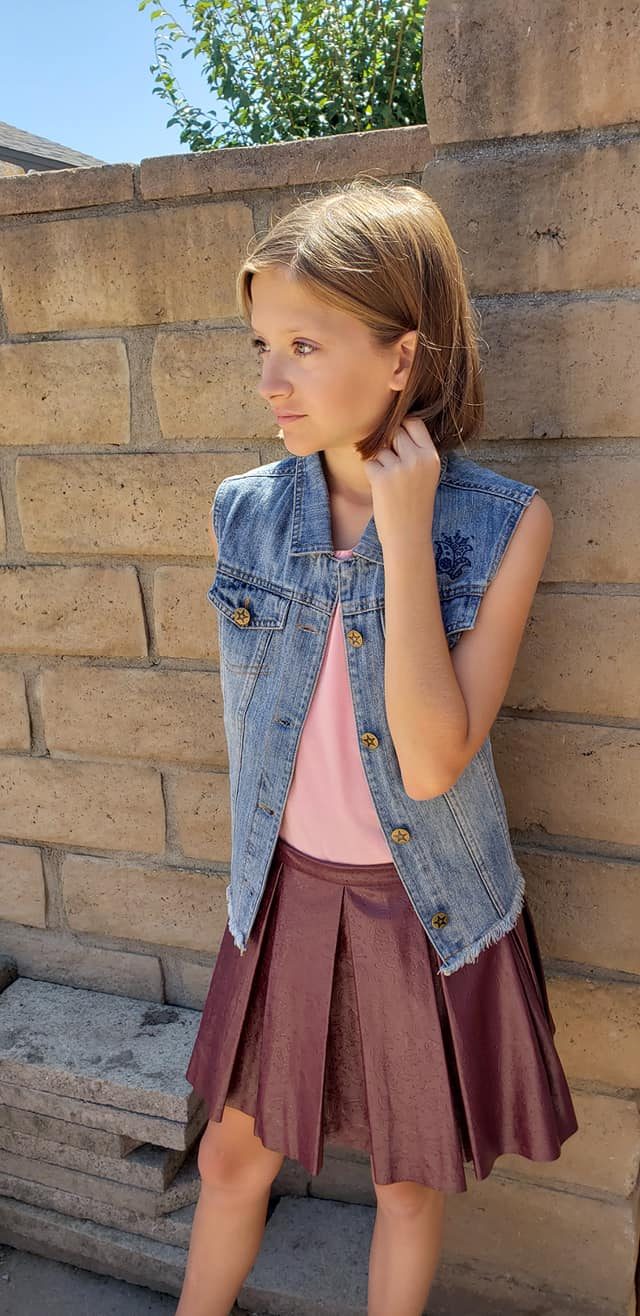 Seriously, how cool does she look in the outfit above?  American Girl has sweet clothing for little girls, but also so many piece for older girls with more sophisticated taste as well.  J loves this faux leather skirt, jean vest, and pink tank top.  All can still be found on American Girl as well as other adorable items.  We are always seriously impressed with the quality of the clothing by American Girl.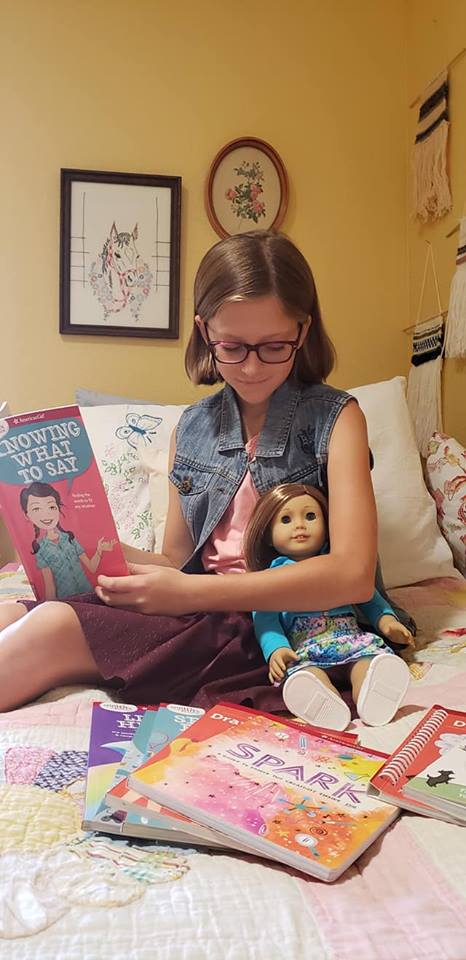 Are you looking for books meant to help your tween and teen girl journey through the world? These are some of the newer titles by American Girl that we have found helpful.  We were thankful for the opportunity to review these books, make sure to check out the American Girl website.
Spark – A guide to ignite the creativity inside you :  Is she bursting with so many dreams, inventions, and creative ideas that she doesn't know where to start? Or is she still figuring out what she likes and how to express herself? This fill-in-the-blank, do-it-yourself guidebook will help answer questions such as "What can I draw?" or "What can I invent?" Along the way, she'll learn about herself, what it means to be creative, and new ways to let her creativity shine. 96 pages. Paperback. Author: Andrea Debbink.
Your Happiest You – Your girl already knows a lot about caring for her body. She eats her veggies, tries to get enough exercise and sleep, and uses soap when she needs to. But does she know that a little care and keeping are great for her mind and spirit, too? This book is full of expert know-how and fun ideas to help her bounce back from any setback, focus on what matters, and tune out the rest. She'll learn to find calm inside, connect better with friends and family, truly enjoy the world around her—and be the happy girl she's meant to be. 112 pages. Paperback. Author: Judy Woodburn.
Liking Herself – Has a bad day got her down? In this advice-packed book, girls will learn how high self-esteem can turn a good day into a great day, while low self-esteem can make a bad day even worse. She'll learn tips for trusting herself, ideas for boosting her self-esteem (or for keeping it up), and how to feel her best in all kinds of situations. She is perfect just as she is, and this book will help her believe that to be true! 96 pages. Paperback. Author: Laurie Zelinger.
Knowing What to Say – Help girls find the right words to fit more than 200 situations! With the advice in this latest addition to the Smart Girl's Guide series, girls will learn smart words to choose when stressed, shy, sad, or facing other awkward moments. Girls will find real-world ways to ask a teacher for help, stand up to a bully, or express sympathy for the loss of a loved one. Plus, the tools, tips, and techniques (plus actual words!) will help girls untangle their tongues and speak out with confidence and grace. 120 pages. Paperback. Author: Patti Kelley Criswell
Digital World Digital devices put a whole world at a girl's fingertips. Play a game, listen to music, do research for school, read a story, or make a video—anywhere, anytime. Connect with friends and family in fast and easy ways. Post photos and share ideas and inspiration. And that's only a small part of it. Just like the real world, the digital world is full of exciting, helpful, and even life-changing possibilities. And just as in the real world, she needs to know how to navigate it wisely and keep herself safe. With everything from quizzes that test safety smarts to advice on how to deal with cyberbullying, this book will get her started. 64 pages. Paperback. Author: Carrie Anton.
Sports & Fitness Whether she likes a team sport or a solo activity—whatever she plays, whatever her reason or her level, this book is for her. She'll find exercises to make her stronger and last longer, confidence-building tips and brainpower drills, team- and spirit-building activities, and tons of ideas from other girls! 112 pages. Paperback. Author: Therese Kauchak Maring.
Drama, Rumors, & Secrets – The issue of "drama"—everything from jealousy to gossip to cyberbullying—is a top concern for girls ages 10 and up. This book offers young readers expert insight into why drama exists, how it starts, what keeps it going, and how they can cool it down. Readers will find quotes and advice from real girls who've been there, plus tips and quizzes to help them rise above the fray and keep safe. Author: Nancy Holyoke. 96 pages. Paperback. Ages 10+
Drama-Rama! – This quiz-book companion to A Smart Girl's Guide: Drama, Rumors & Secrets is designed to help girls understand their own power in the face of drama. Through thought-provoking questions and entertaining answers, readers will get a better understanding of why drama happens and what they can do to stop it. Author: Emma MacLaren Henke. 80 pages. Paperback. Ages 10+
Because the tween years tend to be when kids question their own identiy a bit, we were happy to gift our girl with a Truly Me doll that looks just like her. Seeing a girl who looked just like her made her smile and also encouraged her to love herself a little more.
Truly Me Dolls come in dozens of combinations to fit the girl or boy they come home to! Check out our daughter unboxing her Truly Me doll below.
I am so happy that American Girl was willing to share our favorite books with a lucky reader too! Would you like to win an American Girl book prize pack?  Check out the easy entry below.
The following 8 books will be included in the giveaway.
A Smart Girl's Guide – Digital World
Knowing What to Say
Your Happiest You
SPARK – A guide to Ignite the Creativity Inside You
Drama, Secrets, & Rumors
Drama-rama! (companion quiz book to Drama, Secrets, & Rumors)
Liking Herself – even on the bad days
Sports & Fitness – how to use your body and mind to have fun and be your best
Who wouldn't love to win this book set for their tween?  I am so excited that Mattel has been kind enough to offer a set for us to give away. One lucky Highlights Along the Way subscriber will have their own set mailed straight to their home. As with most of our giveaways, you must be a verified subscriber to Highlights Along the Way. Simply subscribe and leave us a comment letting us know who you would gift this book set to.  That's it! We also have several ways that you can earn more entries by engaging with us on social, but being a subscriber is the only requirement. Void where prohibited. This giveaway is valid only within the United States.  The winner's American Girl Books will be mailed directly from American Girl and cannot be mailed to PO Boxes, only a physical address.
Enter for your chance to win in the Rafflecopter entry form below. Giveaway starts NOW and will end on 9/11/2018. Winner will be chosen and notified by or before 9/13/2018. Winner will be contacted via email. Winner's name will also be visible in the entry form (First name and last initial). Only the winner will be contacted. Winner MUST respond within 48 hours of winner announcement and provide a mailing address. If the winner does not respond within that time frame, the prize is forfeited and a new winner must be chosen. While we have never had a problem with a giveaway before, Highlights Along The Way cannot be held responsible for lost or damaged prizes.
Best of luck to all!