An interview with Dwayne Johnson – Voice of Maui
Disclosure: Our interviews were part of the #MoanaEvent which was hosted by Disney.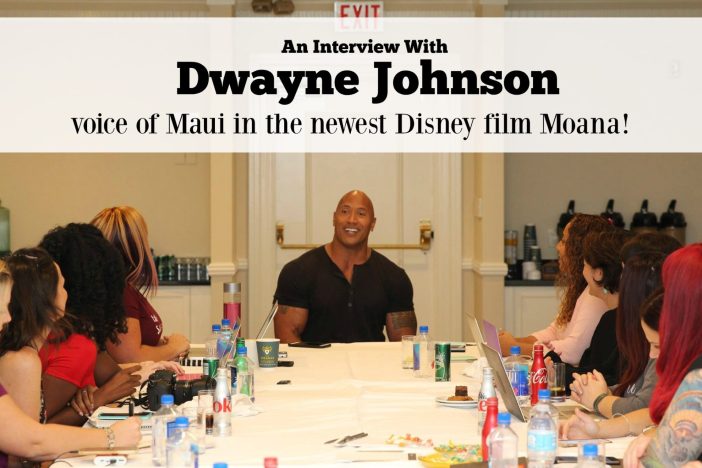 Dwayne Johnson voices Maui in the new Disney animated film Moana and he is perfection. Moana opens on theaters on November 23rd just in time for Thanksgiving. This past week while attending the #MoanaEvent press junket I had the opportunity to sit down with the talent and movie makers of Moana. Today I am sharing the highlights and laughs from our interview with People's newly dubbed "Sexiest Man Alive" Dwayne Johnson.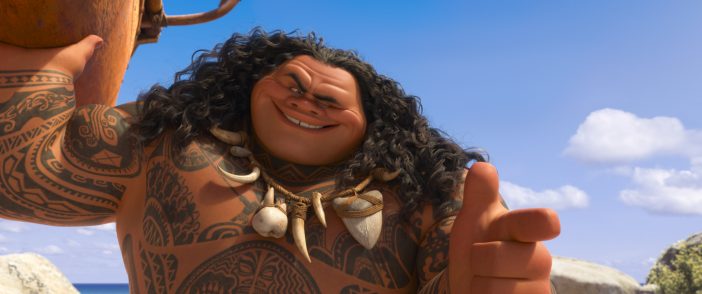 From the first question asked he was cracking us all up! When asked why it was important to take the role of Maui he answered jokingly…..
"Um… What's that thing? Money." But he turned sincere quickly talking about his culture and his appreciation for Disney.
"It was important for me to do the role because it was a great opportunity to showcase our Polynesian culture to the world. I'm half Samoan and half black. I felt I wasn't too sure that I was ever going to get the opportunity again to showcase culture, and our culture's very rich and we're very proud of it.  An opportunity to work with Disney in this capacity in a classic animated capacity with the element of music.  I've done two Disney movies in the past, live action movies, but this is different.  It's still the same umbrella, but it's a different machine, and it was the opportunity to hopefully make a movie that was not only good, but have a real good shot at creating something that was like a classic.  And that's what I wanted to do."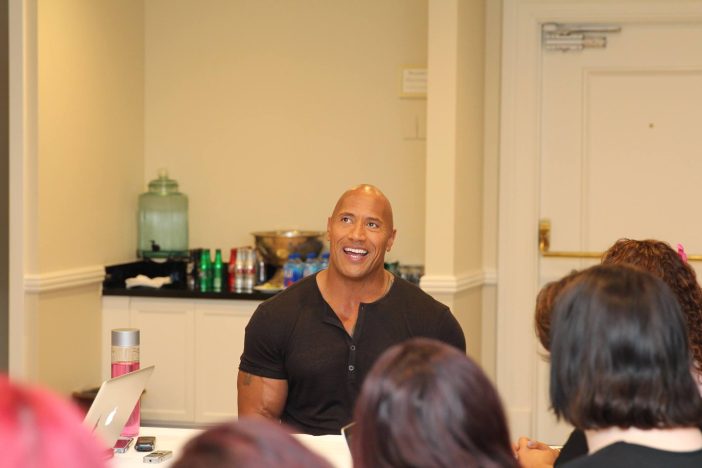 Those who are familiar with Lin – Manuel Miranda's musical style will not be surprised to hear that music in Moana features rap woven into a few songs.  Maui who is voiced by Johnson raps and it is all that one could hope for and more.  One interviewer wanted to know what it was like for him to rap as his character, and he was happy to share!
"You're so much more versatile than people give you credit for.  Talk about the rapping you did in this role."
"Yes.  Let me talk a little bit about that – yes!  Of course.  So I used the word opportunity before; it was a great opportunity  to push myself,  and to sing, and you know, the bar's set very high in a Disney movie when there's the element of music. I felt confident going in because I felt confident that I could prepare and do the things that I can control. And also surround me with really amazing um collaborators musically, and masterful musical people, and Lin-Manuel, Opetaia, and Mark Mancina, their just very, very special.  So I was… I was excited to sing a song, and to Lin's credit, he did a lot of deep dive research, and I've sung in the past, but fun, like I would go on a talk show – Ellen, or something and I would break out a guitar and sing, and just make it kind of fun and silly.  But he did his research and he found a comfortable range that I could sing in, and then he also pushed me a little bit,  I had a real, real, real good time.  And rapping too and the whole thing, so… I'm a rapper."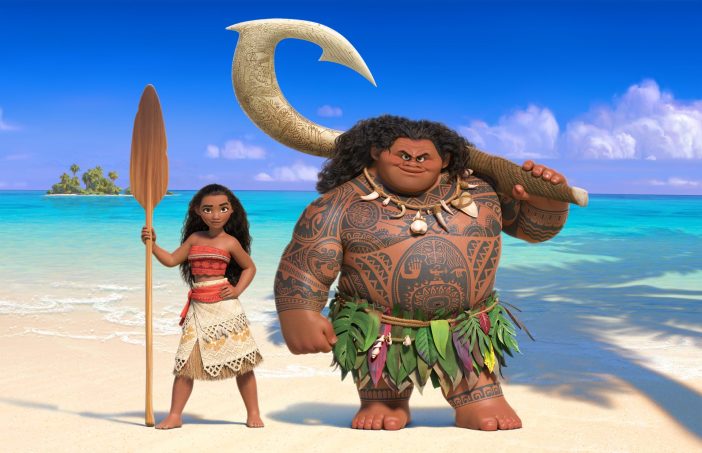 When asked about what he would like people to take away from the film he shared about his culture.  He shared his hesitance on the project at first and how that quickly was put at ease.
Dwayne Johnson wants your take away to be "Seeing that there's a wonderful quality of our culture, and there's a fierceness to our culture too, and a tremendous pride."  He went on to share that regardless of age, culture, religion, etc "We have this little voice inside of us, and to always make sure that we got to follow that voice, and listen to the voice..… and have that kind of faith that there is more.  And you can be more.  Kind of relevant today, right?"
Maui had tattoos that the gods give him to showcase meaningful moments in life.  When asked what accomplishment he would want his tattoos to represent in the same way his answer was quick "Becoming a father." *cue all the heart eyes*
At one point someone pointed out Maui's dancing pecs…… *see Dwayne's face* It was probably my favorite interview moment ever.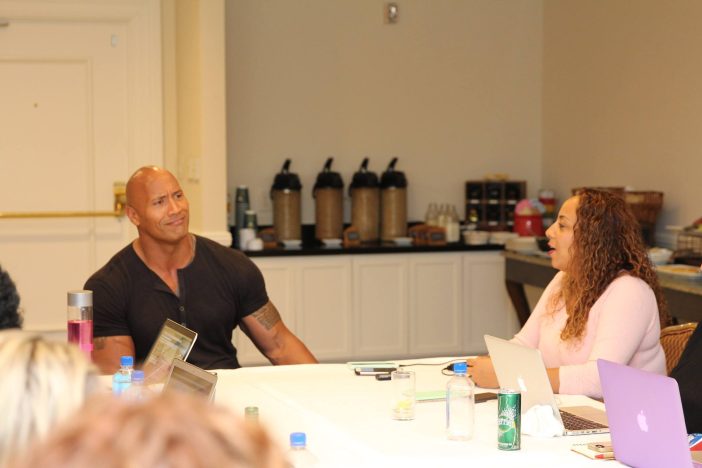 Everyone was laughing so hard and Dwayne was sweating. He had to stop the interview to grab a cloth napkin to towel off.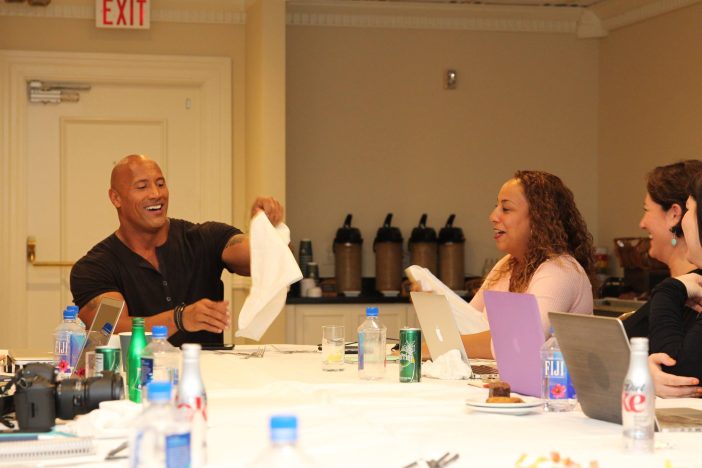 Animators will often use mannerisms of the voice actors to help develop the character they are drawing.  Maui has Dwayne Johnson's signature eye brow raise down pat and we wondered if there were more things that Disney's Maui got from him.
" Yeah there was a good amount that was infused in Maui.  I think that there's a part of Maui that I can appreciate, because it's my DNA. There's here's a fun side to Maui, a need to keep things and a desire to keep things fun, and keep them a little bit on the lighter side. He's not quick to show the vulnerability, and not quick to go down that route.  So, I would say that.  Yeah.  And some bravado, a lot of bravado, because you can mask a lot with bravado."
I believe I judged Dwayne a bit too quickly based on that bravado he speaks of. He was insightful and fun and I am so glad for what he brings to the table as Maui!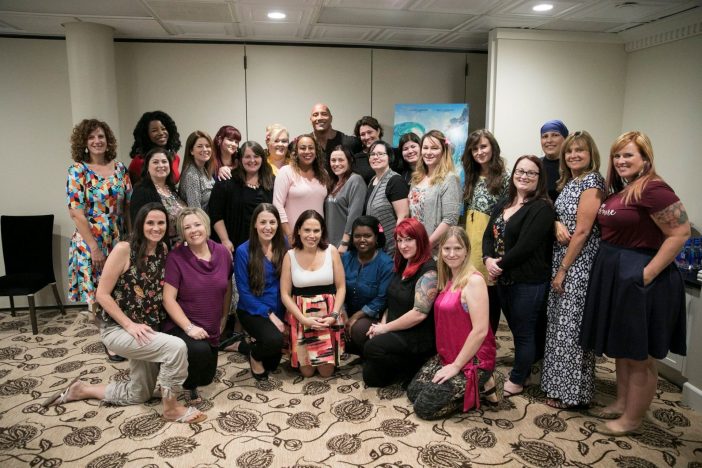 Thank you Dwayne Johnson for taking the time share with us.  I have honestly never laughed so hard in an interview!
Moana opens in theaters in just a couple days!  Check out the trailer below!