Fine Dining at The Disneyland Resort
Disclosure : I attended a media event at The Disneyland Resort and was treated to dinner at each of the following restaurants. I was not obligated to share my review and I received no monetary compensation - opinions are 100% my own.
On a recent trip to the Disneyland Resort I was introduced to several fine dining options that I simply had to share with readers!  While our family really enjoys the casual options when we bring the kids, I have really enjoyed the fine dining options when I have been at the Disneyland Resort with just my husband or with a group of adults.  If you are looking for Fine Dining at Disneyland and Disney's California Adventure Park while staying at the Disneyland Resort in California you will be excited to know there are several restaurants to choose from!
I am excited to share just a few of your choices; below are three wonderful fine dining options from three different corners of the Resort : Disneyland Park, Disney California Adventure Park, and Disney's Grand Californian Hotel and Spa .  In no particular order, I will happily share about how much I love the following options…..
The Blue Bayou Restaurant is located in New Orleans Square and is one of the most popular restaurants in Disneyland Park.  Fun fact, my husband took me to The Blue Bayou Restaurant for Valentine's Day when we were dating…. *sigh* Memories!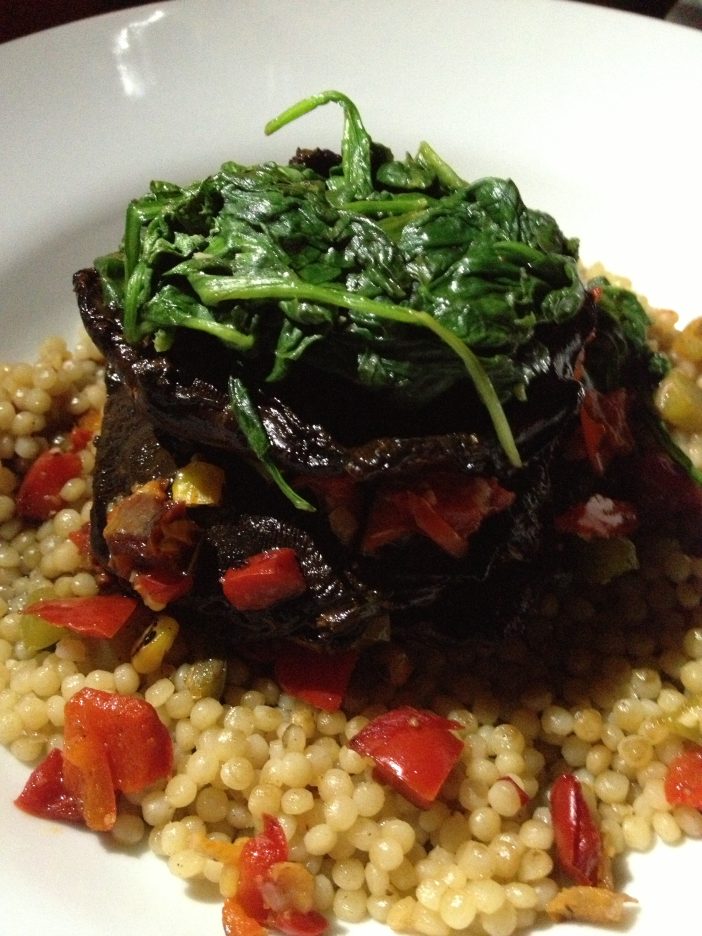 (We had to take photos using our iPhone flashlights LOL!)
On my most recent trip we stopped in for lunch, but still enjoyed our delicious meal by candle light – it is always night time in The Blue Bayou.  The atmosphere is hard to top, I remember riding through Pirates of the Caribbean for years always wondering what that restaurant must be like, and I am here to tell you it is all I had hoped it would be!  Diners will enjoy sitting with a view of the water and boats passing by.  We loved the beautiful balloon lanterns and decor, it really felt like an early evening in the Bayou.  The Blue Bayou Restaurant Menu offers Cajun and Creole specialties, it is in New Orleans after all!  On my last visit I enjoyed the Portobello Mushroom and Couscous Macque Choux.  The Portobello Mushroom is marinated in a Balsamic Vinaigrette and Broiled.  It was served with Roasted Corn and Bell Pepper Israeli Couscous, and Sautéed Spinach.  Delicious!  You can also choose Salmon, Filet Mignon, and many other options!  There is a very friendly kid menu available as well.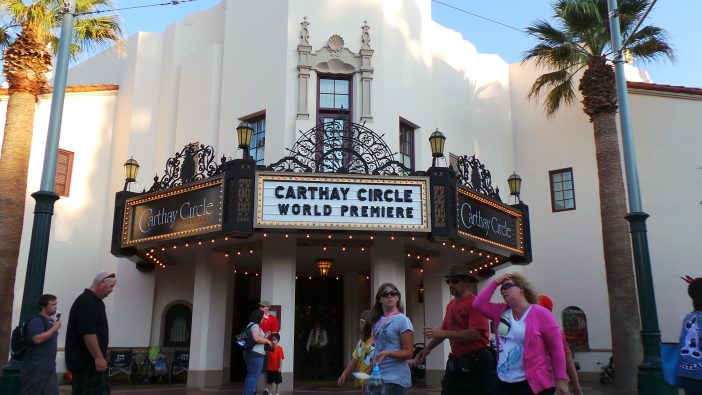 This was the first time I have been to Carthay Circle Restaurant.  My husband and I will dining there the next time we are enjoying the Resort together!  Classic Old Hollywood Glamor is the style and it of course pays homage to Disney.  I wish we had time to take a long leisurely tour throughout the entire restaurant – the classic photos of Walt Disney as well as some of our most iconic Hollywood Stars decorate ever wall!
If you are dining at Carthay, you MUST try the Carthay Signature Fried Biscuits with Apricot Honey Butter.  I cannot remember the last time I ate something quite so amazing….. in the words of a good friend "This is what calories should taste like" – seriously, get them, we generally do not order appetizers when we go out, but this is a must have on my list from no on!  I can assure you it is not on your diet plan, but it is OK, sometimes you have to make an exception, and these are totally 'worth it'!
I had never been before and making a choice from the Carthay Circle Restaurant Menu was a challenge for sure!  I settled on the Sauteed Shrimp, it should come as no surprise when I tell you it was delicious – Shrimp with Summer Corn, Zucchini, Applewood Bacon, and Basil Pesto.
I shared one of each of the desserts with a friend – both are very rich and I honestly cannot pick a favorite………..
Cordiella Chocolate Decadent Layer Cake Classic Dark Chocolate Layer Cake with Raspberry Sauce
Toasted Lemon Pound Cake fresh Marinated Bluebierries, Lemon Curd Cream, Tahitian Vanilla Chantilly
Carthay Circle Restaurant does offer a children's menu and children of course are welcome!  I think that our kids will probably wait a few years before we take them, I think this might be a special date spot for the hubby and I.  We try to go to the Disneyland Resort just as a couple every year or two, and I think this is a beautiful place for a special date!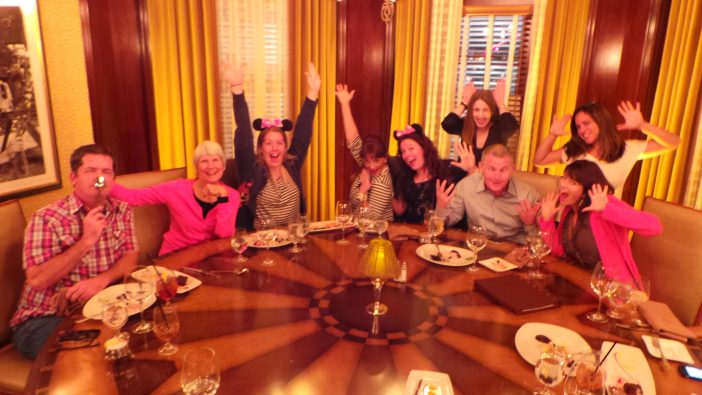 (Yes Kids, this is a picture of Mommy working hard alongside other hardworking, respectable grown ups!)
This was also my first time at Napa Rose and I finally get what so many of our friends have been raving about!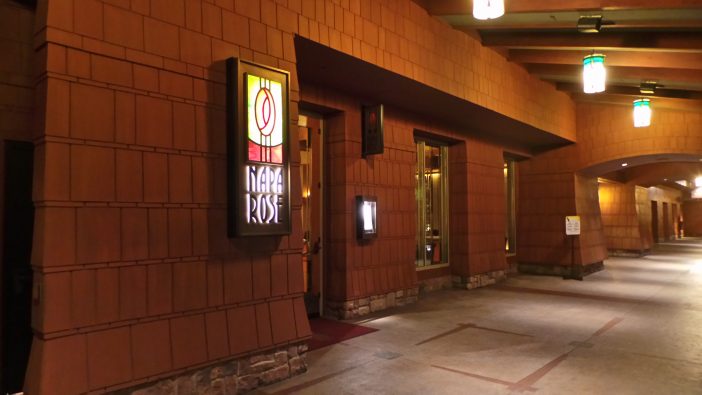 Napa Rose, located in Disney's Grand Californian is elegant and beautiful!  It is a perfect choice to celebrate a special occasion with artfully presented wine country cuisine.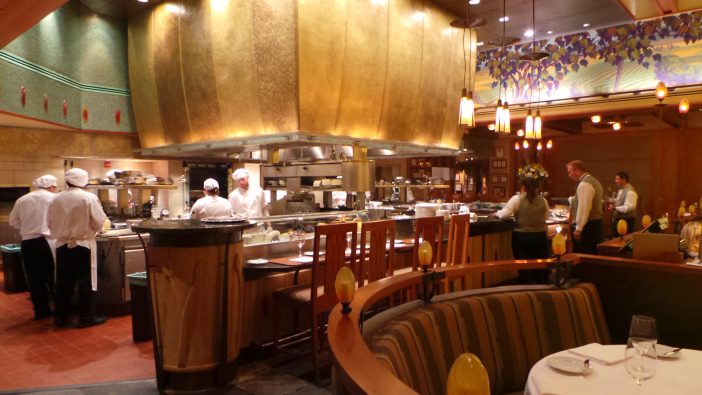 In case you were wondering where to find the most amazing scallops on the planet – it is at Napa Rose.  Everything we had was delicious, but the scallops were the stand out!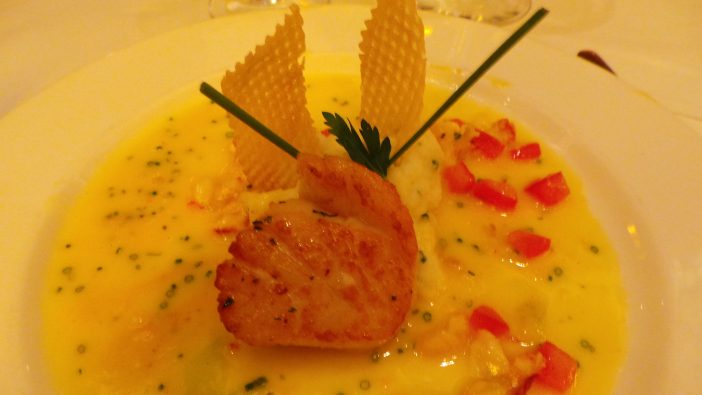 I wish had a few more photos of the interior – the craftsmen style is the perfect compliment to the Grand Californian – it felt so elegant, but relaxed at the same time.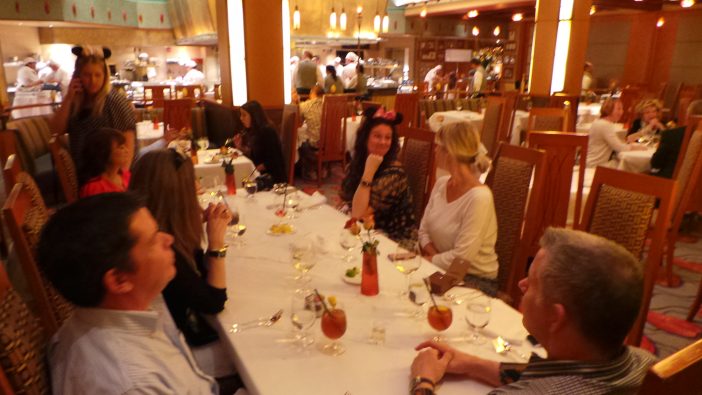 I am by no means a food critic, but I love to tell people about places that I have enjoyed!  If you are interested in dining at any of these locations I HIGHLY recommend making reservations in advance by calling Disney Dining at (714) 781-DINE or (714) 781-3463.