Baked Unripened Peaches
Disclosure: Highlights Along the Way is a participant in the Amazon Services LLC Associates Program, an affiliate advertising program designed to provide a means for sites to earn advertising fees by advertising and linking to amazon.com. This site uses affiliate links.
Every year we have a windfall of peaches on our home garden peach tree. We often will find that a branch was not pruned enough and we have too many peaches on one branch that eventually breaks. Our problem is what to do with all the unripened peaches. We wonder if we can still eat green peaches. We love stone fruit and we hate to waste. We have often wondered if unripened, green peaches are edible in any way. We found that baking unripened peaches is a delicious way to consume peaches that will not ripen.
I remember growing up and just tossing branches of peaches away as they broke off. This past year I decided to try out some recipes and experiment with unripe peaches. I found first that while they are not delicious, they are safe to consumer. Some people pickle unripened peaches, which we may try in the future. Baking unripened peaches for a long time at a low heat in just a few spices is our preferred method of making use of our peach windfall.
With food prices skyrocketing still, people are looking to make their budget and home garden stretch. Please check out our cheap recipes that don't suck round up. Budget conscious recipe bloggers from all over the United States shared dozens of recipes that will help stretch a budget. We also want to remind everyone that in these times that using resources like food banks is not at all shameful, please do what is best for your family! If you are able to plant fruit trees in your yard, we have found this to be an excellent way to stretch our family food budget. I am not sure if any of the recipes include peaches, but I will be sure to add this one to the mix!
It boggles my mind how much peach fruit cups cost this year over last. As a family of five, we have really been trying to stretch our food budget. Utilizing every piece of fruit on the trees in our yard is quite helpful. We did notice over the years we wasted so much fruit. We think we found a hack for our family that will lengthen the season and save some of the fruit we otherwise throw out in pruning or a bumper crop.
This year, we had a branch that should have ideally been pruned before we moved in. When we saw the branch breaking, a week or two before any of the fruit on the tree was ripe, we had to cut it off. There were seriously 100 peaches or more on the branch! While more than half simply went in the green waste bin, we did rescue several unripened peaches in hopes that maybe they would soften on the counter. Not one softened even with the paper bag trick. I searched the internet and found that some resourceful folks and pickled and baked unripened peaches with success. I thought I had nothing to lose as I would be tossing these peaches otherwise. We found that baking in sugar and a bit of cinnamon saved these bitter fruits and made a delicious dessert!
This is simply an experiment we did with peaches we had. Some of the peaches we had on our broken branch we simply too small. We are not suggesting that any or all unripened fruit can be saved, but we did find that we were able to make a large batch of a delicious dessert with several peaches that were picked from the tree a bit too early to ripen on the counter.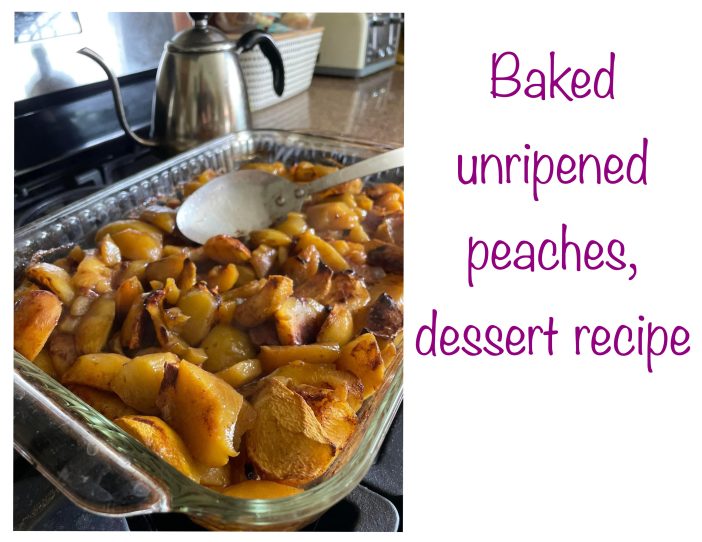 Baked Unripened Peaches
Baking an unripened peach is similar to baking a ripe peace and the results are similar. I have noticed that unripened peaches take a bit longer to bake so they are softened properly. We personally cut our peaches into about inch sized pieces. We then add water and sugar. We have also added cinnamon, but this can seriously be a two ingredient recipe. We bake at 350 for about an hour. After an hour, I then uncover and stir; usually adding another cup of water and baking for as much as another hour. Every peach and oven will be different. I am just sharing how I cook unripened peaches.
Green Peaches Recipe
We have found that peaches that have a little bit of peach coloring almost always work. Peaches may be too hard to cook, but we have cooked peaches that are fairly small and mostly yellow-green with just a hint of peach. We have read that some folks pickle peaches, we will be trying this as well. What we have found success in so far is baking.
Baked Peaches Recipe
Baking peaches cannot be simpler. First wash and pit your fruit. Cut your peaches to the desired size and remove skin if you like. We personally leave the skin on because it is full of nutrients and I am not interested in the unnecessary step. Put the desired amount of peaches in a baking pan with a little water and sugar. Add other spices if you like. We typically bake at 350 covered for an hour and decide if it needs more time or not after. That's it.
Baked peaches can be saved as pie filling, topping for pancakes, served warm as is or over ice cream, or any way you wish!
Will Peaches ripen on the counter?
Often times, an unripe peach will ripen on the counter. If a peach was picked too early, it may not ripen ever on the counter. We have found that peaches picked a bit too early will often ripen if put in a paper bag for a day. Sometimes, peaches are simply off the tree too early and will never ripen on the counter. While a peach that is not ripe is really inedible as is, we do suggest you try the simple recipe above. There is no need to waste a peach that will not ripen on the counter.
Ways to use up peaches
We will be adding a list of our favorite recipes for peaches here! We have two peach trees at our home and plan to make great use of these peaches!
Can peaches to use all year!
Freeze Peaches to use in smoothies!
Peaches in fruit salad!
Peaches in a traditional green salad!