Pictures that will make you want to take a Disney Cruise and a DISCOUNT!
Disclosure: I was invited for a media tour of The Disney Wonder while it docked in San Diego. I have not cruised with Disney Cruises and I was not required to post. It was so beautiful, I simply wanted to share! Highlights Along the Way is a Get Away Today affiliate partner. Opinions are my own.
The Disney Wonder is a magical family-friendly Disney cruise line that you can catch in San Diego!  The ship is gigantic and magical.  With so many child and adult activities, it is perfect for a family of Disney fans! With amazing kid's clubs, the Broadway caliber Frozen stage show, world class dining, and more, there is something for everyone! Here is a sneak peek at rooms, activities, and dining.  We also offer an awesome discount with our Disney approved travel agent, Get Away Today!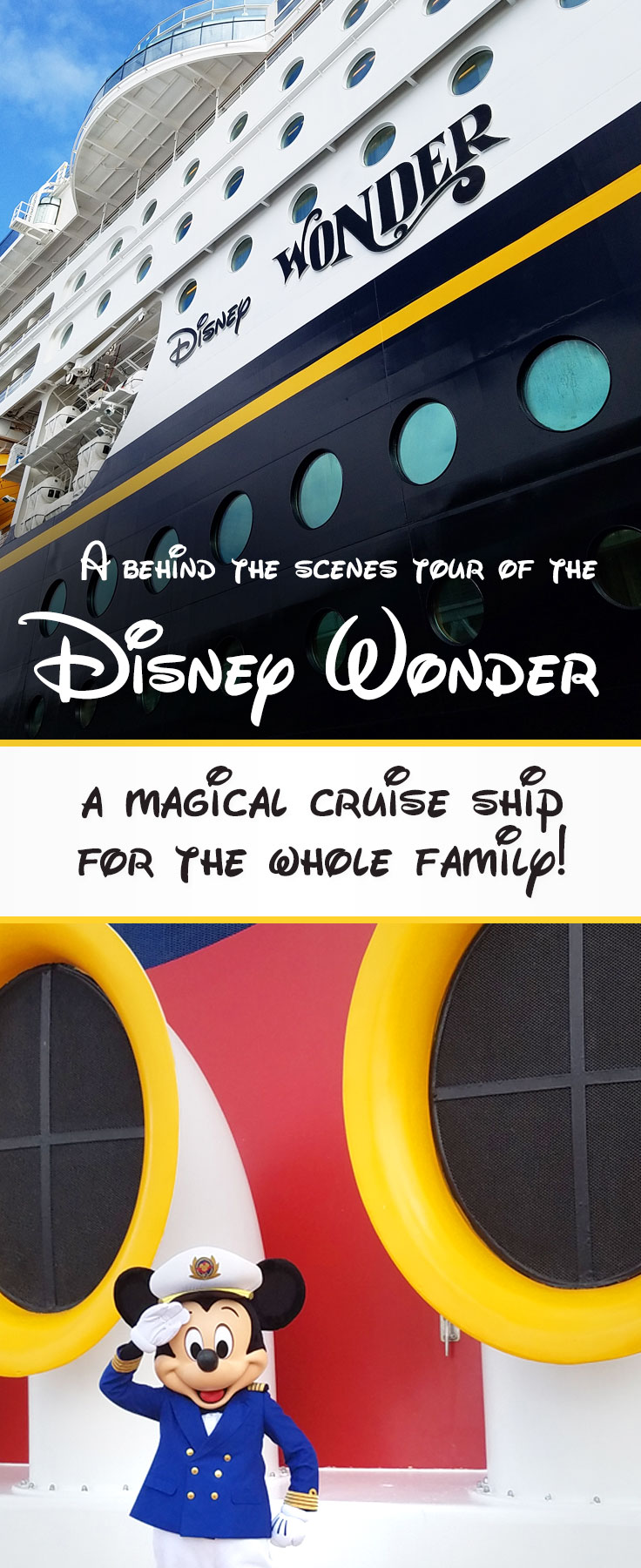 Earlier this month I had the opportunity to take a tour of the Disney Wonder Cruise Ship while it was docked in San Diego.  My family has never been on a Disney Cruise, but it is now on our bucket list!  I am excited to share a few behind the scenes photos of the beautiful cruise ship; The Disney Wonder.  While it is luxurious, it is also 100% family friendly. If you are planning to take a cruise with your family, a Disney Cruise has it all!
The Disney Wonder is the only Disney Cruise that ports in San Diego, but there are several other Disney Cruise ships to choose from.  Get Away Today has an awesome deal right now!  As you probably know, Disney cruises are incredibly popular and fill up quickly.  Right now you can plan ahead and get a HUGE Onboard credit when you book Spring 2020 trips!  What's more – Get Away Today does offer layaway, so you can pay as you wait for your upcoming trip!
Disney Cruise Line has released 2020 Spring Itineraries and now is the time to plan your Fall Break vacation for next year! Book a magical Disney voyage and get up to $300 in onboard credit! Our no-fee payment plan makes booking in advance even more affordable.  Remember, to double dip and take advantage of an extra $10 off when you book through our link and mention the secret code HIGHLIGHTS.
Embark on a tropical cruise to the Caribbean or the Bahamas – or choose from one of many fun-filled itineraries to Alaska, Europe, Mexico and beyond. With exciting voyages sailing from Florida, New York, Texas and California, there's no better time to cast off with Disney Cruise Line on a family vacation.
Disney cruises have so much to offer. You can now enjoy Frozen, A Musical Spectacular, an all-new Marvel experience in the Super Hero Academy, fine dining with a show at Tiana's Place, fireworks, and so much more!
The crew even make boarding special.  As the family gets ready to board, they are announced over the loud speaker.  The whole crew claps as each group boards by walking a little red carpet.  Kids seemed especially excited about this added touch.  The tone is set from the first steps on the ship that each family is special and this is going to be a trip full of special memories.
Frozen fans will be thrilled to know there is a live stage show featuring Anna, Elsa, Sven, Kristoff, and more!
There are several areas just for kids.  Play areas are inventive, clean, and age appropriate.  Babies, kids, tweens, and teens all have their own separate space. Kids are safe with well trained and back ground checked staff.  Child care areas are all included in the price of your cruise on the Disney Wonder.
While the kids are enjoying an amazing time, adults can enjoy several adult only areas.  The Disney Wonder is perfect for families, but it has wonderful options for all ages.  Palo is an upscale restaurant that guests can make a reservation at for a small additional charge. Keep in mind, nearly every restaurant and room service is included in your booking fee!  Sodas, snacks, and frozen yogurt are included on The Disney Wonder, alcohol is available at an additional charge.
The pool area is unlike anything I have ever seen before! So many fun slides, splash grounds, and details. Can you imagine how much fun that slide must be? I bet kids and adults love it!
Imagine relaxing by the pool with a drink in one hand and a book in the other! Ahhhhhh…. heavenly.
As one might imagine, a Disney Cruise is a great place to hug and take a picture with Mickey Mouse!
We were able to take a peek into the rooms on board.  I was thrilled to hear that a room can sleep five people! So many travel accommodations are made for a family of four, but we could all stay in the same room on the Disney Wonder. As with most cruise ships, the rooms are small but very efficient.  They are clean and adorably decorated with Disney touches throughout.
Before we bid the Disney Wonder goodbye, we were treated to lunch at Tiana's Place.
We were treated to a delicious dinner and a private show by Tiana!
And everyone knows you can't visit Tiana's without beignets!
A huge thank you to the Disney Cruise line for letting me take a tour of the ship!  We hope to see you real soon!
Thank you to Get Away Today for sharing awesome deals with our readers for every Disney Cruise Line, we hope to tour those (or maybe go sailing!) someday soon!  We also love that Get Away Today offers Disney park and other theme park vacation discounts to our readers. The current deal for Disney Cruises is an up to $300 onboard credit, which is hard to beat! Get an even deeper discount by using the unique code HIGHLIGHTS – you'll get a bonus $10 off your vacation package.
Save
Save