Disneyland Bucket List!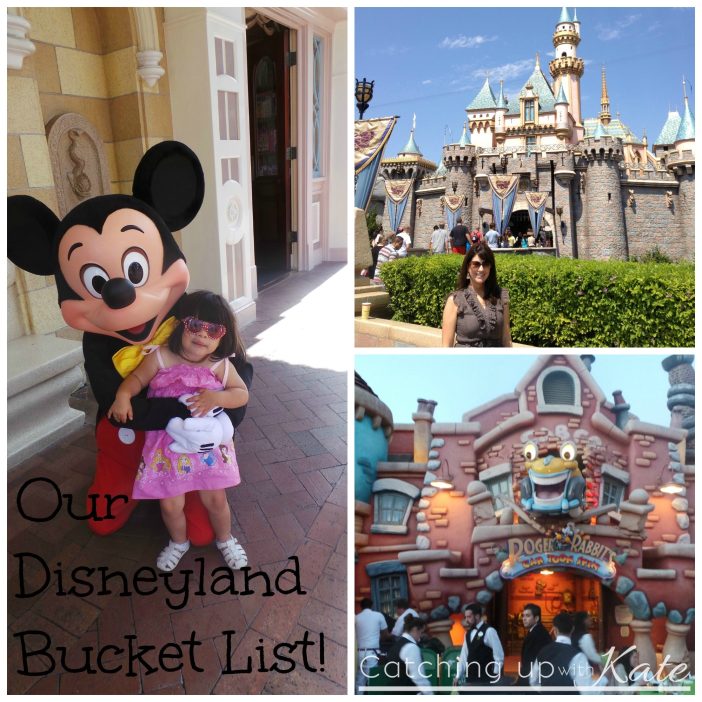 This year we got Disneyland Resort Annual Passports.  We had annual passes when our big kids were only 3 and we were excited to get passes for the whole family the year our littlest was three years old too.  Disneyland Passes are awesome but certainly not in the budget to have them every year – this is a one time thing.  We signed up for the Southern California Select Passports which have quite a few block out days but we are going to take advantage of it as much as possible.  We are so lucky to live about an hour and a half from Disneyland so we know we gotta take advantage!
So once we bought our tickets we told the kids and asked them what they would like to do.  If you have been reading Catching Up With Kate for a while you know we spend quite a few days at Disneyland already – but when we go we typically have an itinerary we need to follow.  We LOVE our media days at Disneyland but the kids were so excited to hear there would be days this year where there was no agenda but to do our family Disneyland bucket list!
If you are planning a trip to The Disneyland Resort in California or if you are local and recently got annual passports you should make a bucket list too!  It is so fun!
So the whole family sat down and talked about all the things we would like to do at Disneyland this year!  Here is our list!
1) Ride in the Lilly Belle Car on the Disneyland Railroad (we've been told this is now only for club 33 members, but I am still holding out hope!) – This is all me!  Honestly, nobody else even knew what the Lilly Belle Car was!  The Lilly Belle Car is a special part of the Disneyland Railroad train.  It is not out very often – it is named after Walt Disney's wife Lillian Disney.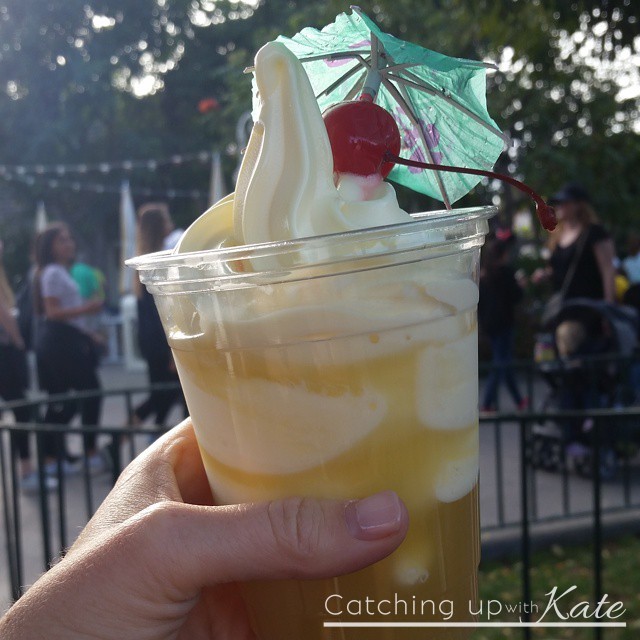 2) Eat A Dole Whip (we do this just about every time but still) – if you have not had a Dole Whip yet you have to!  Dole pineapple soft serve is heavenly pretty much year round!  My favorite is the Dole Whip Float – fresh dole pineapple juice poured over pineapple soft serve and topped with a cherry and festive umbrella – yum! CHECK!
3) Tom Sawyer's Island – this is my son's favorite!  He loves running around and no matter how long we stay, it is never long enough.  We told our kiddo that one day we would go just with him and he can play on Tom Sawyer's Island all day if that is what he wants. CHECK!
4) Watch Mickey and the Magical Map – I saw Mickey and the Magical Map when it premiered a few years back but I didn't realize until the kids pointed it out that they hadn't seen it yet!  What?!  We have to make that happen! – CHECK!
5) See the Aladdin Show in Disney California Adventure Park – we saw this once when our big kids were about 2 but they have no memory.  I love the Aladdin live action show – this is like seeing a real Broadway musical as part of your theme park admission.  I think this show is a great way to introduce children to quality live theater.  This is a quality show with top notch actors, singers, effects, costumes, etc – but the audience is full of other kids and it is a bit shorter than a normal stage show.  Our kids can all learn to appreciate this art form with other kids and it is included in our admission price! CHECK!
6) Jedi Training Academy – We have all watched it a few times, but my son really wants to be one of the kids picked – we are gonna make that happen! CHECK!
7) Meet Olaf – CHECK!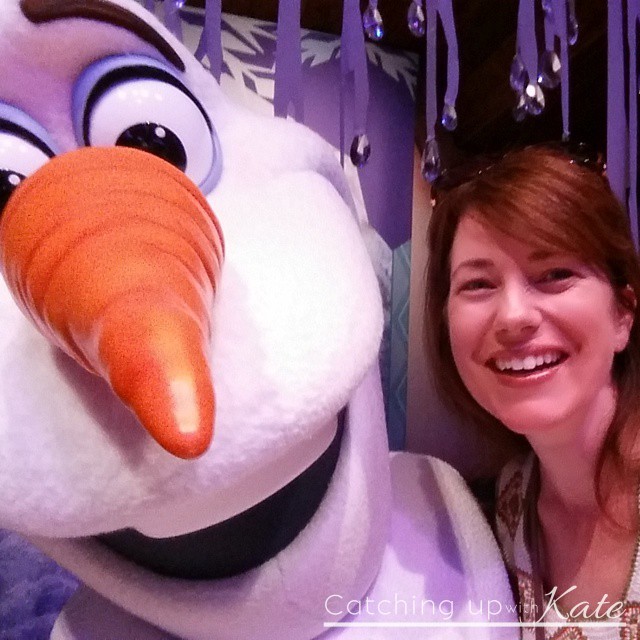 8) Frozen Sing A Long – CHECK!
9) Picture with a Character dressed up for Halloween – this is just so cute! CHECK!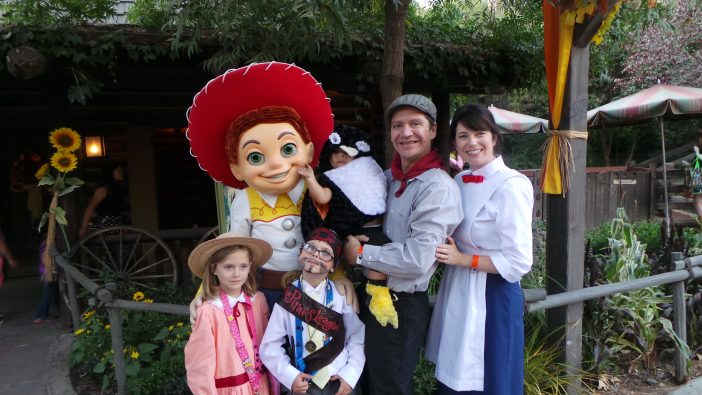 10) Mickey's Halloween Party – we have done this every year for three years – we of course have to do it again this year! CHECK!
11) Dinner & Drinks at Carthay's Circle (obviously without kids! 😉 )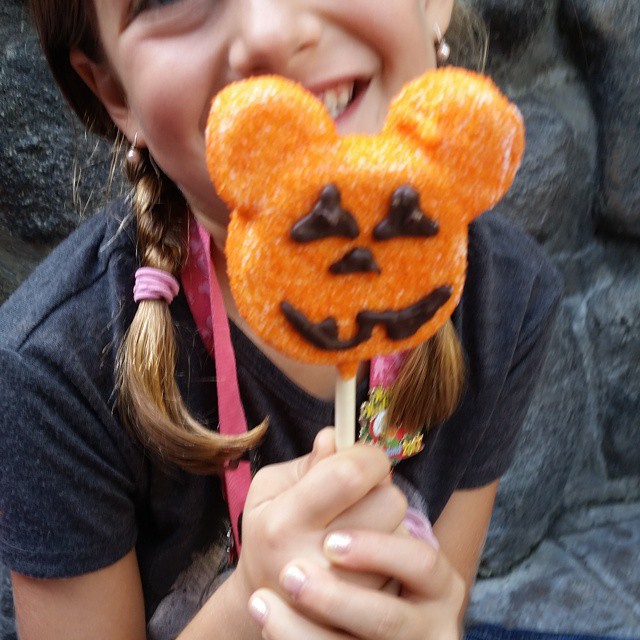 12) Halloween Themed Treat – these are our favorite!  I can't wait to see what their new treats are this year! CHECK!  We had Pumpkin beignets this year!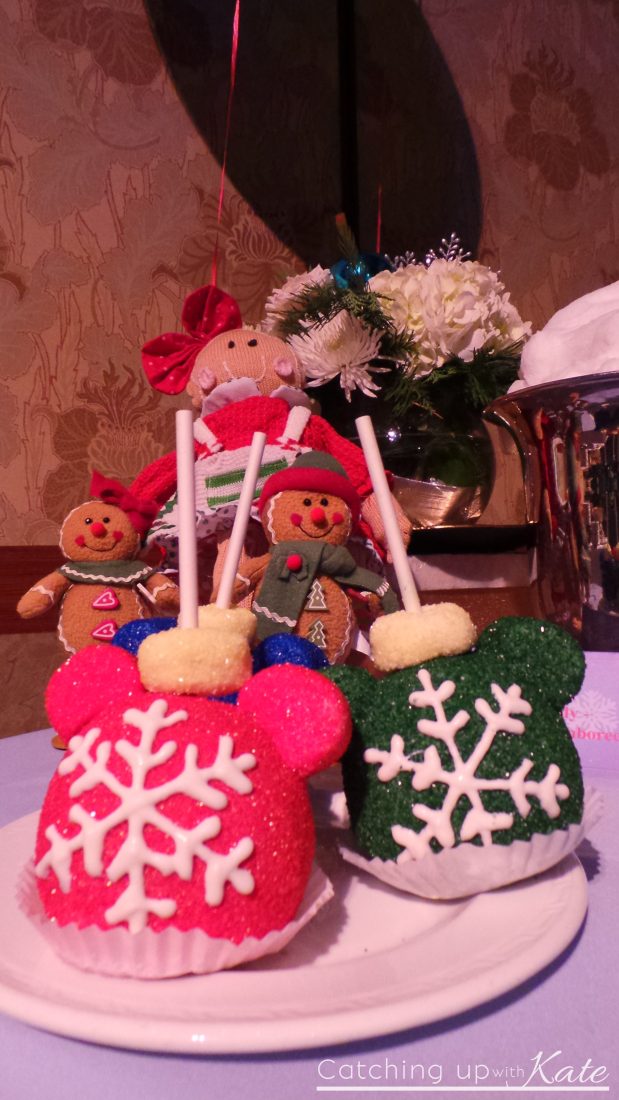 13) Christmas Themed Treat – I mean this is our favorite and we can't wait to see what their new treats are this year!
14) Frontierland Shooting Gallery – My son always wants to do this but nobody else has much interest, we told him we would make sure to take the time to stop during our year of annual passes. CHECK – did you know it is only 50 cents?!  Both big kids loved it!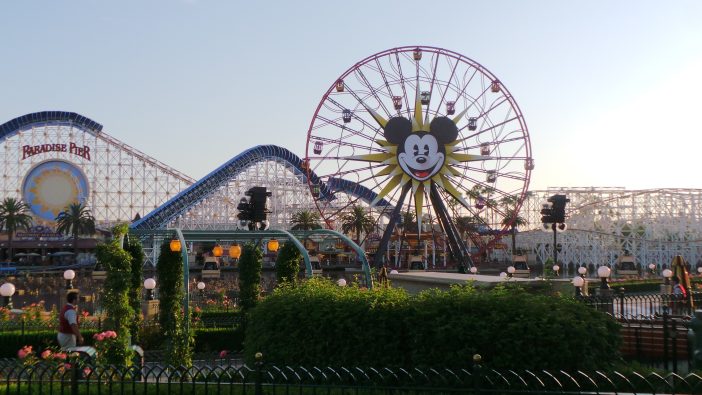 15) Disney California Adventure Ferris Wheel – The big kids went on this once when they were very little – Little Miss C and Daddy never have!
16) Storybook Land Canal Boats – We haven't been on it since Anna & Elsa's kindgom was added!
17) Meet Pluto – This is Little Miss C's request.  She has met Pluto several times but she wants to make sure she 'Gives him hugs another time too." CHECK!
18) Start in Toon Town – our kids love Toon Town but often overlook it because it is so far from the entrance – we will start there one day! CHECK!
19) Alice in Wonderland – The big kids don't remember and we think the dark rides are still a bit too scary for Little Miss C. – CHECK!
20) Finding Nemo – I can't believe we have never gone on Finding Nemo! CHECK!
21) Splash Mountain – The big kids are obsessed! CHECK!
22) Matterhorn Mountain – Sister J wants to conquer her fear!
23) Roger Rabbit – yes, this is part of Toon Town, but they want to make sure we ride this 'a bunch of times in one day.' – oh goody. CHECK!
24) Horse Drawn Carriage – We always see this on Main Street and never hop on – it's gotta happen this year though! CHECK!
25) New Ride in Cars Land – we were bummed that Luigi's Flying Tires is no longer an attraction at Cars Land but we know whatever takes it's place is gonna be epic!
26) Canoes – I'm not gonna lie, these aren't my favorite, but the big kids pointed out that they have never taken a ride on the canoes (you know, because Mom isn't a fan) – I thought it was high time I take one for the team and we all take a canoe ride.
27) Animation Academy – The big kids and even Harry and I love Animation Academy – it is really fun to sit down with a lap board and take a drawing lesson with Disney Artists.
28) Turtle Talk with Crush – the kids have been working on some questions to ask Crush…. sorry guy that plays Crush the day we come in, they are kinda corny.
29) Enchanted Tiki Room – We haven't been since before Little Miss C joined our family!  We love this classic – bonus points for eating a dole whip while we wait! CHECK!
30) Binge Ride Fantasyland – all the Fantasyland rides in one trip!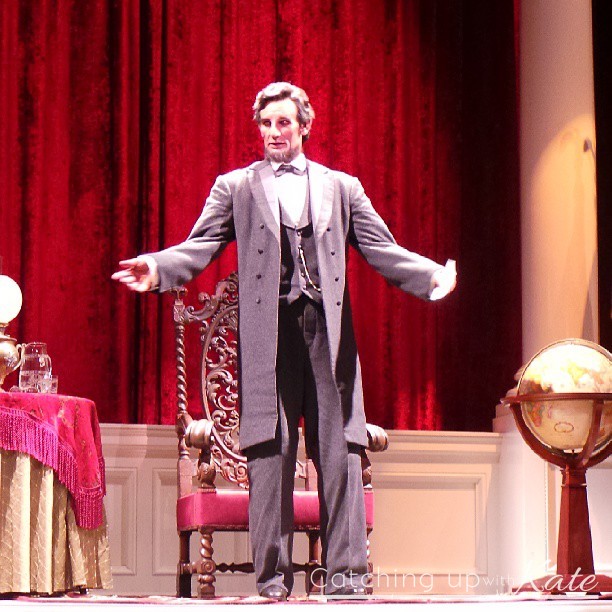 31) Great Moments with Mr Lincoln – my little homeschooled nerds LOVE this – they seriously do!
32) Watch all the Steamboat Willie & Mickey Mouse Short Movies – We typically duck into the theater on Main Street USA when we need a quick rest, but we only watch one or two shorts – but these are the movies that were so wildly popular back in the day that the Disney empire grew to what it is today!  It's kind of amazing and we want to make sure we see all of them! CHECK!
33) Penny Arcade – while the name is slightly misleading – there are several 25 cent attractions at the Penny Arcade – that is pretty budget friendly old timey entertainment!
34) Get our Fortunes told by Esmerelda – CHECK!
35) Golden Zephyr – so weird that we always look at this ride while in Disney's California Adventure Park and we never ride on it!  It's gonna happen this year!
36) Silly Symphony Swings – Swinging Chairs are the best right?  You cannot ride a swinging chair ride and not have a smile on your face!
37) Watch a Parade – this will happen a couple times for sure! CHECK CHECK CHECK!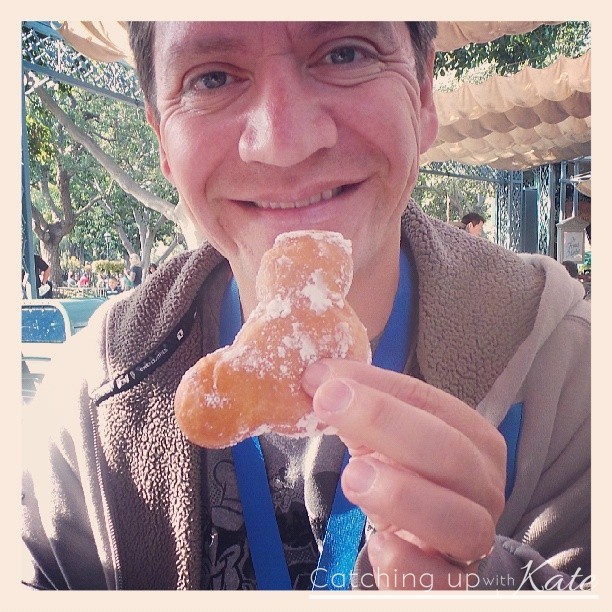 38) Eat Mickey Beignets – oh my goodness you guys – have you tried these?  We had them nearly a year ago for the first time and oh my stars they are delicious!  We typically only buy one special treat while at Disneyland but we are making sure at least one of those days it is a Mickey Beignet! CHECK!
39) Watch Fantasmic – my kids have never seen it!
40) Meet the Princesses at the Princess Fantasy Faire – the girls cannot get enough of princesses but our son is all "WHY do we need to wait SOOOOO long for dumb old princesses?" #opinionsarehisown – we promised our son we would do this on a day when the lines are very short.
41) Drink a Starbucks on Mainstreet – This is Harry – #obviously CHECK!
42) Ride the Front of the Monorail – because we have never ridden the Monorail you guys!
43) Ride the Back of the Monorail – because we have heard that is cool too!
44) Trade with a legit pin trader – the kids are hoping to trade with one of the hard core pin traders (not just the employees that have to trade them 😉 )
45) Find a Hidden Mickey in both parks – we all love finding hidden Mickeys – we are going to try to find some every trip we go! 1/2 CHECK – we found one in the Magic Shop!

Do you have a Disneyland Bucket List?  Share it in the comment section!  Did I miss something that we must try?  Leave that in the comment section too – we are looking forward to creating lots of fun Disneyland Memories this year!