Finding Dory Printable Mobile

Finding Dory opens in theaters in just over a month and our family feels like we have been waiting forever!  We recently shared these Finding Dory Coloring sheets and I am so excited that Disney Pixar has sent over some new licensed and high resolution printables for our readers to print out and enjoy! My big kids enjoyed making this Finding Dory Printable Mobile to hang in their little sister's room.
These printables make great decorations for Finding Dory birthday parties, crafts for a rainy (or super hot!) days, or just to get excited about an upcoming trip to the movie theater!
The directions are simple for this Finding Dory Printable Mobile  – this is a great project for big kids or supervised little ones.
Supplies Needed
Printer
Paper (Card stock paper if you have it)
Scissors
Glue Stick / Tape
String
Directions
Print out all 7 pages
Cut out images along the dotted line
Follow directions for each character
Attach each character as shown (this is just a guideline – feel free to get creative!)
Hang your mobile proudly for all to see!
So cute right?!  We have other Finding Dory printables available including, coloring sheets, connect the dots, and other crafts!  Please check our side bar options for more!  Also – our Free Printables Pinterest board is always filling up with new Disney Pixar printables!
Use this link to download the Finding Dory printable mobile craft complete PDF file
or print off individual pages below.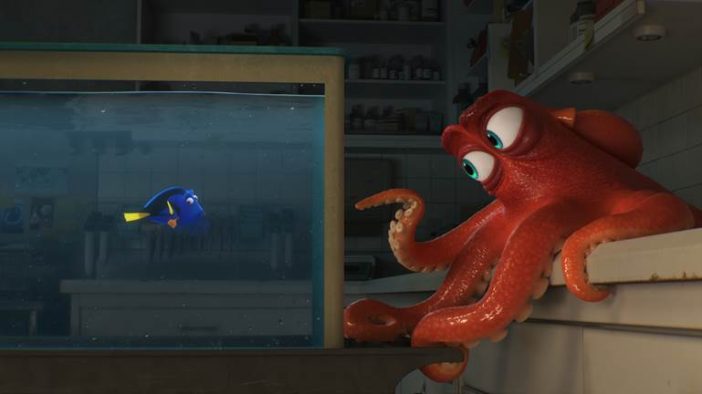 Want to watch the trailer for Finding Dory?  Fans of Finding Nemo are going to love it!
"Disney•Pixar's "Finding Dory" welcomes back to the big screen everyone's favorite forgetful blue tang Dory (voice of Ellen DeGeneres), who's living happily in the reef with Marlin (voice of Albert Brooks) and Nemo (voice of Hayden Rolence). When Dory suddenly remembers that she has a family out there who may be looking for her, the trio takes off on a life-changing adventure across the ocean to California's prestigious Marine Life Institute, a rehabilitation center and aquarium. In an effort to find her mom (voice of Diane Keaton) and dad (voice of Eugene Levy), Dory enlists the help of three of the MLI's most intriguing residents: Hank (voice of Ed O'Neill), a cantankerous octopus who frequently gives employees the slip; Bailey (voice of Ty Burrell), a beluga whale who is convinced his biological sonar skills are on the fritz; and Destiny (voice of Kaitlin Olson), a nearsighted whale shark. Deftly navigating the complex inner workings of the MLI, Dory and her friends discover the magic within their flaws, friendships and family."
If your heart has been captured by Dory and her crew – I hope you will enjoy making this Finding Dory printable mobile – please share with friends and family too!
Finding Dory swims into theaters on June 17, 2016 – follow the hashtag #FindingDory and #HaveYouSeenHer on social media.  See you at the theaters!