How I became a cartoon voice for a day! Sonic the Hedgehog
Have you ever wondered what the steps are to becoming a voice over actor? Is it your dream to be the voice of a cartoon character? Today we are taking you behind the scenes in making an animated film. J is sharing her experience where she got to try out voicing Tails in "Sonic 2". While she is not the actual voice from the film, she had the opportunity to be in the real sound booth on the Paramount lot! If you are looking for information on how to lend your voice to an animated film; she is sharing some easy steps to get you started below!
I was at the press event for Sonic 2 and had an awesome time in the ADR experience portion. ADR, aka "dubbing", stands for "automated dialogue replacement," so I got to dub in my own voice for the animated character, Tails. ADR is commonly used for dubbing shows or movies into different languages, but also for events like this. If you want to see the scene I dubbed, check out the video below!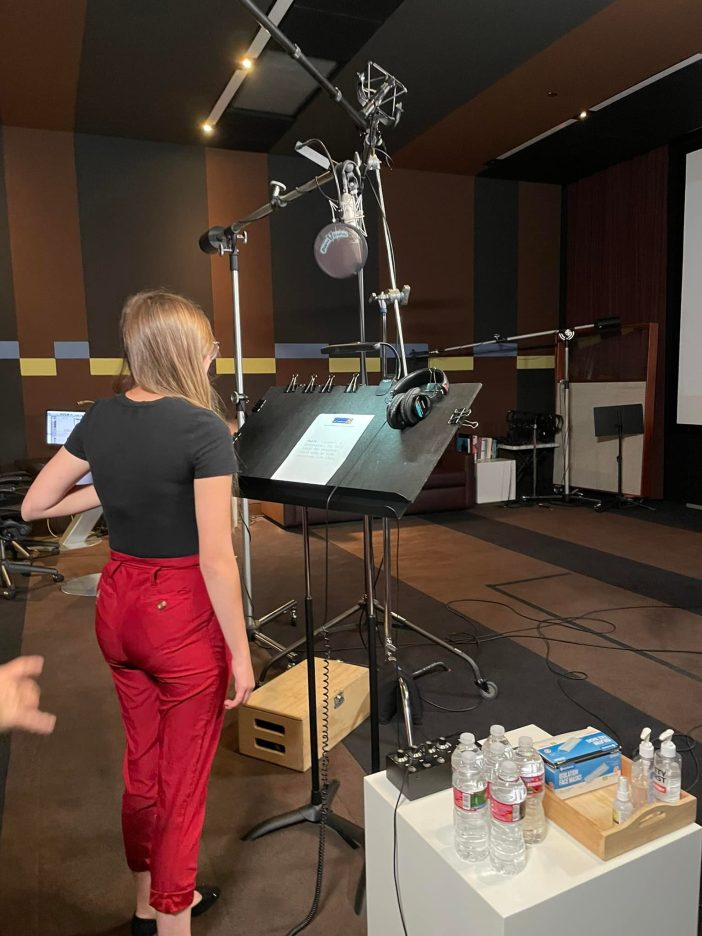 I was super excited for this event because I recently took a voice over class and I was eager to put my skills to use. I also thought that it would be really cool if I wrote a little thing for you guys about steps you can take if you want to become a voice over actor. Voice over acting is completely different from film or stage acting. This is because everything stems from your voice. You can't use facial expressions because that's not seen. You have to act through intonation, volume, and other things, which makes voice over acting super interesting!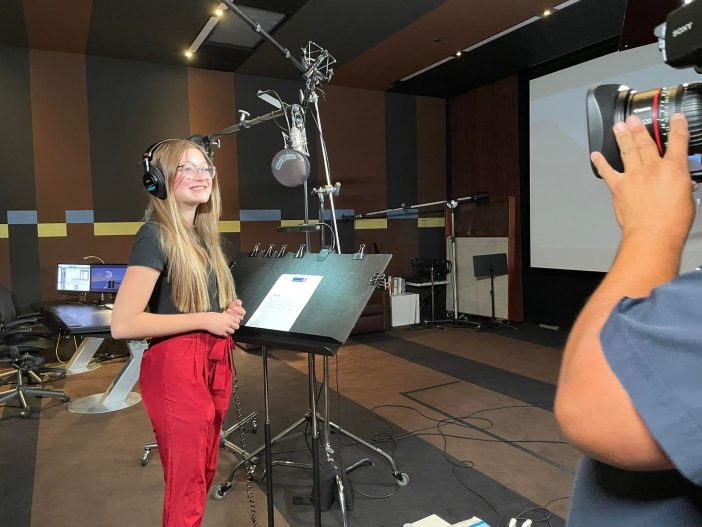 The first thing you should do if you want to get into voiceover is to take classes. There are tons online and in-person that are great! These will help teach you the basics and help you get your start. There are also a bunch of at-home exercises that can help you practice.
Voicing a Cartoon Character!
An Exercise to Avoid "Flubbing"
If you don't want to take a class, you can start out at home. A great exercise is reading books out loud. For voiceover, you have to be able to read lines out loud without "messing up" which is called "flubbing." A good practice is to find a novel that is 8th-grade reading level or above, and read a few pages. You should practice this until you are only flubbing once or twice a page.
An Exercise for Better Voice Placement
It's important to avoid talking from your throat, your voice should resonate from the front of your face. This prevents tension and vocal strain. This is important because if you book a job, you may be recording for a few hours at a time. If you're having trouble getting your voice out of your throat, try this: make a "nyeh nyeh" noise that's super nasally and in your nose. Now try talking WITHOUT the nasally quality but with your voice placed there. If you know anything about singing, this is where you would place your mixed voice.
How to use Practice Scripts:
Finally, one last exercise you can do is going over practice scripts. Something in the commercial industry is timed ads, usually 15 seconds or 30 seconds. There are tons of online resources. So find some commercial scripts, and practice slowing them down or speeding them up so they last 15 or 30 seconds. The trick to this is making it sound natural. Some practice scripts are for tv shows, or animated characters. The best way to practice these is to give each line intention. Have a thought behind what you're saying. Like if the line is, "What a long day…"
think, "I'm so tired," as you say it. This will help you get the right emotion in a natural sounding way.
How to make a Demo Reel and start Auditioning
To start auditioning, or to start applying to agents or agencies, you'll need a demo reel. This is just a 1-minute audio clip that shows what you can do. You'll need to find 3-5 short practice scripts online that add up to about one minute. Once you find these, if you don't have a microphone (which is ok), you can use voice memos on your phone and record yourself speaking the lines. The best places to record are closets full of clothing or inside a car. The cloth will act as sound dampeners and help limit background noise. Then you can edit these sound clips together into an mp3 file. You can even add music (without words) if you like!
You can find auditions on websites like voices.com or backstage.com, if you do get an audition, the FIRST thing you should do when you get in the room is put on the headphones. Recording rooms are soundproof, so you'll need to put on the headphones so you can hear the casting director in the other room.
If you're interested in voice over acting, I hope these tips and tricks were helpful!
"Sonic the Hedgehog 2" Stars James Marsden, Ben Schwartz, Tika Sumpter, Natasha Rothwell, Adam Pally, Shemar Moore, with Idris Elba and Jim Carrey
Paramount+ and Paramount Home Entertainment today announced that the global hit movie SONIC THE HEDGEHOG 2, from Paramount Pictures, will be available to stream on the service beginning tomorrow, Tuesday, May 24, in the U.S. and Canada. The film will also be available to rent and purchase across digital platforms from Paramount Home Entertainment. SONIC THE HEDGEHOG 2 will arrive on 4K Ultra HD™, Blu-ray™ and DVD August 9. In addition, fans can also purchase both the new movie and original hit film SONIC THE HEDGEHOG in a 2-Movie Collection on Digital or Blu-ray.
Fans purchasing the Digital*, 4K Ultra HD and Blu-ray releases of SONIC THE HEDGEHOG 2 will find they are packed with nearly an hour of bonus features, headlined by an all-new, exclusive animated short entitled "Sonic Drone Home" featuring Sonic, Tails, and Knuckles.
For fans looking to play the games that started it all, Sonic Origins, an all-new multi-game collection, will be coming out on June 23, 2022, starting at $39.99 USD on PlayStation®5, PlayStation®4, Xbox Series X|S, Xbox One, the Nintendo Switch™ family of systems and PC.
Produced by Paramount Pictures in association with SEGA Sammy Group; an Original Film/ Marza Animation Planet/ Blur Studio production, the world's favorite blue hedgehog is back for next-level adventure featuring the all-star cast of James Marsden, Ben Schwartz, Tika Sumpter, Natasha Rothwell, Adam Pally, Shemar Moore, Colleen O'Shaughnessey, Lee Majdoub with Idris Elba and Jim Carrey.
After settling in Green Hills, Sonic (Ben Schwartz) is eager to prove he has what it takes to be a true hero. His test comes when Dr. Robotnik (Jim Carrey) returns, this time with a new partner, Knuckles (Idris Elba), in search of an emerald that has the power to destroy civilizations. Sonic teams up with his own sidekick, Tails (Colleen O'Shaughnessey), and together they embark on a globe-trotting journey to find the emerald before it falls into the wrong hands.
SONIC THE HEDGEHOG 2 is directed by Jeff Fowler, screenplay by Pat Casey & Josh Miller and John Whittington with story by Pat Casey & Josh Miller. The film is produced by Neal H. Moritz, p.g.a., Toby Ascher, p.g.a., Toru Nakahara, Hitoshi Okuno, and executive produced by Haruki Satomi, Yukio Sugino, Shuji Utsumi, Nan Morales, Tim Miller. The film is licensed internationally by Paramount Global Content Distribution.
About Paramount+
Paramount+, a direct-to-consumer digital subscription video on-demand and live streaming service, combines live sports, breaking news, and a mountain of entertainment. The premium streaming service features an expansive library of original series, hit shows and popular movies across every genre from world-renowned brands and production studios, including BET, CBS, Comedy Central, MTV, Nickelodeon, Paramount Pictures, and the Smithsonian Channel. The service is also the streaming home to unmatched sports programming, including every CBS Sports event, from golf to football to basketball and more, plus exclusive streaming rights for major sports properties, including some of the world's biggest and most popular soccer leagues. Paramount+ also enables subscribers to stream local CBS stations live across the U.S. in addition to the ability to stream CBSN for 24/7 news, CBS Sports HQ for sports news and analysis, and ET Live for entertainment coverage.
About Paramount Home Entertainment
Paramount Home Entertainment (PHE) is part of Paramount Pictures Corporation (PPC), a global producer and distributor of filmed entertainment. PPC is a unit of Paramount (NASDAQ: PARA, PARAA), a leading global media and entertainment company that creates premium content and experiences for audiences worldwide. The PHE division oversees PPC's home entertainment and transactional digital distribution activities worldwide. The division is responsible for the sales, marketing and distribution of home entertainment content on behalf of Paramount Pictures, Paramount Animation, Paramount Television Studios, Paramount Players, MTV, Nickelodeon, Comedy Central and CBS and applicable licensing and servicing of certain DreamWorks Animation titles. PHE additionally manages global licensing of studio content and transactional distribution across worldwide digital distribution platforms including online, mobile and portable devices and emerging technologies.
About Paramount Pictures
Paramount Pictures Corporation (PPC), a global producer and distributor of filmed entertainment, is a unit of Paramount (NASDAQ: PARA, PARAA), a leading global media and entertainment company that creates premium content and experiences for audiences worldwide. Paramount Pictures controls a collection of some of the most powerful brands in filmed entertainment, including Paramount Pictures, Paramount Animation, and Paramount Players. PPC operations also include Paramount Home Entertainment, Paramount Pictures International, Paramount Licensing Inc., and Paramount Studio Group.
SonicTheHedgehogMovie.com
Facebook/Twitter/Instagram: @SonicMovie
Facebook/Twitter/Instagram: @ParamountPlus
#SonicMovie2 #ParamountPlus
FREE Sonic the Hedgehog Valentine's Day Cards – click and print from home!