Kids Bathroom Organization
Disclosure: This site uses affiliate links. When a purchase is made through our links we make a small commission.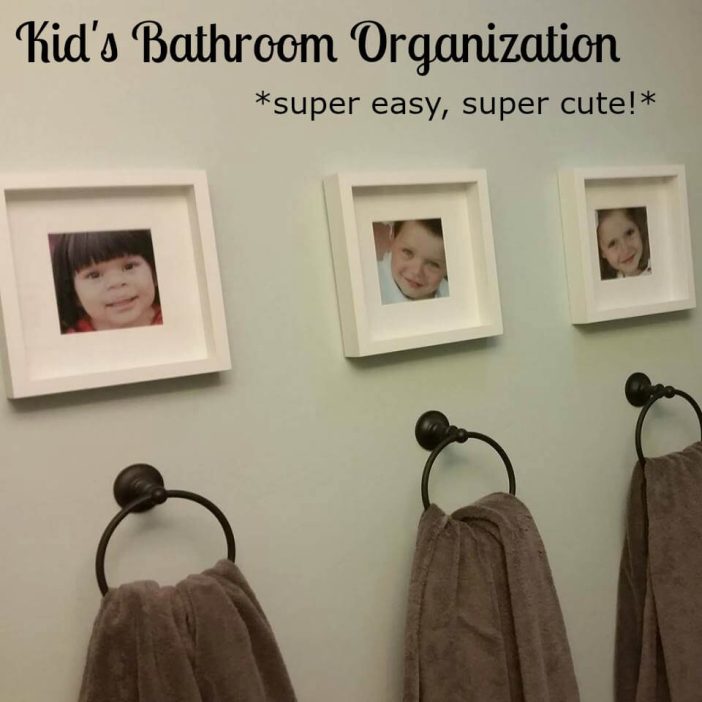 We currently have three kids sharing a standard 80's guest bathroom.  While we have always done our best to practice the art of thankfulness for actually having running water and a designated 'kids / guest' bathroom; it gets a little cramped.  I wanted to share a quick and quite inexpensive thing we did that is as functional as it is cute!  If you are looking for kids bathroom organization ideas, this one is really sweet and easy! With three kids we have three bath towels.  While I tried to encourage them to each use a separate towel they all seemed to use the one closest to the tub – always.  So the towel closest to the tub was always wet and full of ALL THE GERMS and the other two stayed perfectly dry and gathered dust.  Silliness.
We talked up how sharing towels isn't the best idea "You know, your sister used that towel to dry off her booty…. and now you are drying off your face.  Pretty gross kiddo."  This was only marginally successful and really just started fights and encouraged 'you are the grossest' talk amongst the minions.  We needed a little extra something to get them to use their towels appropriately.
While our front bathroom is the kid's bathroom, it is also the only guest bathroom in the house.  I want our bathroom to be functional for them, but also attractive and functional for guests who are visiting.  We have several ways to keep the kid's bathroom organized, but this is the cutest thing we've got going so I just really wanted to share.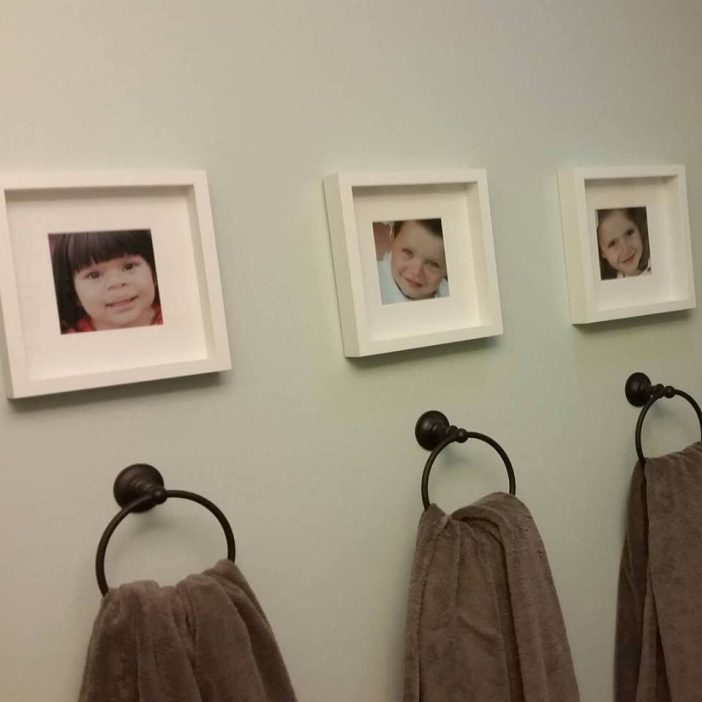 Our solution was three inexpensive frames hung above each towel ring.  Towel rings take up less space than a full towel rod, but also provided a big enough area for towels to air out a bit better than a small hook.  Inside each frame we put a portrait of the kiddo that corresponded to the towel.  We chose photos of the kids as toddlers because that is just cute decor.  While I would not suggest professionally printed photographs, expensive art, or even kid's irreplaceable art in a bathroom, these photos were printed on our home computer.  Condensation can gather so don't use something irreplaceable or expensive as your artwork.  I love that a home printer makes printing out photos easy peasy!
If you are like me, you might want to find your frames at a garage sale for $1 each – but if you want a fairly quick and inexpensive option – Amazon has this simple matted frame for $9 shipped!
These are the towel rings we used, we love them and get compliments on the accessories in our bathroom all the time.  We like the oil rubbed bronze finish and it looks great with so many different color palettes.

Want one more quick update that will help organize your bathroom (of any size)?  This open ended toilet paper holder is everything.  For the simple reason that you don't have to take the holder apart I have little to no problem at all with kids replacing the roll. I noticed the one we purchased is on sale, and as always – I only post stuff that is prime eligible – so FREE 2 day shipping!
I'm excited to share the finished bathroom for sure, but the picture frames are not only the cutest spot in the tiny bathroom, but also one of the most functional.  Our bathroom is TEENSIE tiny and I am always looking for more tips!  Can you share your tips on organizing and making a bathroom work for multiple people?  Please leave it in our comment section…..