Tips for a Successful Road Trip with Kids
Disclosure: Tree Top Inc has sponsored this post.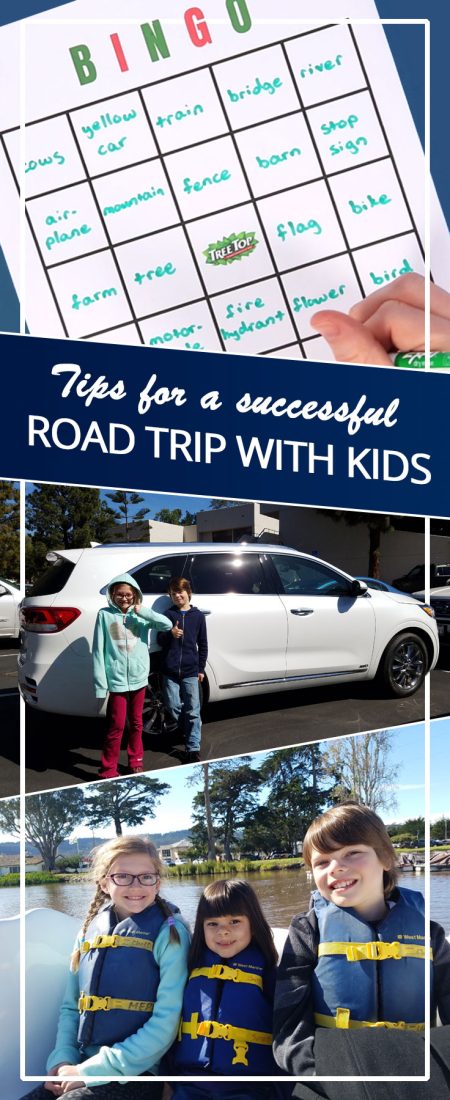 With Spring Break just around the corner I bet many of our readers are planning road trips.  We recently returned from a road trip up the California Coast to Monterey.  Traveling long distances with three kids can be a challenge, but it can also be lots of fun. Today we are sharing some tips for a successful road trip with kids that have worked for us and also a fun video from our sponsors at Tree Top!
Make sure to travel in comfort!  Kids need to be dressed comfortable first, cute second.  T-shirts and leggings or stretchy pants and sweatshirts are a staple for our kids. We always have pillows and special stuffed animals.  Comfort goes a long way when kids are cooped up, and they just might fall asleep. When kids fall asleep we often stretch our stops and can get a little further down the road.  We dress and pack for comfort in hopes of a nap along the way!
Take your time! Scheduled stops make all the difference. We learned quickly that road trips simply take longer when we have kids.  We can't simply drive for five or six hours straight anymore.  Harry and I always map out our trip beforehand.  Stops are scheduled every three hours at most.  We try to avoid traveling more than seven hours in one day.  It really is better at this stage of the game to break up your road trip rather than rush through. We have found this just makes for more memories.  Stop off at that look point, find a park, explore a historic landmark, anything to stimulate those busy minds and legs.
We have traveled from San Diego to Monterey several times. Our newest favorite stop is Ostrich Land USA  just outside of Solvang. Ostrich Land is a quirky little place that is a little bit learning and a whole lot of just silly fun.  Finding a fun place to spend thirty minutes to an hour is golden. When you are planning your road trip, find something a little silly and unexpected if possible.
Do not underestimate the power of a state route rest stop on your mood.  Not all rest stops are created or maintained equally.  How weird is it that we know our 'favorite' rest stops? If you are traveling on the 101 you are in for a treat. Exit 246 off the 101 does not disappoint.
"Can you wait til the pretty one with fancy bathrooms? It's only another 15 minutes or so."
"Yes, I'd rather wait."
Pack more activities than you think you might need. We bring an iPad loaded with favorite movies and typically watch one during a long stretch.  We also play road trip games like "I Spy" and the alphabet game.  Each child has an activity book with puzzles, stickers, coloring, etc.  Our kids have recently discovered and adopted my love of car singing, our favorites are Hamilton and "Jackson 5 radio"on Pandora.
Our creative friends at Tree Top came up with a very cool way to re-purpose applesauce pouches into a really fun magnet Road Trip Bingo game!
Wholesome snacks are an absolute must.  When we are cooped up in a car it is important to have healthy snacks on hand. Junk food is simple and fun, but it really derails our good attitudes. While we do pack whole fruit, road trips are when we really take advantage of convenience foods. Our family of five needs a bagillion snacks for a four day road trip.  We packed a small cooler with yogurts and pre chopped veggies.  We also packed a large bag of non perishable items like Tree Top apple sauce pouches and juice boxes.  Whole food items with natural ingredients can be found in pre packed foods and we love that!
PS – Did you know that juice boxes have 'handles'?  I did not know this when my big kids were little!  A friend showed me that you pull up the top side tabs and kids can hold them.  It really cuts down on the squeezing juice all over the place and completely losing your marbles….. not that I would know anything about that sort of thing.
While I am a big advocate of eating an apple whole, I don't want to find a bunch of apple cores all over the bottom of my car.  Pouches and individual juice boxes get several servings of fruits into my kiddos tummies while keeping their hands and the car fairly mess free.  Road trips are when we splurge on conveniences and special treats.  Our kids love that there are tons of different flavors. I love that it is fun but also healthy and easy.  Everyone wins in this scenario. And remember, you can re-purpose the caps by making the craft in the video above!
Road trips with kids are the perfect budget friendly adventure for Spring Break.  For moms and dads, they can be a lot of work.  For kids that thrive with a schedule, it can be a bit derailing. We try not to micro manage every single bit of our road trips, but we found that a little planning goes a long way.  Some entertainment, scheduled stops, and easy healthy snacks really help us stay in good spirits so we can just learn and create some lasting memories!
Happy Spring Break Friends! What is your favorite place to road trip to?