Chocolate Peanut Butter Vegan Ice Cream Recipe : Veggies Don't Bite!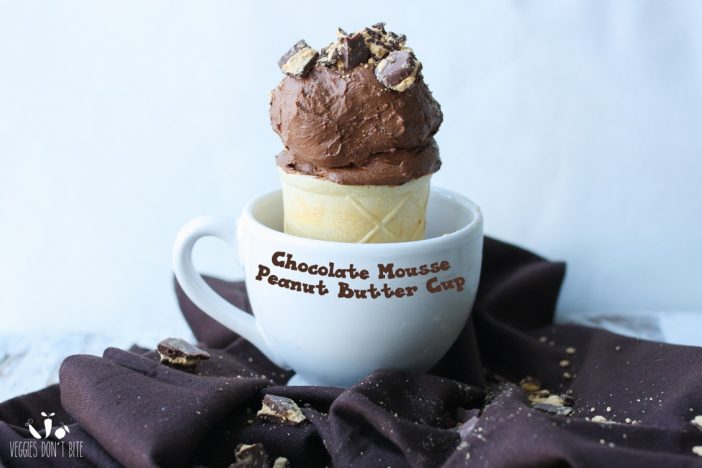 I am ridiculously excited to introduce Sophia from Veggies Don't Bite to share her vegan ice cream recipe with us.  Our family is not vegan but I am always looking for vegan recipes to try out.  Today she is sharing an AMAZING chocolate mousse peanut butter ice cream recipe!  Please make sure to check out Veggies Don't Bite for her other vegan recipes – not just ice cream and dessert recipes, but everything you can think of!  Thank you Sophia for choosing to share her recipe with our readers – here she is!
Ice cream is one of our favorite family treats. Who doesn't love ice cream? But being a mostly vegan family we often are disappointed with the expensive store bought versions of dairy free ice cream we find. I really don't mind paying $6-8 for a tiny carton of ice cream, if it's absolutely amazing that is…but when it leaves me feeling empty and unsatisfied, I truly feel ripped off! So that's when I began creating my own vegan versions at home.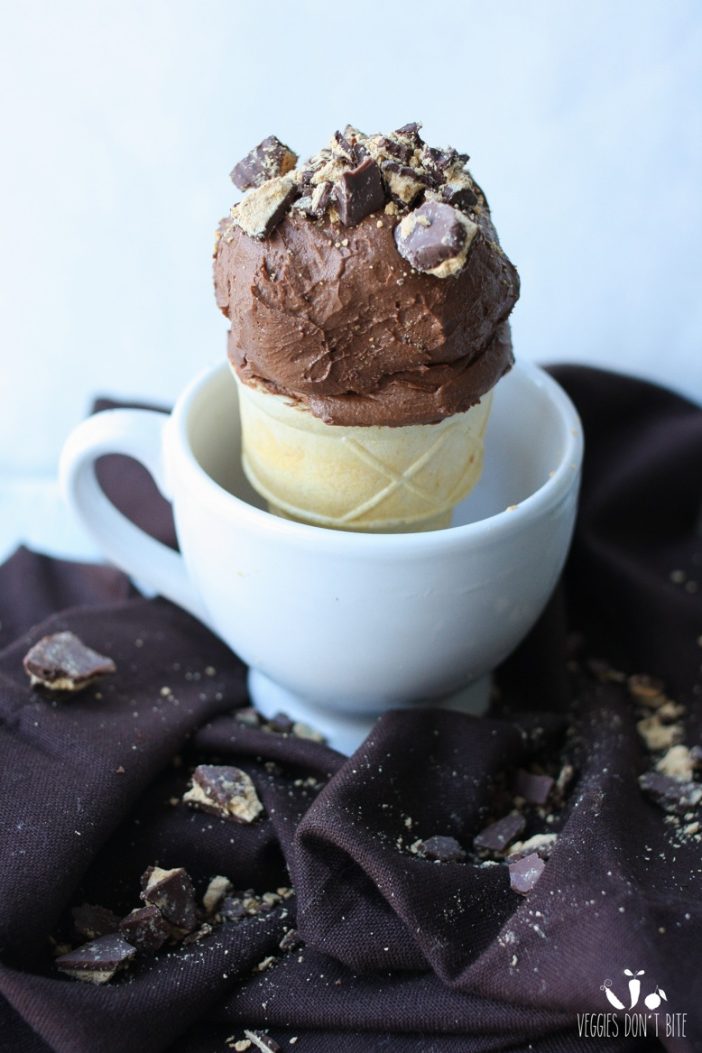 Thank you to my friend Sophia for sharing Chocolate Peanut Butter Vegan Ice Cream Recipe – thanks to her I may never buy regular ice cream ever again!
This flavor was inspired by the lovely Kate as she is a fellow chocolate peanut butter lover! It makes me like her even more! I decided to use cashews as a base because cashews give such a creamy flavor to things, both sweet and savory, and I use them often in my creations. As I put this together, it reminded me a lot of rich chocolate mousse so it evolved into this thick creamy rich ice cream that I promise you won't believe isn't filled with unhealthy cream and sugar. I avoid all processed sugar in my cooking and baking, in fact I don't even have it in my house. I rely on things like natural dates and Grade B maple syrup as my healthy sugar alternatives. Yes, they still contain sugar, but it isn't processed and refined like the white sugars in other ice creams and desserts. Dates are purely straight from a tree and Grade B maple syrup is among the least refined liquid sweeteners. I use them both with great success and feel great serving my kids dessert! Hope you enjoy!
Vegan Chocolate Mousse Peanut Butter Cup Ice Cream

Makes a full ice cream maker bowl
Ingredients:
1 cup soaked cashews (soaked overnight if not using a high speed blender)
1 can full fat coconut milk, about 2 cups
¼ cup coconut oil
15-20 dates (depending on desired sweetness and type of date)
2 tablespoons maple syrup (can use raw agave if you want it fully raw)
1 tablespoon vanilla extract or seeds from one vanilla bean
a dash of Himalayan pink salt
1 ½ cups unsweetened cacao or cocoa powder
½ cup unsalted smooth peanut butter
notes: Soak nuts overnight if not using a high speed blender, but if crunched for time, soak in warm water for at least 2 hours. You can adjust sweetness by adding more or less dates, I used 10 Medjool dates.
Instructions:
Place everything in a blender and blend until smooth, a high speed blender works best. Place in ice cream maker and turn on until thick and turns into ice cream.
You can eat this right away if you want it soft, but to make it hard like real ice cream instead of soft serve, pour into a freeze safe container and freeze for 24 hours. Remove 10 minutes before eating to allow it to soften a bit.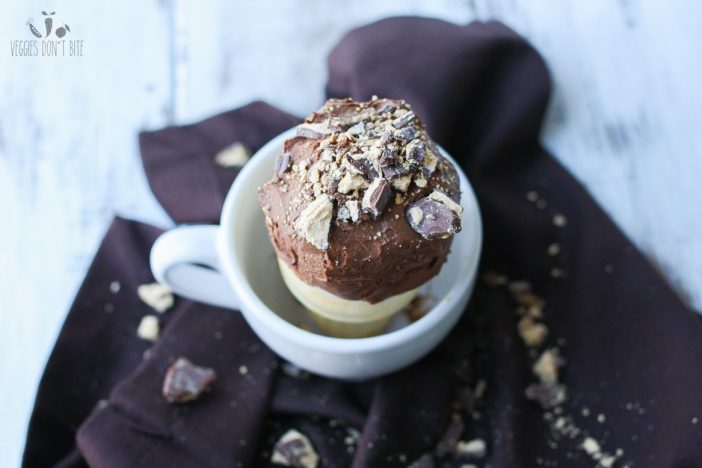 About Sophia and Veggies Don't Bite
 Sophia DeSantis is the author of Veggies Don't Bite, a vegan, gluten free and refined sugar free food blog targeted to all types of eaters. She is the mom of two beautiful boys and wife to an amazing husband. Sophia and her family live a vegan, gluten free and refined sugar free life 90% of the time because she believes that you don't have to be perfect to make healthy choices.  Sophia has been featured the Foodgawker, Tastespotting, Finding Vegan, Healthy Aperture and Red Tricycle websites along with guest posts on a variety of other sites and features in print pending for the near future. Through her website, she hopes to reach anybody interested in making a positive health change in their life. She loves working with families, especially those with children because educating the young about healthy choices will lead to a lifetime of good habits.
Connect with Sophia at:
Facebook- https://www.facebook.com/veggiesdontbite
Instagram- https://instagram.com/veggiesdontbite
Twitter- https://twitter.com/veggiesdontbite
Pinterest- https://www.pinterest.com/veggiesdontbite/
Google+ https://plus.google.com/109068880180776803883/posts