DISNEY'S CHRISTOPHER ROBIN review – calm for the chaos
Disclosure: This trip was hosted by Walt Disney Studios. This site uses affiliate links. Opinions are always my own.
I read somewhere "When children are overwhelmed by their emotions, it is our job to share our calm rather than accept their invite into chaos."  That is a paraphrase, but I trust you understand the intent.  As I sat in the theater at the World Premiere of Christopher Robin, I just kept thinking how this movie is exactly the warm, familiar, comforting hug that maybe all of America needs right now.  Winnie the Pooh and his friends are back for an adventure to remind his beloved best friend, Christopher Robin that love, hope, and friendships are more important than the 'busy' that is so easy to find.  I am not sure about you, but I have found the last year or two to be a bit too chaotic and on edge from a few too many angles.  My homework to you, readers who feel that same angst in the air – go see Christopher Robin on opening weekend. It is as sweet as hunny.
I wanted to share my thoughts on Disney's Christopher Robin, and why I cannot wait for our family to see it together. As most of our readers know, our kids are 12, 11, and 7; and we are fairly conservative to what kind of entertainment we allow them to view. Our most common questions about movies is why a movie had the rating it did and if we think it is appropriate for children.  While I firmly believe everyone needs to make decisions for their own families, here is my quick run down on why my kiddos will be seeing Christopher Robin.
It is literally the most wholesome movie I have ever seen.  I'm not using the word 'literally' just because, I truly cannot remember viewing a more wholesome movie ever in my lifetime.  There is not one naughty word, no inuendo, no violence, not one joke that degrades another person or group, nothing I can recall that even the strictest of parents would wish their children hadn't seen. Friends, I have no idea why this movie has a PG rating. As I have said before, it is sweet as hunny.
The whole gang is back and they are cuter than ever!  Winnie the Pooh, Piglet, Eeyore, Tigger, Rabbit, Owl, Kanga, and little Roo are all back. The character voices and mannerisms are as precious as they come.  Their simple profoundness is again, exactly what the world needs right now.
I personally loved seeing Evelyn Robin (Christopher's wife, played by the incredible Hayley Atwell) has a career in this film.  I love that the film features a woman in the 1940s with a career as a drafts person. Far too often, especially in movies set in the past, women simply aren't shown as much more than wives and homemakers.  Evelyn has multiple layers to her, making her my favorite human character.
The exploration of recognizing our emotions and intentions is such an important lesson for children, but also adults.  Christopher Robin's story begins as a carefree child in the Hundred Acre Wood (as we all know).  As time goes on, his life became more complicated.  He experienced war, fatherhood, and the stress of trying to please both his family and his employer. One powerful line many have seen in commercials, Christopher's wife says "Your life is happening right now." and reminds him that it passes by whether he enjoys it or makes himself busy. Pushing people to the side doesn't make things better, but creates an opportunity to push the bar further when it comes to making oneself busy.  The reminder that life is about relationships is something we as a society universally miss the mark on sometimes.  The fact that Christopher loosing his way a bit is also something that I think any parent can identify with.  The intentions may be good, but it is so easy to get off course.  If this movie doesn't make you want to be more intentional about spending time with your family, I fear nothing will.
It is slower moving than the average movie.  While so many movies are all about the action and excitement, the better part of Christopher Robin takes its time to get from one scene to the next.  I feel like this is very worth mentioning because it feels different to what many movie experiences are these days, and I really hope people enjoy the slowed pace.  After all, that is Winnie the Pooh's way, isn't it?
I walked away from the film feeling like it was the perfect calm for this unsettling and chaotic time we are living in.  It is the gentle reminder that love, empathy, and remembering our childhood dreams is really the best gift we can give anyone we care about. Christopher Robin is an adorable movie that includes an important life lesson.  It is pure Disney magic and I can't wait for you to see it!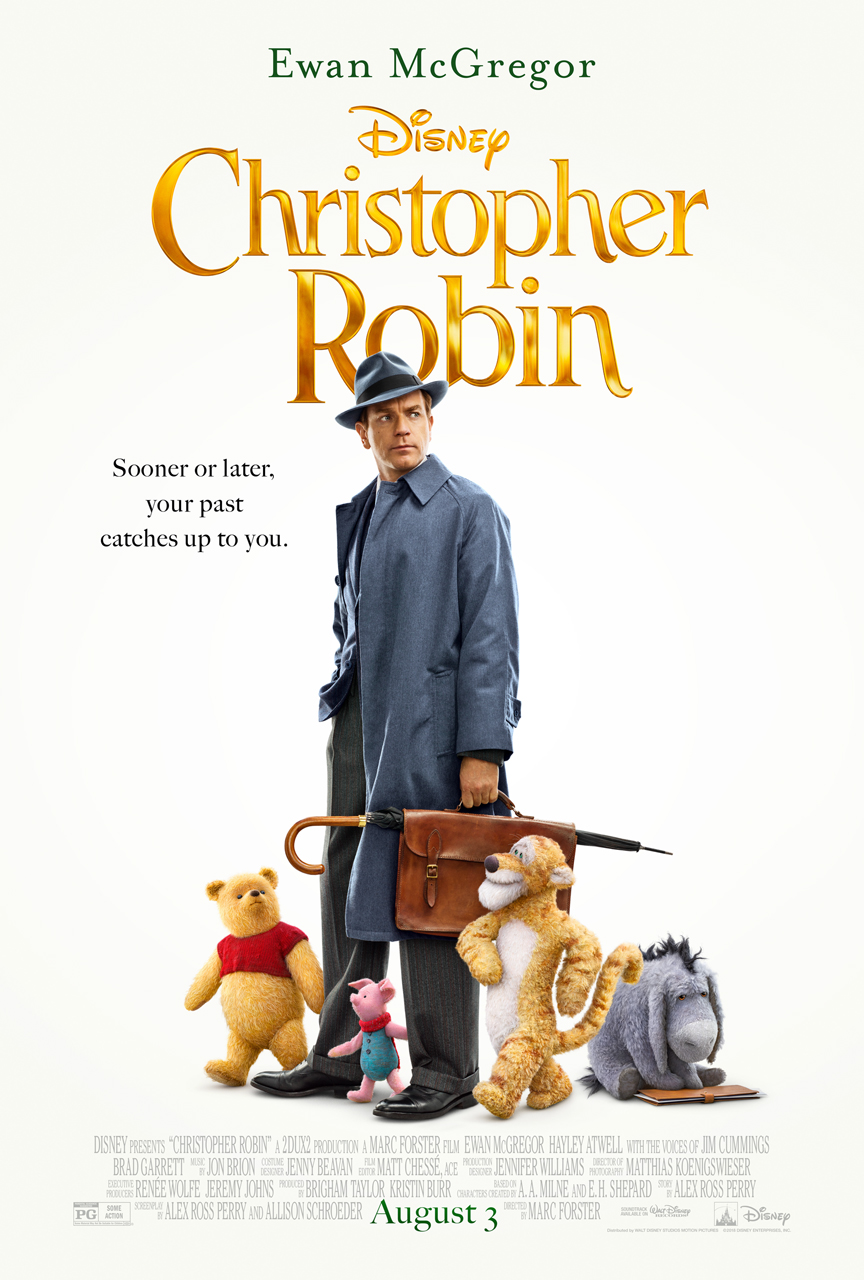 If you haven't yet seen it, the Christopher Robin trailer is the cutest thing ever!
Christopher Robin opens today! Check movie times and purchase tickets on Fandango today!
A huge thank you to the good folks at Disney for inviting me to the premiere and for the opportunity to interview the cast. Please make sure to come back to read our exclusive interviews the rest of this week!