LEGOLAND Castle Hotel Review
Disclosure: Highlights Along the Way is an official LEGOLAND Blogger. We were treated to a night at the hotel for editorial consideration. We are affiliates for Get Away Today, a LEGOLAND approved Travel Agency Opinions on how everything was awesome are entirely our own.
The much anticipated grand opening of the new LEGOLAND® Castle Hotel at LEGOLAND® California Resort is finally here! The 250-room hotel is fit for royalty and is open for business!  Over 2,000 LEGO models in all, with the largest model being a Royal Statue featuring a king, queen, jester, knight, wizard and princess this Castle is fit for a Royal LEGO Maniac. (Guaranteed lowest rates on a multi day vacation below!)
We visited the day before opening day!  We were able to get a sneak peek the night before and even saw them putting some of the finishing touches details in the hotel.  The next morning we were able to sit front and center for the opening ceremonies.  Costumed characters, horses, and even a falcon were part of the festivities.
The ceremonies started with a young princess and prince sharing about a dream.  The dreaming princess quickly became the hero of the story. She became a brave knight who did not slay the dragon, but found out what was making him angry and soothed him with her words.  I don't know about you guys, but I love 2018 so much on so many levels. Girl power to the max, and using her words. Yes! What a great way to kick off the grand opening!
The majestic Falcon that delivered the key to the castle!
The lobby is unique and fun!  The kids loved playing in the giant LEGO bin. We took photos on the throne.  Our kid's favorite feature is the slide option instead of the stairs!
Just like the original LEGOLAND Hotel, there are three uniquely themed rooms to choose from!  Your LEGO maniac can choose a Magic Wizard, Knights & Dragons, or Royal Princess room.
Royal Princess Room  : "With fanciful flowers, vines and peek-a-boo murals of neighboring kingdoms, this Royal Princess's room is where fairytale family memories are built out of LEGO bricks."
Knights & Dragons Room : "With celebratory bunting, shields and even a stained glass window above the bed, this Knights & Dragons room is where majestic family memories are built out of LEGO bricks."
Magic Wizard Room : "With glowing potions, spells and LEGO creatures, this Magic Wizard's room is where charmed family memories are built out of LEGO bricks."
We were lucky enough to stay in a Knights & Dragons Room on our stay.  It was so magical and fun! Here is the full tour….
Staying at a LEGOLAND Resort property has many perks beyond the awesome themes and proximity to the park.  Guests who stay at the LEGOLAND Castle hotel will enjoy FREE premium breakfast with their stay!  Guests of LEGOLAND property hotels enjoy exclusive early entry to the park before scheduled opening times!  With each stay at the hotel, children are treated to a welcome treasure hunt that ends with a LEGO surprise gift at the end!
All three kids were given a prize!
Get Away Today has a deal for discounted stays starting late in May!!
Check out LEGOLAND Castle Hotel Discounts here!
As a family of five, we LOVE the set up of the LEGOLAND Resort hotel rooms!  We enjoyed seeing this set up at the LEGOLAND Hotel, and we were thrilled to see the same set up at the LEGOLAND Castle Hotel!  A Deluxe Themed room sleeps our whole family!  Two adults and up to three children can stay in one room!  One king bed as well as a bunk bed with a trundle is standard in the deluxe themed rooms.  We also love that there are two semi private sleeping areas – one with a King bed and the other with the bunk bed separated by the bathroom.  We think families like ours will really appreciate the separate space! Each sleeping area also features it's own high-definition flat panel TV. Should anyone in your party require an ADA accessible room, there are several available.
Even the restaurant is themed perfectly!  Dragon's Den Restaurant & Bar is fun for the whole family and really adds to the experience.
The Breakfast Buffet is included in your stay!  This is just a peek at what is available.  Cooked to order omelettes, waffles, avocados, fresh made smoothies, and more. If you or your child have food allergies, make sure to speak with a chef.  Our littlest has a dairy allergy and the chef was able to point us in the direction of all the things she could enjoy without risk.
The LEGOLAND Castle Hotel is located just outside the main entrance of LEGOLAND California.  It is directly across the walkway from the original LEGOLAND Hotel, which is still open of course!  You can see our review and tour of the LEGOLAND Hotel as well!
Here is a quick video we made of The LEGOLAND Hotel last year!
Many people are wondering what the differences are between the LEGOLAND Hotel (the original) and the LEGOLAND Castle Hotel. In many ways they are quite similar.  Both are equally as close to the LEGOLAND park entrance. Both hotels have been customized and themed unlike any hotel we have ever stayed at. Both hotels have a unique set up with semi private sleeping quarters with adults on one side and kids on the other. There is also a very family friendly pool at both hotels.  The new hotel is going to be a welcome addition to the resort because the original is often filled to capacity.
I always suggest booking vacations that are 2 days or more with Get Away Today, check out why I trust Get Away Today and check out their rates before you book anything (they also offer layaway to lock in your vacation price so it won't go up!)
While the LEGOLAND Hotel has an awesome play area inside, the Castle Hotel has an incredible courtyard.  There is a play zone that really is fun for all ages. Our kids loved the ropes and agility course.  There is a tot lot for little ones and also a large lawn area with a huge movie screen too!  There are several kid friendly shows throughout the afternoon and evening with music, silly story-telling, and photo opportunities.
While each hotel is unique, we really love them both and could not pick a favorite.  The LEGOLAND Castle Hotel is simply another awesome opportunity to stay on property. With all the added details, many dismiss the idea of staying at the resort thinking it will be too pricey.  I highly suggest checking out package deals, you might be surprised!  I always suggest staying mid-week or during their slower season for the best pricing on tickets and hotel stays.  I price compared to similar star hotels in the area and found it to be similar pricing.  Remember the LEGOLAND Castle Hotel is steps from the entrance, breakfast is included, activities, souvenirs for the kids, and early admission to the park.
Make sure to pin it for all of your family vacation planning!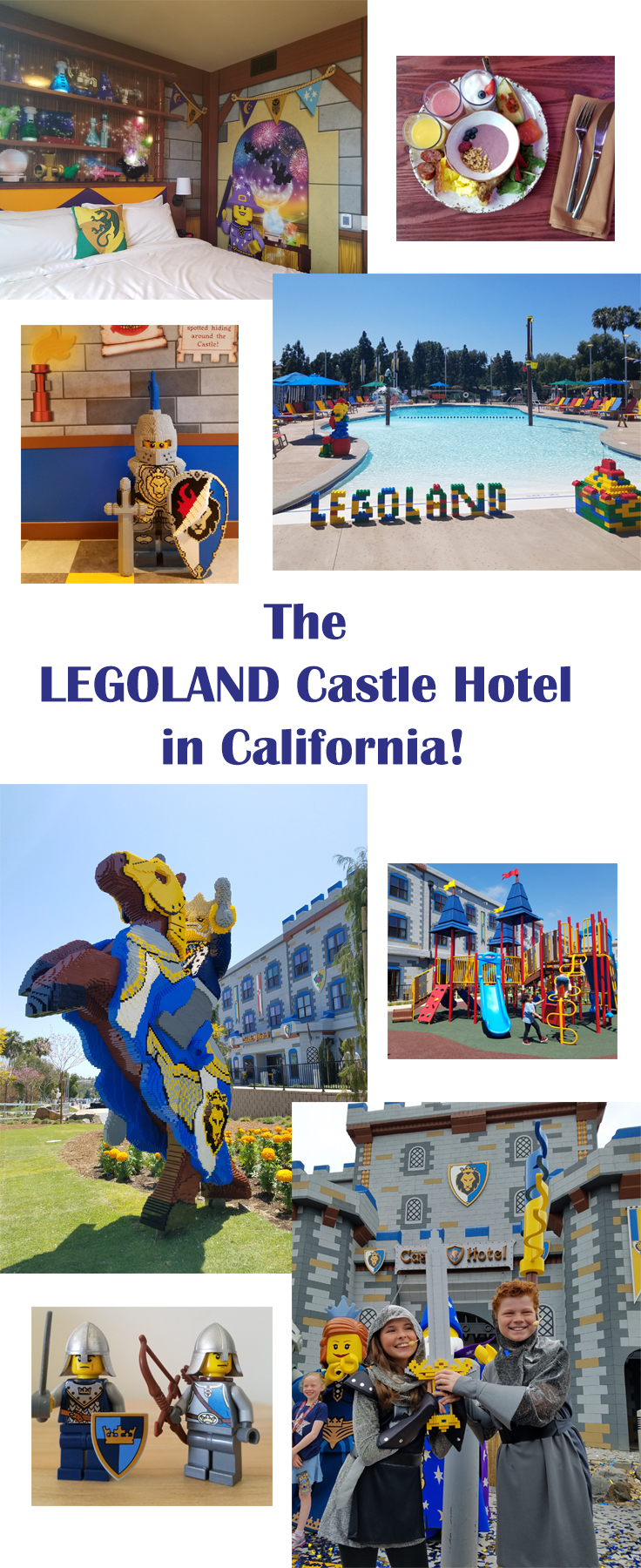 If you are looking for the perfect LEGO Maniac getaway, The LEGOLAND Castle Hotel will make you feel like royalty!
A big thank you to the LEGOLAND Hotel for hosting our stay! We had so much fun and we were sad to say goodbye. We hope to see you soon!