The ultimate Ralph Breaks the Internet gift guide
Disclosure: Highlights Along the Way is a participant in the Amazon Services LLC Associates Program, an affiliate advertising program designed to provide a means for sites to earn advertising fees by advertising and linking to amazon.com. This site uses other affiliate links as well. Thank you to Walt Disney Studios for hosting #RalphBreaksTheInternetEvent - all opinions are my own.
Disney's Ralph Breaks the Internet is sure to capture the hearts of Wreck it Ralph fans all over again as soon as it hits theaters this season. If you are looking for a fun and exciting Ralph Breaks the Internet inspired gift, we have the ultimate list here! We love Ralph, Vanellope, comfy princesses, and of course Yesss! Ralph Breaks the Internet has more characters than any Disney animated film, and they are all super whimsical and fun!   Find a thoughtful present for the Wreck it Ralph on your holiday list!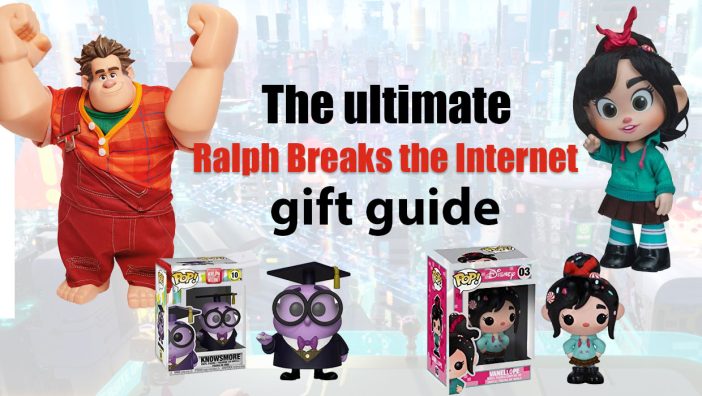 We have found that shopping online for Disney related merchandise not only regularly gives us the best price, but it also gives us so many more choices!  I got a sneak peek at some of the toys before they were released to the public and I am THRILLED they are finally available! Many Disney toys do become collectible and often sell out quickly.  Ralph Breaks the Internet has a ton of characters and kids (ok, and adult collectors) are going to want lots of fun options to play with.
Ralph Breaks the Internet is the sequel to the wildly popular Wreck it Ralph.  Fans are already acquainted with classic characters, but the new characters are even more fun! Check out the trailer below…
Disney toy collectors and children alike are going to go nuts over all the fun toys and collectibles associated with Disney's newest animated feature film.  Those who love to collect Vinyl POP! products are going to lose their minds.  There are so many fun Pops that we honestly cannot include all of them!  I have included some of our favorites below, but know that you can see many more options when you simply click through the link. You could overflow stockings and fill  up a tree with Wreck it Ralph 2 toys and collectibles alone!
Wondering what Ralph Breaks the Internet is all about?
"In RALPH BREAKS THE INTERNET, video-game bad guy Ralph (voice of John C. Reilly) and best friend Vanellope von Schweetz leave the comforts of Litwak's arcade in an attempt to save her game, Sugar Rush. Their quest takes them to the vast, uncharted world of the internet where they rely on the citizens of the internet—the Netizens—to help navigate their way. Lending a virtual hand are Yesss (voice of Taraji P. Henson), the head algorithm and the heart and soul of the trend-making site "BuzzzTube," and Shank (voice of Gal Gadot), a tough-as-nails driver from a gritty online auto-racing game called Slaughter Race, a place Vanellope wholeheartedly embraces—so much so that Ralph worries he may lose the only friend he's ever had."
Pro tip – with Black Friday deals already published, NOW is the time to treat yourself and stock up on gifts!  Items that are sold through Shop Disney (previously "The Disney Store") always have FREE shipping on orders over $75 with the code SHIPMAGIC – even sale items!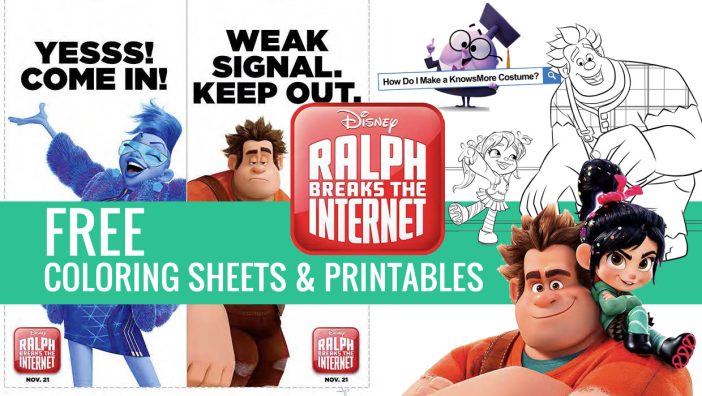 Don't miss these adorable FREE Ralph Breaks the Internet Activity Sheets and Coloring Sheets!
Below is a big long list of some of our favorite Ralph Breaks the Internet toys and collectibles.  I will add more in as they become available for the ultimate shopping list! If you are a Disney fan and want to share with those who are shopping for you, this is a great resource for you to forward – hint, hint!
Our YouTube Stars (slight exaggeration) have made this helpful unboxing video – more to come too!
Ralph Breaks the Internet Talking Vanellope Doll
Ralph Breaks the Internet Talking Wrecking Ralph Figure
Ralph Breaks the Internet Yesss Fashion Doll 
Ralph Breaks the Internet Action Figure Wave 1 Case (1 figure)
Ralph Breaks the Internet Power Pac Mini-Figure Wave 1 Case
Wreck-It Ralph 2 Mystery Minis Random Mini-Figure
Disney's Ralph Breaks the Internet Power Pack Display – Sugar Rush Video Game

Disney's Ralph Breaks The Internet Power Pac Display – Oh My Disney Castle App
Wreck-It Ralph Pop! Vinyl Figure

Knowsmore Pop! Vinyl Figure  (Knowsmore is going to be a favorite character for years to come, this is my prediction!)

Fix-It Felix Pop! Vinyl Figure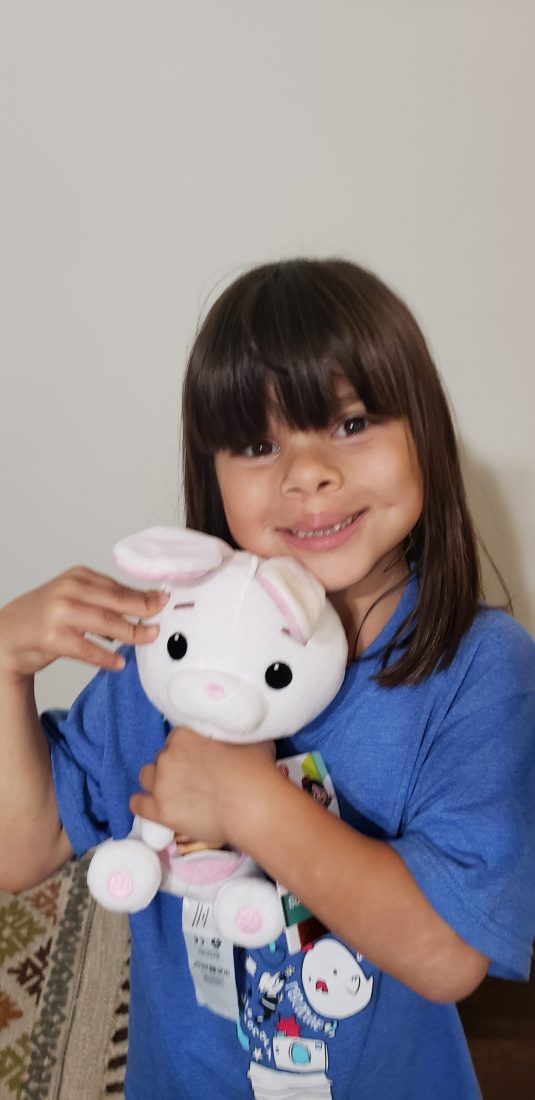 (Fun Bun is hands down Little Miss C's favorite character.  We are just beginning our Fun Bun collection – haha!-
(Puddles Kitty is cute too…. but we are team Fun Bun all the way in our house!)
I am predicting that full sets of "Comfy Princesses" are going to be what every collector is going to want. Disney princess fans will want to see all the adorable options. The princess t-shirts are my favorite inside jokes in the whole film!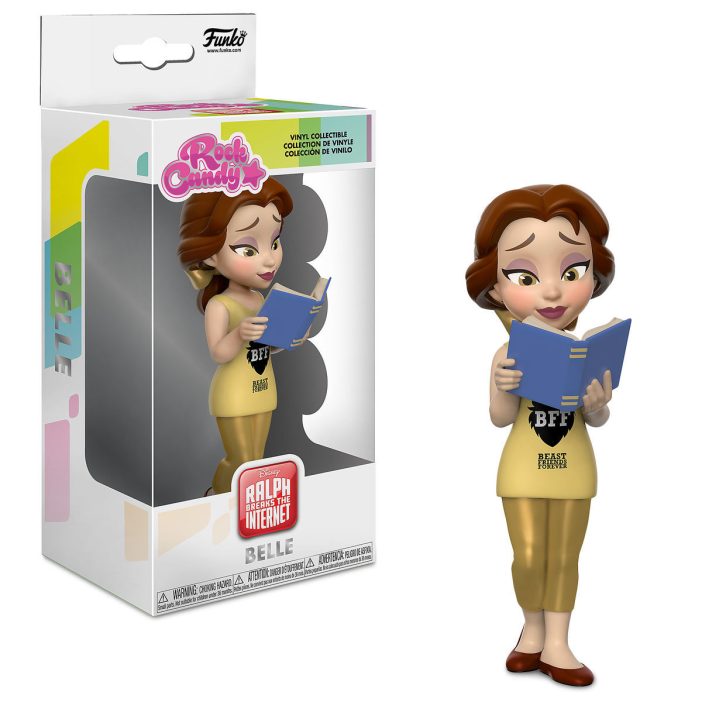 Check out the entire line of "Comfy Princesses" below….
Whoa, that is a lot of toys!  Believe it or not, these are just our favorites!  I will be sure to add to this list so make sure to come back!
I will be sharing more about my trip this next week!  Stay tuned for a mom's review of Ralph Breaks the Internet, cast interviews, and more! Ralph Breaks the Internet is sure to be a hit in theaters, grab your tickets online and skip the lines.
Like WRECK-IT RALPH on Facebook: https://www.facebook.com/WreckItRalph/
Follow WRECK-IT RALPH on Twitter: https://twitter.com/wreckitralph
Follow WRECK-IT RALPH on Instagram: https://www.instagram.com/wreckitralph/
Visit the official RALPH BREAKS THE INTERNET website here: https://movies.disney.com/ralph-breaks-the-internet-wreck-it-ralph-2
Photos are mine or Disney's and used with permission.