WISH Chocolate Dipped Pretzels
Disclosure: Highlights Along the Way is a participant in the Amazon Services LLC Associates Program, an affiliate advertising program designed to provide a means for sites to earn advertising fees by advertising and linking to amazon.com. This site uses affiliate links.
This easy WISH dessert recipe is great for a WISH birthday party snack. The decorations match the purple and gold theme in the movie, so they are pretty and delicious. If your child's favorite Disney princess is Asha, then you've come to the right place. You're going to love this wish dessert recipe because it's easy, fast, and only uses 4 ingredients. Let's learn how to make Wish-themed Chocolate-Dipped Pretzel Wands.
These magical wand desserts are perfect for your WISH birthday party. You can pair these with our other easy WISH dessert, our WISH Cupcakes Recipe or our WISH Rice Krispie Treats Recipe. They also have the same purple and gold theme, so you can reuse a lot of the decorations. If you're looking for more information on how to throw an awesome WISH birthday party, make sure to check out our post: How to Throw a WISH Birthday Party.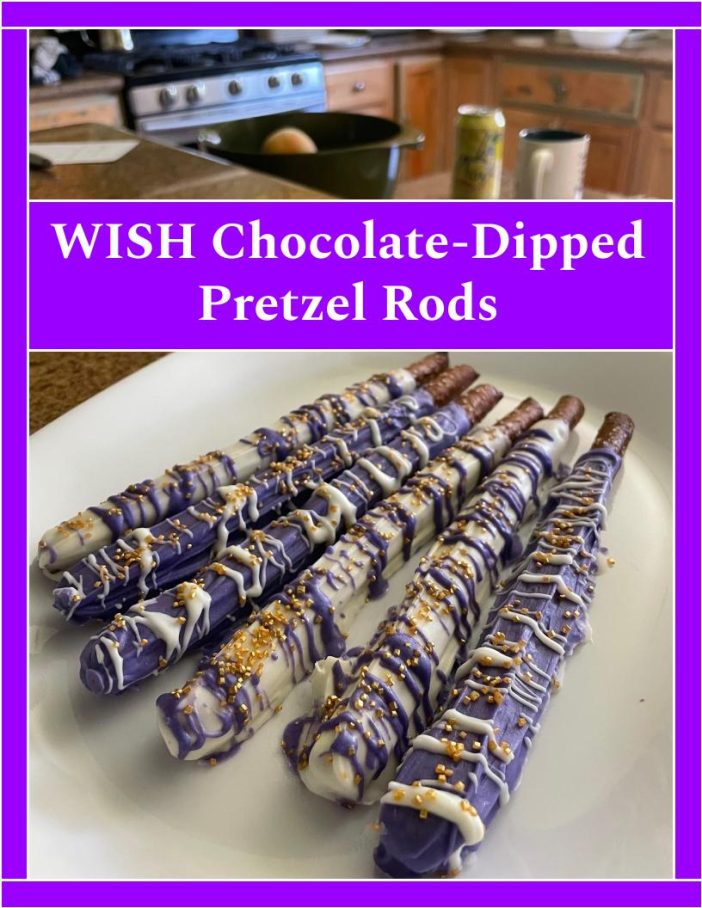 WISH Pretzel Wands Ingredients List:
All you need to make this beautiful WISH dessert is:
White Chocolate
Coconut Oil
Pretzels
Decoration (food dye/sprinkles)
How to Melt Chocolate Using the Double Boiler Method:
Most websites will recommend using a microwave to melt chocolate. However, I find the results with a microwave to be inconsistent. I also find that it takes much longer to melt it in 10 second intervals over and over, especially if you are trying to melt a large amount of chocolate.
So, I swear by the double-boiler method. It's sounds super fancy, I know. But it's actually really easy and you probably already have the equipment at home.
All you need is a small pot, and a heat safe glass bowl. I personally use one of those glass containers with the plastic lids for storing leftovers. (obviously don't use the lid). You'll want the glass bowl to rest on the top of the pot.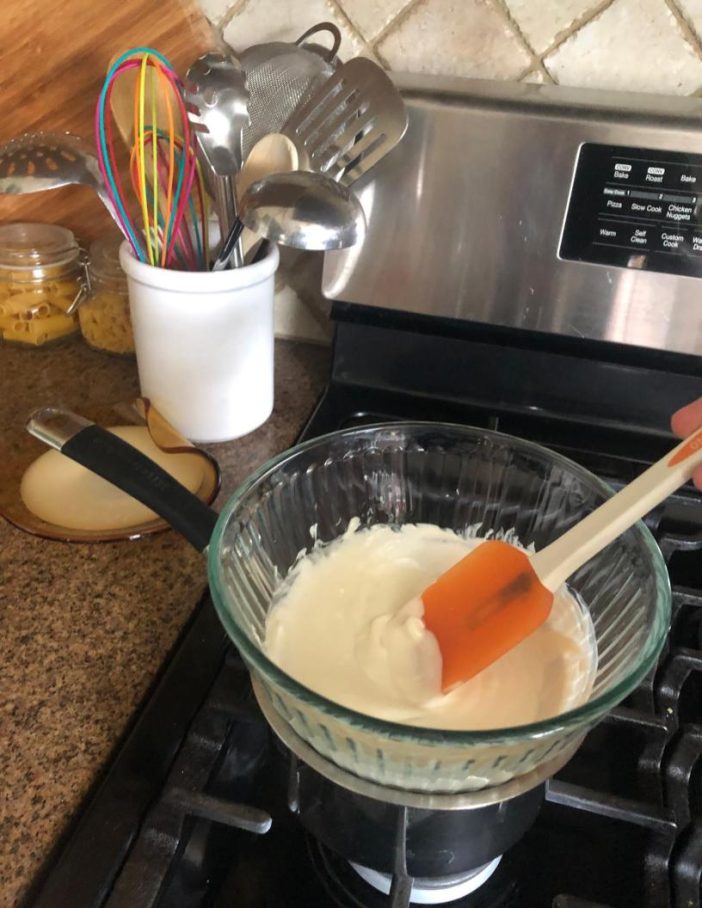 The way this method works is by adding about an inch of water to the pot and bring it to a simmer. The water vapor below heats the glass in a consistent and not-too-intense way. For this reason, you don't want the bottom of the glass to touch the water in the pot, so make sure you aren't using too small of a bowl. Then, you can add your coconut oil and chocolate and melt it. It's so much faster and way more fool proof than a microwave.
Trouble Shooting and Tips:
Chocolate Thickens When Adding Color: You may find that when you add the food color, the chocolate becomes too thick to work with. You can fix this by adding a little more coconut oil as needed, and it will fix the consistency.
Chocolate Seizes Up or Dries Out While Melting: This is called chocolate seizing, which can happen when the chocolate gets too dry, or if water moisture accumulates while it heats up. White Chocolate is especially prone to this because it is almost purely cocoa butter. To prevent it, always make sure to use plenty of coconut oil and keep the temperature on medium-low. To high heat can also make this happen.
My Chocolate Seized? How do I fix it? This may sound counterintuitive as it sometimes does this because of water, but you need to quickly add water to it. Eyeball 2 to 3 tablespoons of water and stir quickly. I don't really know how the science behind it works, but the chocolate absorbs the water and resumes its thin glossy consistency. This only works if you work fast. So if you notice the mixture is starting to thicken and resemble dough or frosting, add water quickly.
Best WISH SPRINKLES!
Make sure you grab these magical Gold and Silver sprinkles to really sell the theme, you can also use them in our other wish dessert recipe, our Wish Cupcakes!
Amazon.com: Siliver Sprinkles,Gold Sprinkles,Cake Sprinkles,130g 4.6OZ Edible Pearls,Cookie Sprinkles,Sugar Pearl, Edible Candy Pearls for Cake Cupcake Decorationg Mix Size (Silver+Gold) : Grocery & Gourmet Food
WISH Magical Pretzel Wands Recipe:
Yield: About 10-12 Pretzel Sticks
Prep time: 25 minutes
Set time: 20 minutes
Total: 45 minutes
Ingredients:

– Large Pretzel Sticks
– 1 bag of White Chocolate Chips (12 oz)
– 2 Tablespoons of Coconut Oil (or as needed)
– Pearl Sprinkles of your choice
– Purple Gel Food Color
Equipment
– Small Pot
– Heat safe, Glass Bowl
– Spatula, or Heat safe spoon
– Cookie Sheet
– Wax Paper, Parchment Paper, or Aluminum Foil
– Freezer or Fridge
Instructions:
1. Prep the cookie sheet: Line the cookie sheet with either wax paper, parchment paper, or aluminum foil. Then, add a little coconut oil, or non-stick spray.
2. Prepare to Melt Chocolate Using the Double Boiler Method: Add about an inch of water to the small pot and put the glass bowl on top.
3. Melt the Chocolate: Bring the water to a simmer and add about a tablespoon of coconut oil to the glass bowl. Once the coconut oil melts, add about half the bag of chocolate. Stir continuously until the chocolate is smooth and glossy.
4. Dip half the Pretzel Sticks: Use the spatula to help spread the chocolate onto the pretzel stick. Then, lay the pretzel sticks on the cookie sheet, and chill it in the fridge or freezer.
5. Prepare the rest of Chocolate: Melt about 3/4 of the rest of the chocolate just like before. Once it is fully melted, add about a tablespoon more of coconut oil, and about 5 drops of purple gel food color.
6. Dip the other half of the Pretzel Sticks: Dip the other half of the pretzel sticks in the purple-colored white chocolate.
7. Drizzle Purple on the White Dipped Pretzels: Use the remaining purple, white-chocolate to drizzle the already set white-chocolate with color. The best way to do this is to hold the pretzel above the melted chocolate and use a small spoon to scoop and let the chocolate drizzle off. Move the spoon in a back-and-forth motion to make nice and even strokes. If the chocolate is too thick, add more melted coconut oil.
8. Add Pearl Sprinkles to the white-with-purple-drizzle pretzel sticks.
9. Melt the Remaining White Chocolate Chips: Melt the small amount of chocolate chips you have left. Once it is ready, drizzle onto the purple-dipped pretzel sticks. Then add the Pearl sprinkles to them.
10. Let Chill in the Fridge for a minimum of 20 minutes.
11. For best results and taste, store in freezer in a Ziploc bag and serve cold.
If you liked this wish dessert recipe, check out our Easy Wish Cupcakes Recipe with Printable Cupcake Toppers!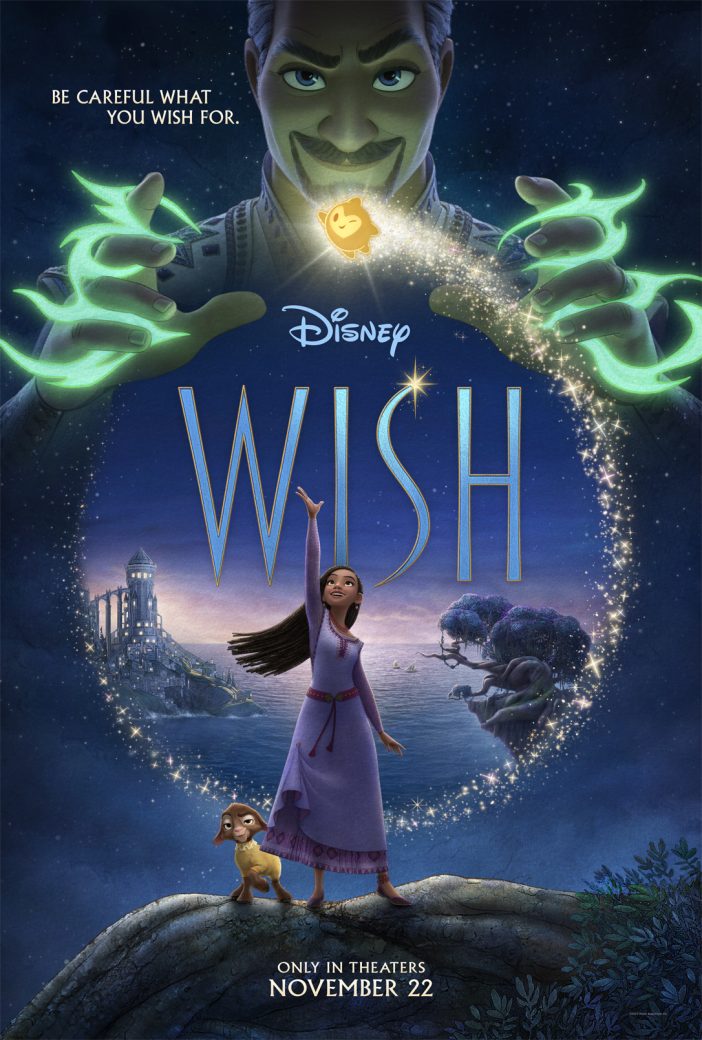 WISH– Directors Chris Buck and Fawn Veerasunthorn shared details about Disney Animation's 62nd feature, an all-new original musical adventure that centers on one core belief: There is no greater power in the universe than someone with a true wish in their heart. Opening in U.S. theaters on Nov. 22, "Wish" takes place once upon a time in Rosas—a fantastical, fictional island where wishes can literally and magically come true. When Asha, a sharp-witted idealist, learns a hard truth, she makes a wish so powerful that it is answered by a cosmic force—a little ball of boundless energy called Star. Together, Asha and Star confront a most formidable foe—the ruler of Rosas, King Magnifico—to save her community and prove that when the will of one courageous human connects with the magic of the stars, wondrous things can happen.