Wish Cupcakes Toppers – Instant Download
Disclosure: Highlights Along the Way is a participant in the Amazon Services LLC Associates Program, an affiliate advertising program designed to provide a means for sites to earn advertising fees by advertising and linking to amazon.com. This site uses affiliate links.
Celebrate your kid's birthday party with Wish! These cupcakes are super easy to make and look just like Princess Asha's dress. You can make easy wish cupcakes for your kid's birthday awesome with our printable cupcake toppers. You don't need to be a professional baker to make beautiful cupcakes. All you need is boxed cake mix, store-bought frosting, food dye, and sprinkles.
Celebrate your prince or princess with a magical Wish themed birthday party! Children everywhere will be thrilled to host or attend a Wish-themed birthday party. Wish cupcakes are easy to make. Use these simple instructions and boxed cupcake mix to make simply magical purple cupcakes. Our instant download printable cupcake toppers feature Asha and Valentino and are easy to use. Here we share the best ingredients to use to make purple cupcakes with a hint of magic. Check out our recipe and unique Wish cupcake topper printable below.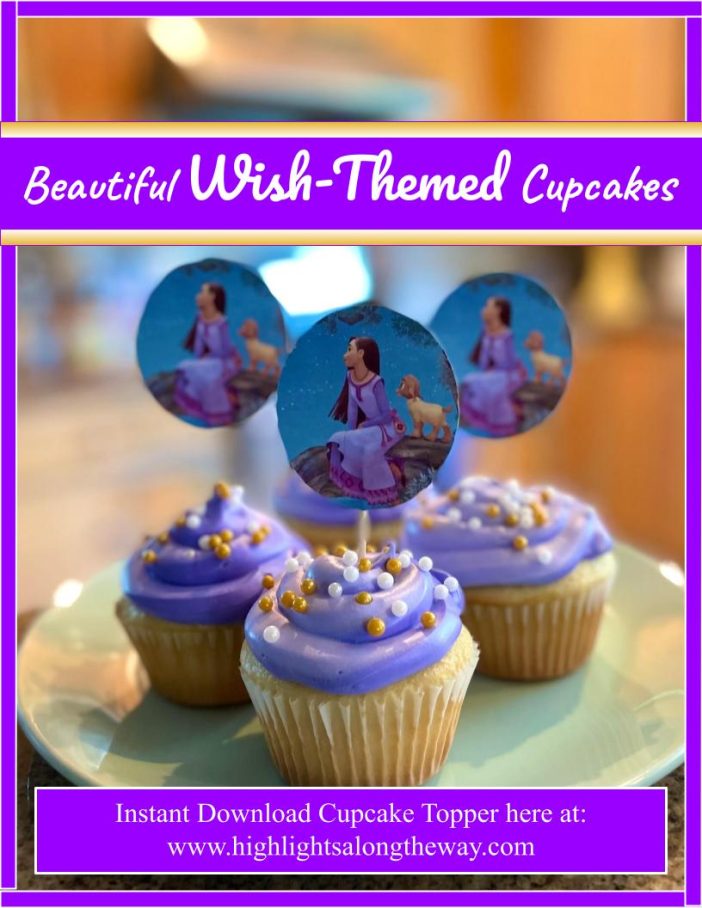 Printable Wish Cupcake Toppers
You can purchase Wish cupcake toppers from our Etsy store for only (MOM INSERT PRICE). Click here to purchase them. Once purchased the instant download is available to print at home on your computer. There is no waiting for your cupcake toppers to mail. Download offers nine cupcake toppers per page. Once downloaded; you are able to print as many Wish cupcake toppers as you need for your child's party guests.
Our cupcake toppers come as a downloadable page of nine that you can print as many copies of as you like. We recommend glossy photopaper because it shows the colors the most vibrantly. White card stock is also a good choice for cupcake toppers. While you can use regular computer paper to print out these cupcake toppers, that does tend to be a little fragile in my opinion.
Wish Birthday Supplies
WISH-THEMED INVITATIONS AND THANK-YOU CARDS are also available as an instant download!
WISH-THEMED Coloring Pages are a perfect activity for a Wish themed birthday party too!
Asha Dress for the birthday princess!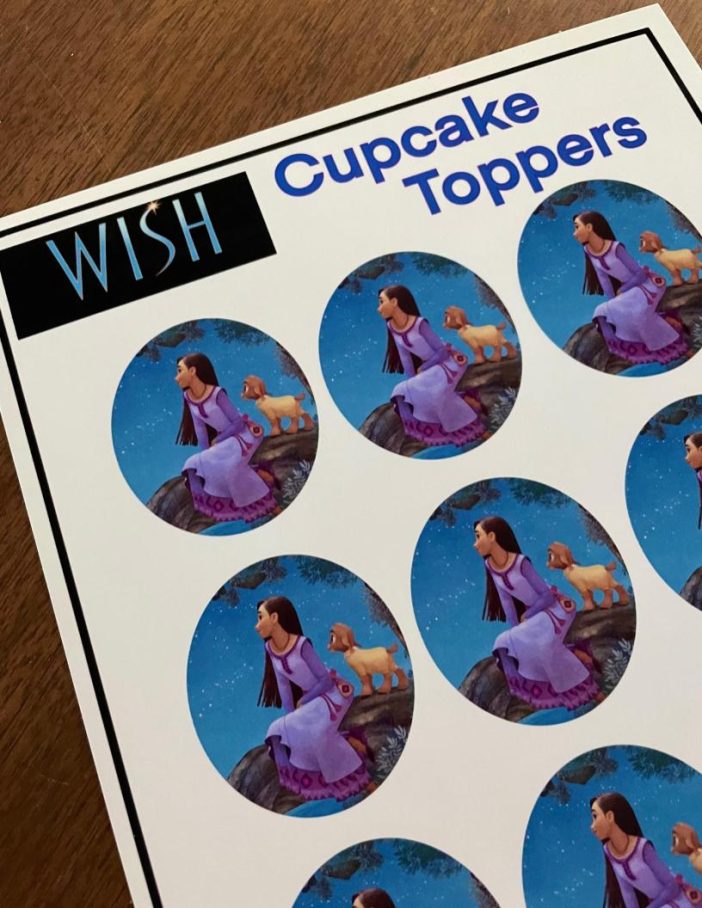 Printable WISH Cupcake Toppers
What you need:
-our cupcake toppers
-scotch tape
-toothpicks
1. Purchase on Etsy here: Instant Download Printable WISH Cupcake toppers
2. Download and print. There are nine cupcake toppers per page, print as many pages as needed for your birthday party guests.
3. Carefully cut each circle out
4. Tape toothpicks to the back of the paper.
5. Insert them into the center of the cupcakes after you have finished decorating.
It's that simple! Here's some tips and tricks for making your cupcakes extra awesome, and instructions on how to make and decorate the cupcakes.
How to Elevate Basic Store-Bought Cake Mix Taste Amazing
Store-bought cake mix is inherently convenient, but a few adjustments can elevate it to a point where your guests will be eager to know your secret.
Typically, store-bought cake mix calls for just three additional components: water, oil, and eggs. However, by making a couple of substitutions, you can transform the "store-bought" taste into something "homemade." Swap out the oil for melted butter and replace the water with milk. This simple change results in a significantly richer cake.
Once you've incorporated these ingredients, allow your cake mix to beat vigorously on high for a full 2 minutes using your electric mixer. This step is often mentioned on the box, but many people tend to overlook it. But this step helps integrate air bubbles into the batter, contributing to a light and fluffy interior. So, you'll want to remember this one.
Additionally, resist the urge to open the oven while your cupcakes are baking, especially during the first half of the baking time. Instead, wait until you're ready to check for doneness. Prematurely opening the oven can cause a rapid drop in temperature, potentially deflating the air bubbles inside the cake and compromising its fluffiness.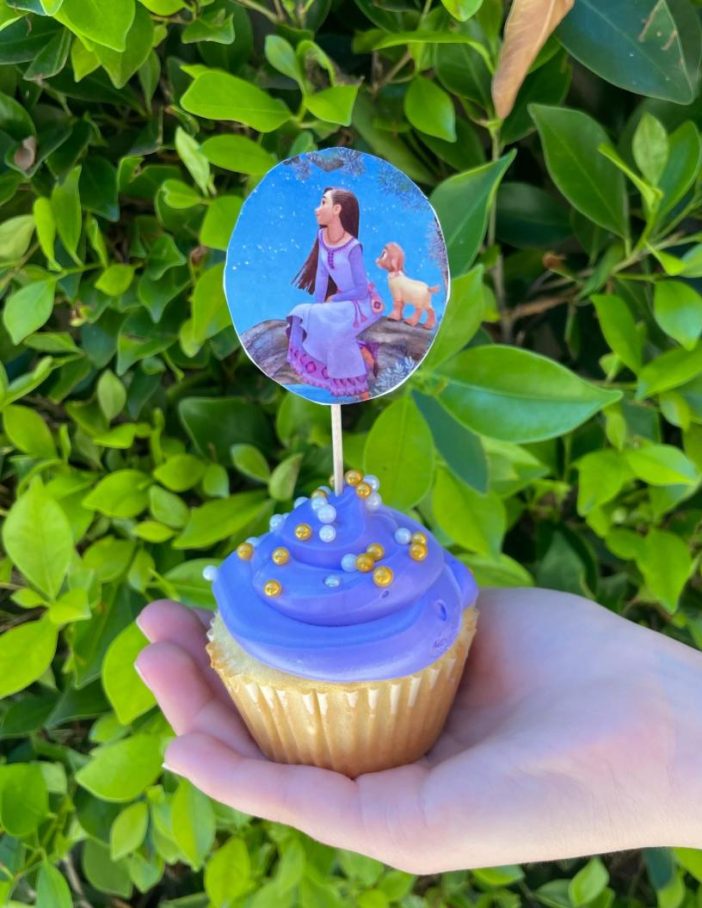 Asha Dress for Little Princesses:
Here is a beautiful Asha dress that is perfect for your little princess's party!
Easy Ingredients DIY Wish Cupcakes
Store-bought cake mix in whatever flavor is your preference. Some of our favorites for recipes like this are vanilla and confetti because our family likes vanilla, but feel free to switch it up!
Store-bought white frosting in any flavor. Vanilla and cream cheese are some of our favorites, but anything will work.
Food coloring in purple. The best kind of food coloring for frosting and baking in general is the gel type. It tends to work better than liquid in frosting because it's not as messy, and you can use less.
This color set is so vivid and we use it over and over again. You will only need a few drops of color so you can use these for so many party themes!
Do not mix red and blue food dye

For some reason they told us in school that Blue + Red = Purple, but much like colored pencils, food dye doesn't mix well. With food dye, Blue + Red = Muddy Gray.
Luckily, you can get purple food dye for cheap. Here is a link to the brand I used.
Amazon.com : Spice Select Neon Food Colors Blue Green Pink Purple 1.2 Oz : Grocery & Gourmet Food
This purple food dye is a very pretty cool-toned purple, but I warmed it up slightly with a drop of pink to make the color brighter. Mix-and-match until you find the perfect shade for your cupcakes. Try to match Asha's dress to get the best wish cupcakes look.
Tips for Using Food Dye and Store-bought Frosting
For most people, American buttercream or generic store-frosting is a little too sweet. Kids love it, but if you want to make the cupcakes actually more delicious, there's a few things you can do.
1. Whip you're frosting: While being shipped, the frosting gets condensed. Not only does this make frosting not look as good on cupcakes, but it makes it taste worse. You can fix this by whipping the frosting on med-high for 2- 3 minutes.
2. Add whipping cream: You can balance out the sweetness by adding a little heavy whipping cream. Because whipping cream turns into whipped cream when you whip it, it will also make your frosting fluffier.
3.Save time by dying the frosting the same time you whip it: Add the food dye at the beginning of this process so that it's fully combined by the time you finish.
How to Make Wish Cupcakes
These cupcakes are inspired by Asha's beautiful purple dress and the floating wish orbs you see in the movie. I used two shades of purple for a dreamy look. These cupcakes are elegant and fit for a princess, but very easy to make!
Step 1: Make your boxed cupcake mix. Use any flavor you like and use our tips to make them extra delicious!
Step 2: After the cupcakes cool, put them in the fridge to make them easier to work with.
Step 3: Dye your frosting a medium cool purple.
Pro-tip: Dye the frosting a lighter purple then separate half into a separate bowl. With the half that is still
in the mixer, add more food dye to make it a darker purple. Then swirl the colors together in your piping
bag to get a variegated effect.
Step 4: Put the frosting in a piping bag. (You can also use a gallon-sized Ziploc if you don't have one)
Step 5: Snip the tip of the frosting bag and carefully pipe on the cupcake in a circular motion from the outside in. (Alternatively, you can spread frosting on cupcakes with a spoon. Make sure to smooth it out by rotating the spoon in a circle to make a swirl.)
Step 6: Add a generous amount of gold and silver edible pearls. You can also use gold and silver sprinkles for a sparkly look.
Step 7: Add the printable cupcake toppers.
We hope you enjoyed our recipe and Wish birthday party tips. If you liked this recipe, check out our recipe for Wish-themed chocolate-covered pretzel wands. We also have a complete list of everything you need, and the instructions for throwing an awesome wish-themed birthday party. Also, check out the Wish Teaser Trailer below!
Watch the Wish Teaser Trailer Here
ABOUT WISH
Wish is the latest animated feature from Walt Disney Studios. Wish is also the first Disney feature film in decades to use traditional 2D animation. Wish combines the classic art of hand-drawn animation with the technology of today to create an animated film unlike anything we have ever seen. Wish features a beautiful and brave Afro-Latina princess Asha, and her adorable animal side kick "Valentino"; a goat who wears adorable pajamas! We are already in love!
In "Wish," Asha, a sharp-witted idealist, makes a wish so powerful that it is answered by a cosmic force—a little ball of boundless energy called Star. Together, Asha and Star confront a most formidable foe—the ruler of Rosas, King Magnifico—to save her community and prove that when the will of one courageous human connects with the magic of the stars, wondrous things can happen. Featuring the voices of Academy Award®-winning actor Ariana DeBose as Asha, Chris Pine as Magnifico, and Alan Tudyk as Asha's favorite goat, Valentino, the film is helmed by Oscar®-winning director Chris Buck ("Frozen," "Frozen 2") and Fawn Veerasunthorn ("Raya and the Last Dragon"), produced by Peter Del Vecho ("Frozen," "Frozen 2") and co-produced by Juan Pablo Reyes ("Encanto"). Jennifer Lee ("Frozen," "Frozen 2") executive produces—Lee and Allison Moore ("Night Sky," "Manhunt") are writers on the project. With original songs by Grammy®-nominated singer/songwriter Julia Michaels and Grammy-winning producer/songwriter/musician Benjamin Rice, plus score by composer Dave Metzger, "Wish" opens only in theaters on Nov. 22, 2023.