Wyndham Anaheim Garden Grove : Good Neighbor Hotel
Disclosure: Wyndham contacted our family to feature their Good Neighbor Hotel option on our blog. Our stay and meals were complimentary to facilitate this review. Opinions are 100% my own. Links are not affiliate links, but probably should be.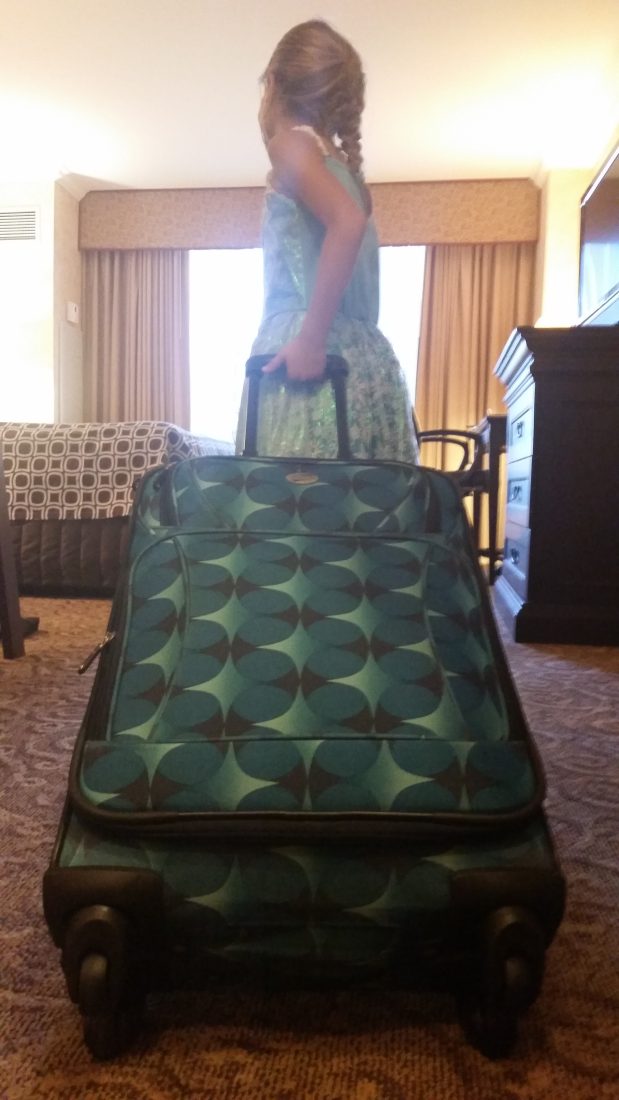 My oldest and I took a quick girl's trip to Orange County to check out Knott's Berry Farm for the opening day of Camp Spooky and while we were there we thought we would check out another Good Neighbor Hotel. Wyndham Anaheim Garden Grove is a great Good Neighbor Hotel just minutes from Disneyland and other awesome SoCal attractions.  While we love staying on property at The Disneyland Resort, Good Neighbor Hotels are Disney approved hotels that are close by but at a lower price point than Disneyland properties.  Not every hotel has the Good Neighbor stamp of approval and I HIGHLY suggest looking for this label when you are visiting SoCal theme parks!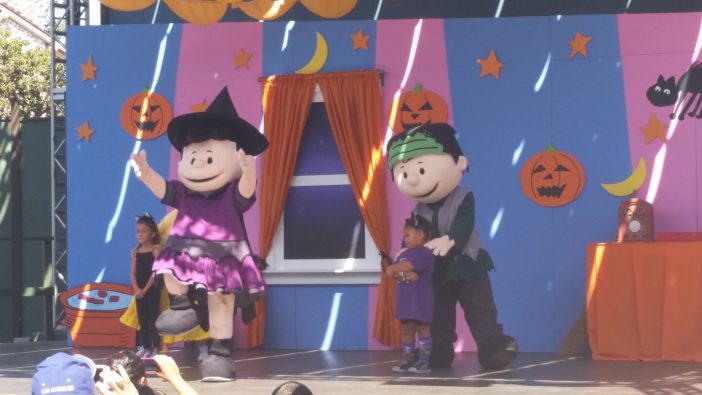 We have been traveling so much we are thinking we need to start a "Travel Tuesday"!  So this week's Travel Tuesday we will feature The Wyndham Garden Grove – which is newly renovated, family friendly, and has the Good Neighbor stamp of approval from Disney!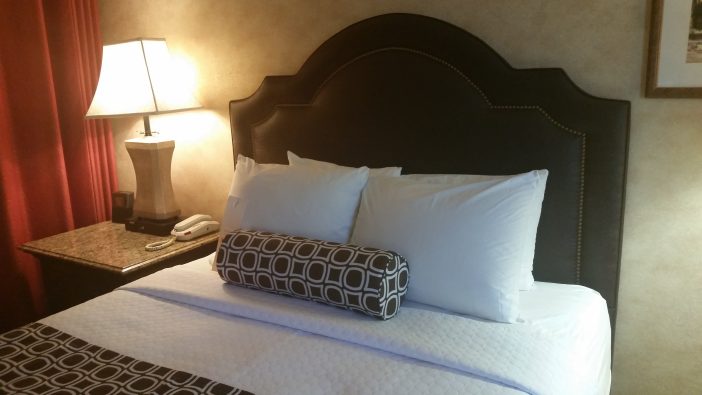 My FAVORITE thing about this hotel room………….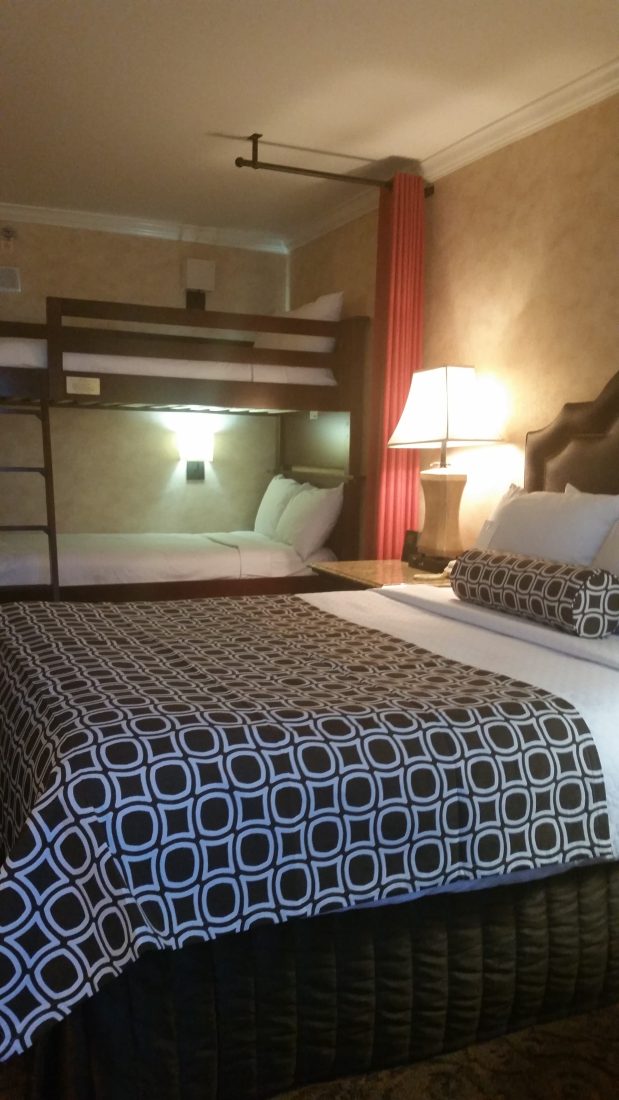 BUNK BEDS!!!
This was PERFECT!  My only regret was this was a trip where I only had one kid.  While she was THRILLED to have a bunk bed for the night it would have been REALLY awesome to have this with all the kids!  Our kids tend to kick a bit in their sleep so sharing a queen ends up not being a great night's sleep for anyone.  With bunk beds they can flip a coin for who sleeps in the top bunk (or just decide based on last time) and everyone gets a great night's sleep!  Our littlest still sleeps in a pack and play so this gives us plenty of room to not put her in a corner.  I think bunk beds are so great for family travel and I love seeing hotels offer this option!  I loved that there was a privacy curtain too.  This was pulled and it was dark enough for kiddos to sleep and I could still keep the light on and get some work done!  So awesome!
This hotel also came equipped with a coffee maker and refrigerator.  When a family is staying for a few nights out of town it can be so pricey (and exhausting!) to eat at a restaurant every meal.  We tend to stock the fridge with water bottles, easy breakfast items (Gogo Squeez, yogurt, fruit, etc) as well as snacks.  Families will also be happy to know there is a Target directly across the street from the Wyndham.  I can't remember the last time we went out of town where we did not forget something.  You can easily walk or drive to Target and stock up on those little things you forgot and also grab breakfast, snacks, sunscreen, etc.
The California Grill is located inside the Wyndham and offers lots of fun and healthy options.
I had an awesome Salmon Salad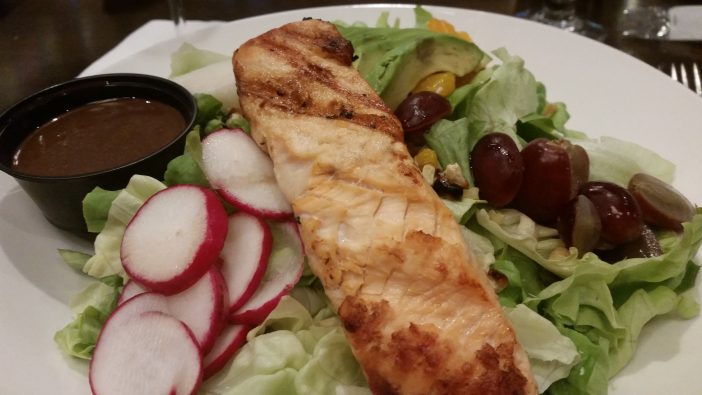 The kid's menu offers the usual – chicken strips, burgers, etc.  We were both very happy with our choices.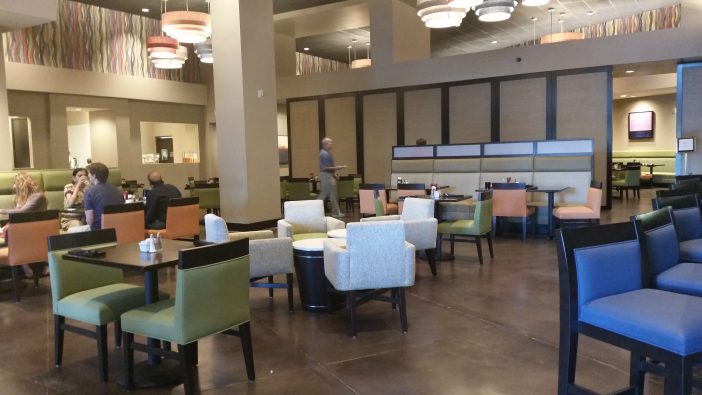 The pool was fantastic!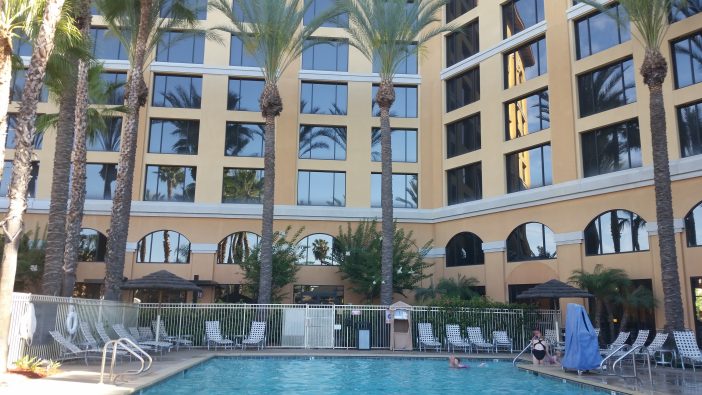 We really enjoyed the jacuzzi and the first come first serve cabanas!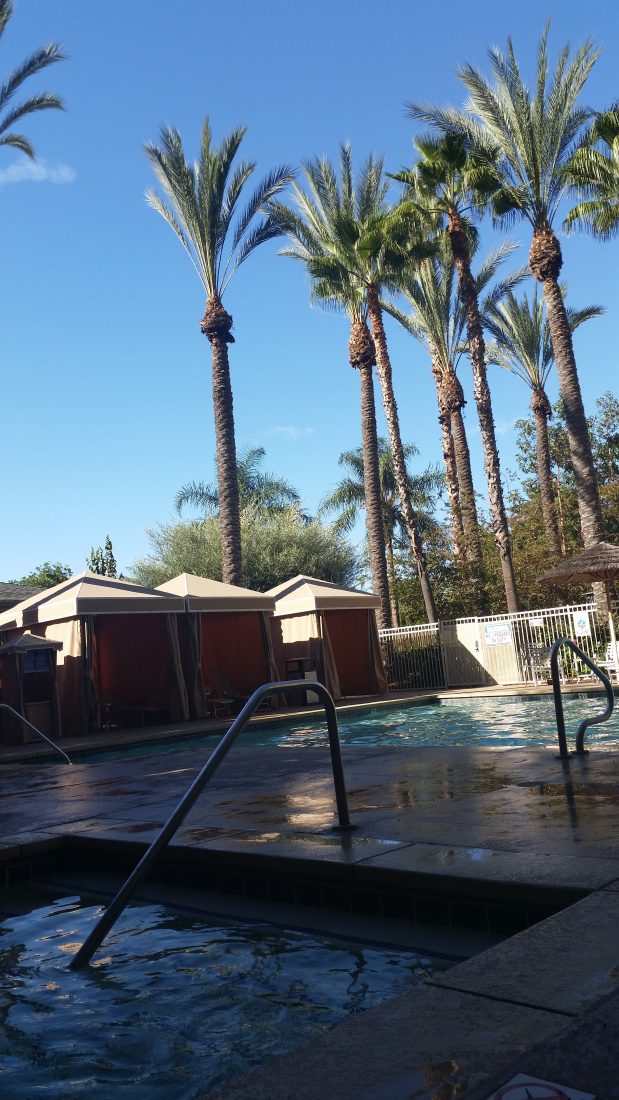 Things to keep in mind ~
Hotel parking is around the back and you will need to walk your luggage a bit further than if you were to park up front.  We honestly don't care, but I felt it was worth pointing out.
The hotel offers a FREE Shuttle to and from Disneyland every half hour – on the hour and half hour – make sure to get there in time!
This hotel is NOT within walking distance of Disneyland or Knott's Berry Farm – again, there is a shuttle, but it is a few minutes drive from Disney and about 15 minutes from Knott's.
The Wyndham Anaheim Garden Grove is a non smoking hotel (yay, my favorite – but if you enjoy that habit you won't be allowed to do it in your hotel room without a hefty fine.)
I heard a couple guests voice concerns about the Daily Resort Fee.  Many people book through a 3rd party and in some cases this fee is not mentioned or not made clear.  The Daily Resort Fee is something paid upon arrival and it is a mandatory fee; you cannot choose to turn down the amenities to avoid the fee so I mean, I totally get it.   The Daily Resort Fee is $14, plus a $2 Tax. The daily resort fee includes Disney Resort shuttle service, self parking, access to the gym and business center, and free Wi-Fi throughout hotel.  I don't know, I have seen this hotel listed at about $95; you tack on the Resort Fee and tax and now it is $111 a night.  I personally am not a fan of extra charges put on after the advertised price; but I think $111 is a great price for this hotel and it's amenities.  So I guess it is just worth pointing out – whatever price you see this hotel listed at just know there is a bonus $16 each night.
A big thank you to Wyndham Anaheim Garden Grove – we had a wonderful time and we hope to see you real soon!