Memories : A Perfect Holiday Weekend at The Disneyland Resort!
This past weekend I got to spend Saturday at one of my favorite places with a few of my favorite people.  Our oldest was a very important part of the city Christmas parade and Daddy stayed to cheer her on, but I took the two littles and my Aunt to The Merriest Place on Earth – AKA Disneyland resort during the holidays!  It was a magical day and I wanted to share just a couple of our fun photos!  Also – a huge thank you to my lovely Aunt L for spending the day with us!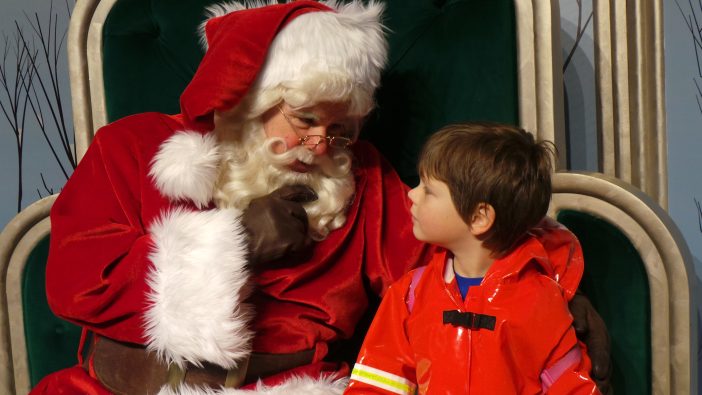 If you were wondering where the REAL Santa hangs out – I can all but assure you – he is at Elias & Co on Buena Vista Street in Disney California Adventure Park.  Our oldest two are 7 years old, and we are well aware that our days of our big kids believing in Santa Claus are numbered.  My son told Santa "Well, I was mostly good and I am doing REALLY good for every day til Christmas.  I promise.  Can I please have a skate board? My dad said he would teach me and get me shin guards."  Santa let him know that he was really proud of him all year and that he would see what he could do – and then he winked at me. *magic*
Then it was time for some Disney holiday treats!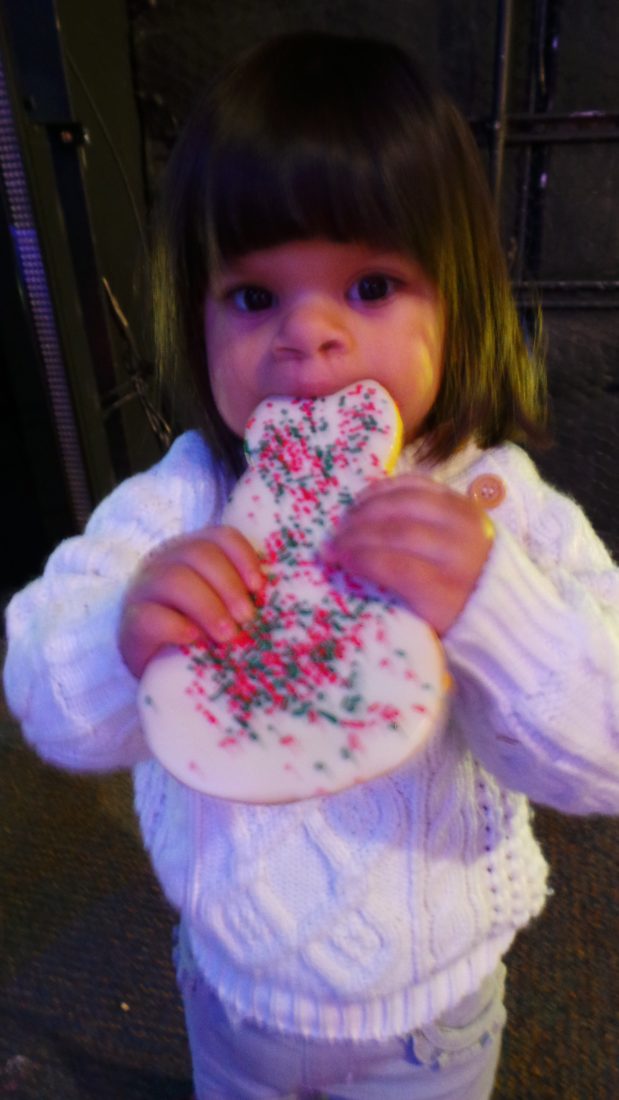 Baby chose a snowman sugar cookie that was bigger than her head.  Brother chose a Disney Frozen inspired cupcake!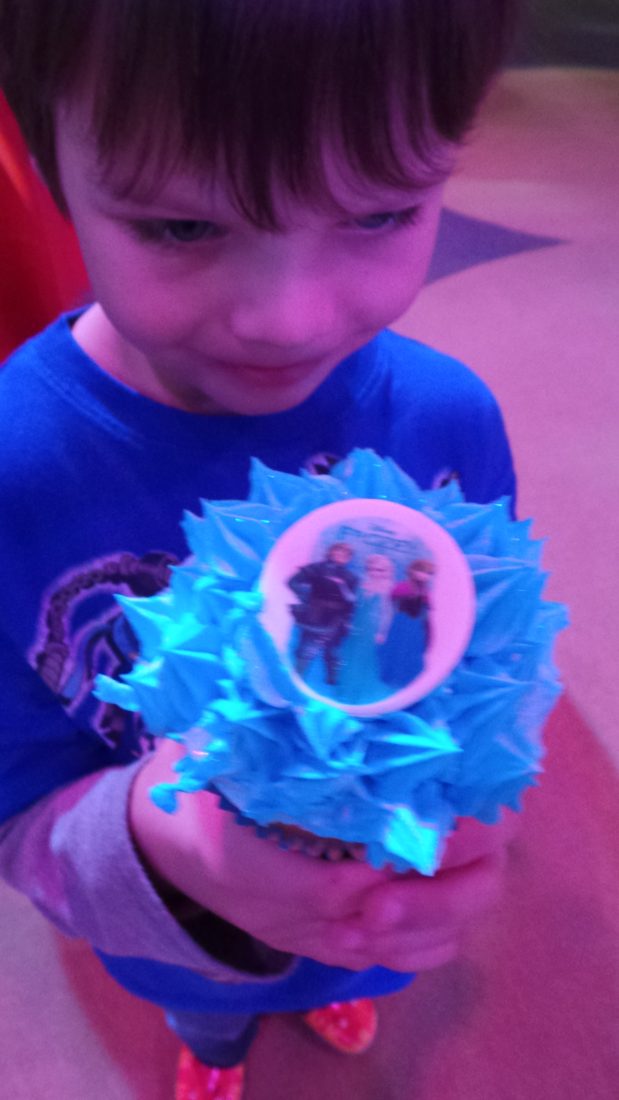 Aunt L.  decided on a Frozen Cupcake too!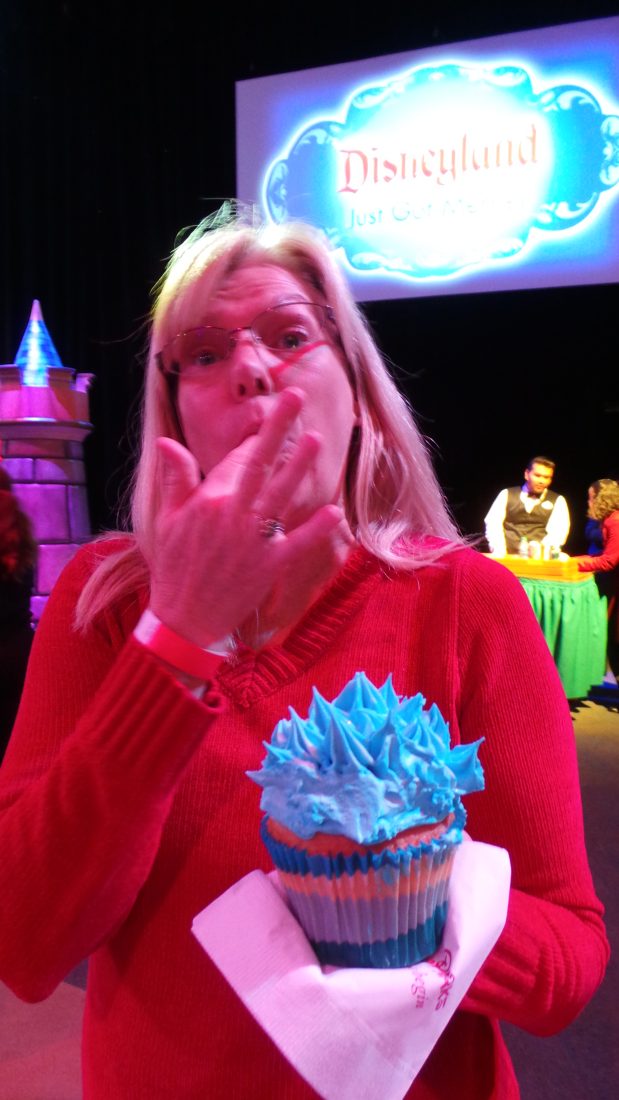 We were just at Disneyland a few months ago and Little Miss C was afraid of the characters, but something changed this time.  This time she was so excited to meet her favorite Disney characters.  My favorite moment of the day was her hugging Minne Mouse and then blowing her a kiss.  For a minute or two after our meeting with Minnie Mouse we had to stand on the side lines and just stare at her.  She waved, blew kisses, and said "bye bye MiMi" about a dozen times before we could move on.  *magic*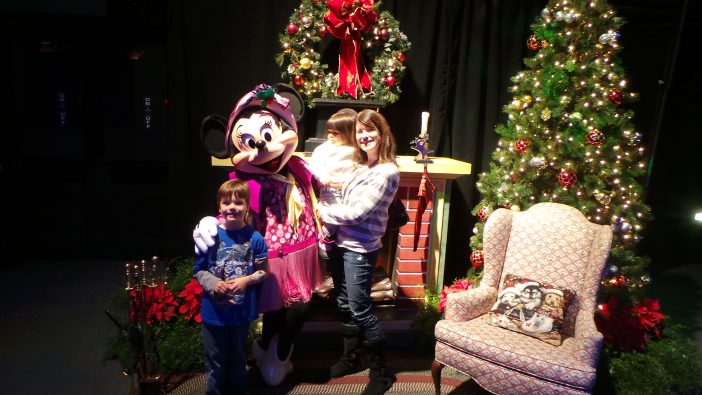 We were tickled to meet the Three Cabelleros at  Disney's Viva Navidad!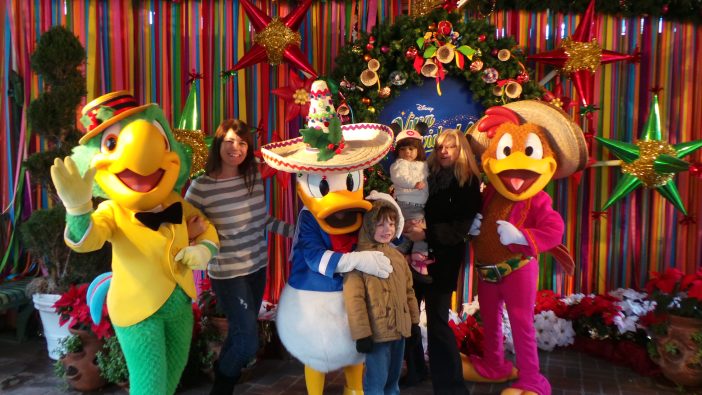 Look who we spotted in Fantasyland!  We saw Olaf from Disney's Frozen!  You can meet Anna & Elsa in Fantasyland and Olaf is there too!  We will wait to meet the Frozen Princesses when big Sister is with us – but we were very excited to wave at Olaf!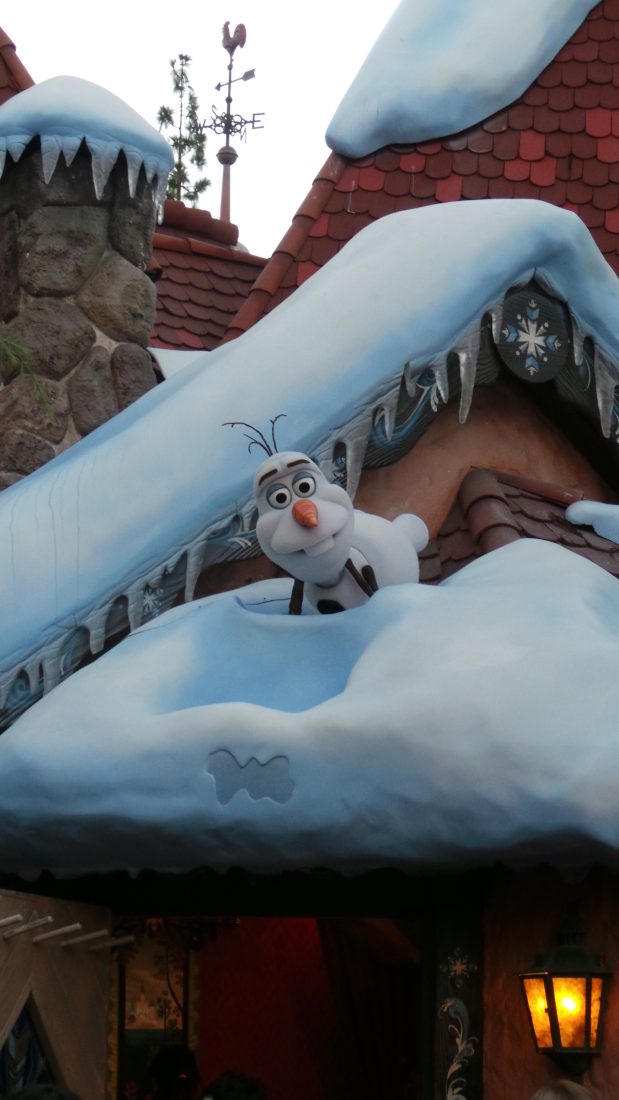 My tip – a rainy day at the  Disneyland Resort is no biggie!  Bring a rain coat (or poncho), umbrella, an extra set of socks, and wear rain boots.  We spent the rainy hours visiting with characters, eating treats, and riding inside rides and we hardly got wet!  What was really cool is that even on a Saturday during the holidays we enjoyed really short lines.  We did notice a couple rides and a show we had hoped to watch were closed down during the rain, but we were really having too much fun to notice!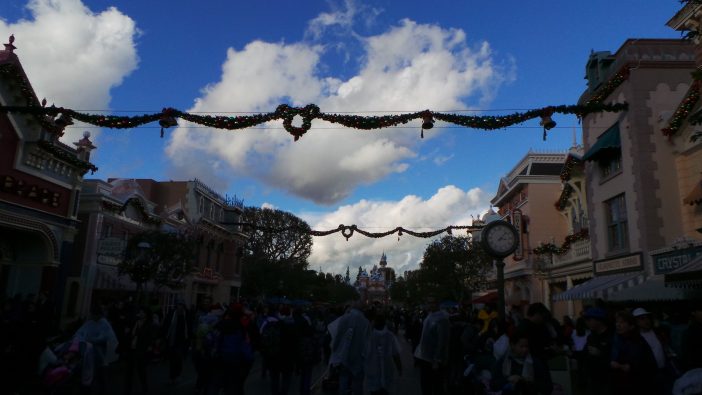 If you haven't been to Disneyland for the holidays recently, it is pretty magical!