The BEST Peter Pan Family Group Costumes
It's my favorite time of the year again… Dress up time! This year we let my youngest decide the theme. Lately, my kids have been obsessed with all things Peter Pan. Surprisingly it didn't start with the Disney classic, but with the 2003 live version. They watched it once and then watched it over and over and over again. Then we watched Hook and Pan. They were all about Neverland and I would randomly find them acting out the story. So it's no wonder my littlest wanted to be Peter. Once that was decided everyone claimed their characters and the hunt for costumes began. That's the fun part. If you start early enough you can search until you find exactly what you need and at the right price. I still mostly use thrift stores and resale sites for almost all my costume pieces. I have done so many family costumes now that I am able to start recycling some items. Since the characters are mostly recognized from their iconic images in the Disney film, we based our costumes off of that.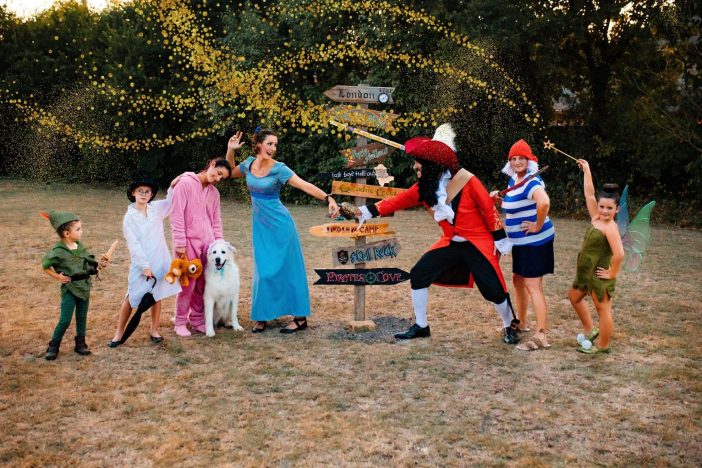 All photos are by the incredibly talented Dallas photographer Jeanna Rae Photography.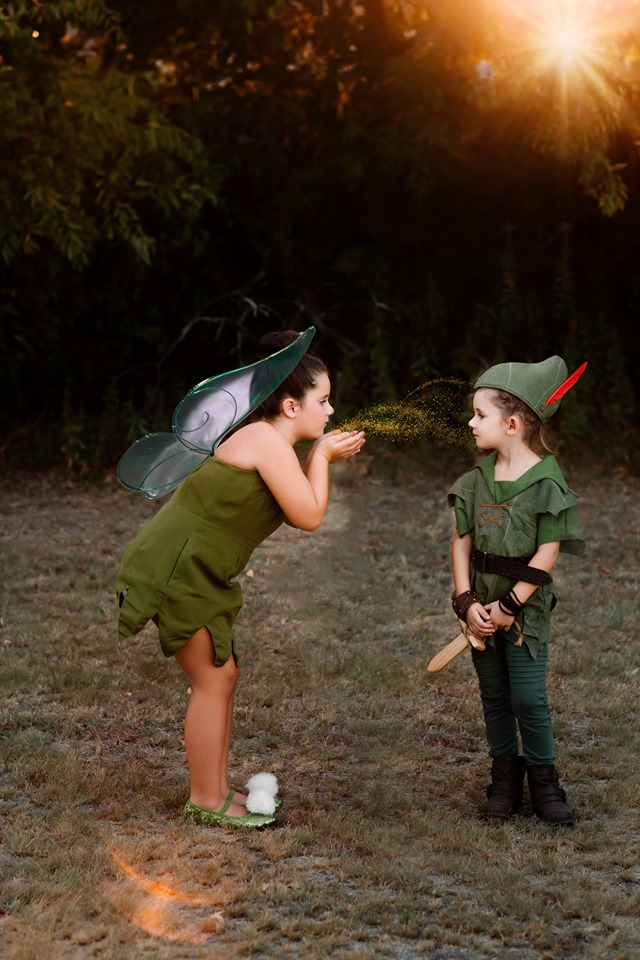 We will start with Peter Pan. I found a Disney store Peter Pan costume for $8 on Poshmark. When I got it I realized the only part I liked from it was the shirt and the hat (sort of). So I ditched the crappy pants, the boot covers and the cheap belt and replaced those with real boots and belt we already had and green moto pants from target. I accessorized with a leather cuff, and some leather necklace material I wrapped around multiple times to look like a bracelet. I knew a wooden dagger would take the costume above and beyond, so I found one on Etsy from AE Wooden Toys. After wrapping a little rope around it; it was perfect. The costume's original hat was ALMOST right. The feather that was on it was orange and weird, so I removed it and hot glued a red feather I had gotten at Michaels. These little touches made the costume our own… and complete.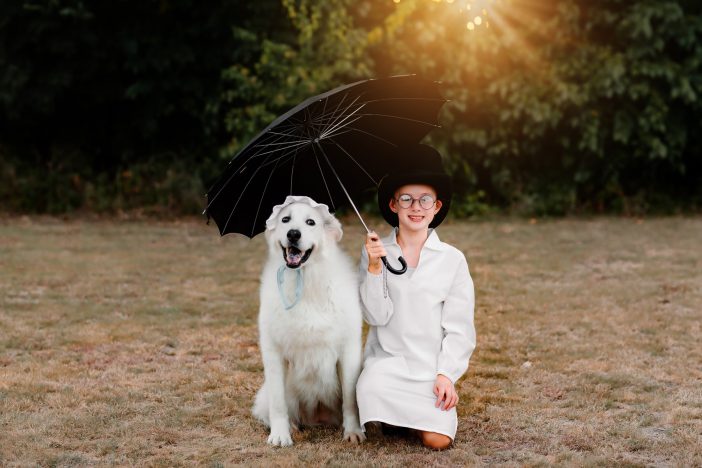 My oldest was crazy excited to be John Darling. You basically need a long white nightshirt and top hat. Our white night shirt I found on Etsy from seller Mimi Rob. The top hat I found on Ebay from China. So if you give yourself time… you have enough time to allot for shipping. The umbrella is actually a vintage umbrella that I found on Facebook marketplace and was able to pick up locally. The black slippers we found at a thrift store and any Harry Potter style glasses will complete the look.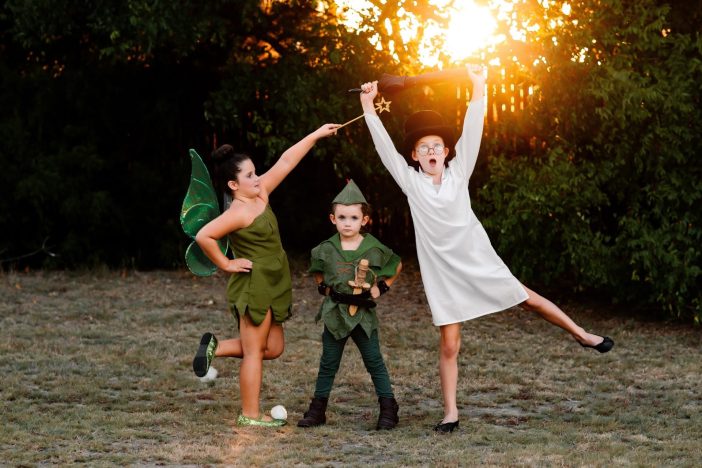 Tinkerbell was a little more difficult. I really did not like any store brand Tinkerbell costumes because most of them are itchy princess dresses and Tinkerbell does not wear a princess dress. Thankfully my middle daughter can fit into junior clothing and I was able to find a simple green strapless dress on Poshmark. Once we had the dress we had to alter it. My husband is the seamstress in the family, so he took in the underarm area and seamed the pattern into the bottom which I then cut. I then sprayed the dress with Krylon glitter spray and voila, a Tinkerbell dress. The wand I just happened across at a Claire's and the hair bun gets the perfect volume with one of those weird donut things… which we already had from when they took dance classes. I found a pair of green glitter shoes on Poshmark and hot glued white Hobby Lobby puffballs on them. The wings I actually spent a little more on. I wanted them to look authentic. Most wings are strapped around the arms and thus look fake. I looked at wings on Etsy that were made with a U base that slides into the dress from the back. The wings I decided on were made from Mylar which is extra durable. My middle daughter's nickname is the Destroyer, so anything she has needs to be extra durable. These wings were from Hello Faerie and she was absolutely fantastic with making sure we got the wings in time for our shoot because she makes these to order.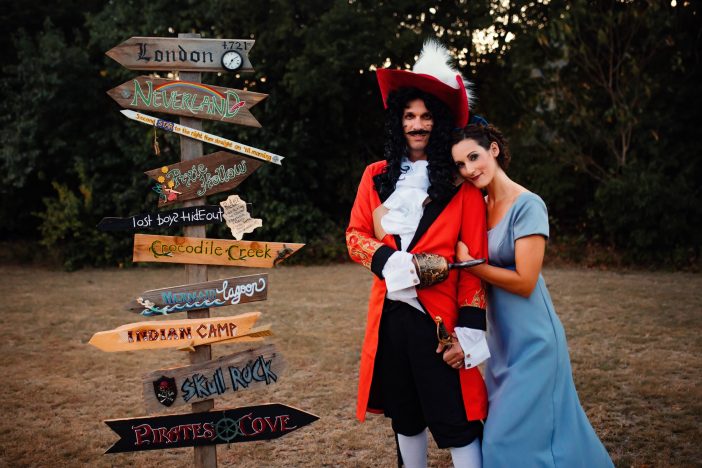 There are not a lot of Wendy Darling costumes out there, and those I did find were a weird satin material and not cheap. I thought to myself; the dress design is so simple there has to be a dress somewhere out there that looks like it but not necessarily called a Wendy Darling dress. I started searching all kinds of things… Blue cap sleeve dress, blue scoop neck dress, simple blue dress… I waded through tons of listings and was not really getting what I was looking for. Then I thought; it kind of looks like a bridesmaid dress with sleeves. So I searched (and don't get offended but this is what actually brought me the dress I needed) Blue Mormon Bridesmaid dress, and there is was. The blue belt we made with ribbon, elastic and snap buttons. Finished the costume with an over sized blue bow and black slippers we already owned.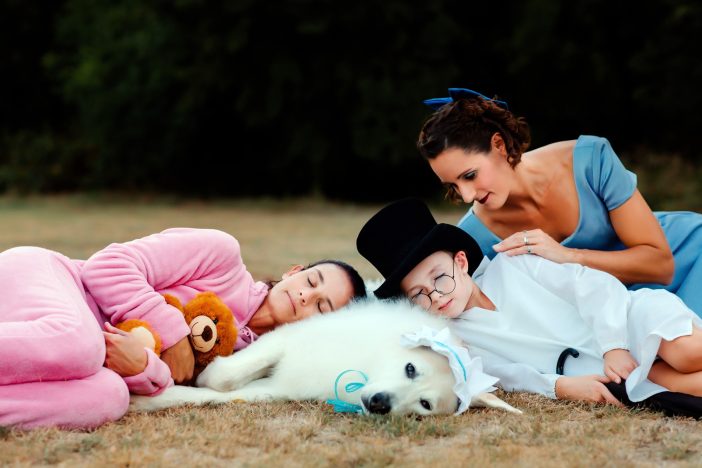 Michael Darling was fairly easy. The teddy bear was already in our stash of stuffed animals, I actually had 3 different ones to choose from. I was then truly surprised at just how many pink footed pajamas are out there. There were many listings on Poshmark, some priced too high, but if you search a little while you find one for inexpensive and we got ours for $12.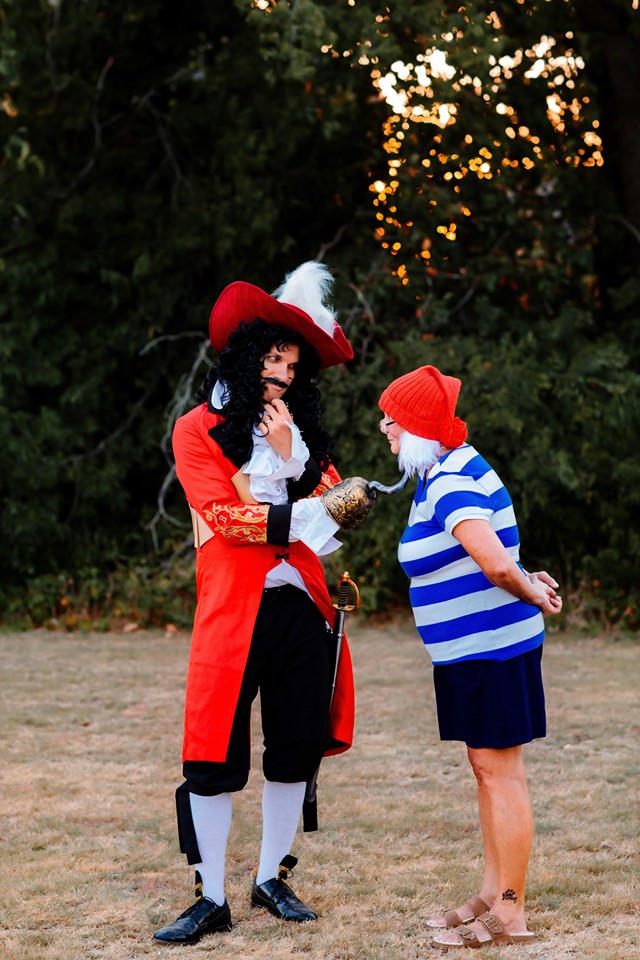 My mom always gets the funny characters so Smee it was. A blue and white striped shirt was easy to come by at a thrift store as well as blue shorts. The reading glasses she already owned. The knit cap actually has the white hair sewn in. I found it on Etsy from Unique Knit Design and its perfect. That piece definitely brought the Smee costume to another level. Pair with sandals and you are set!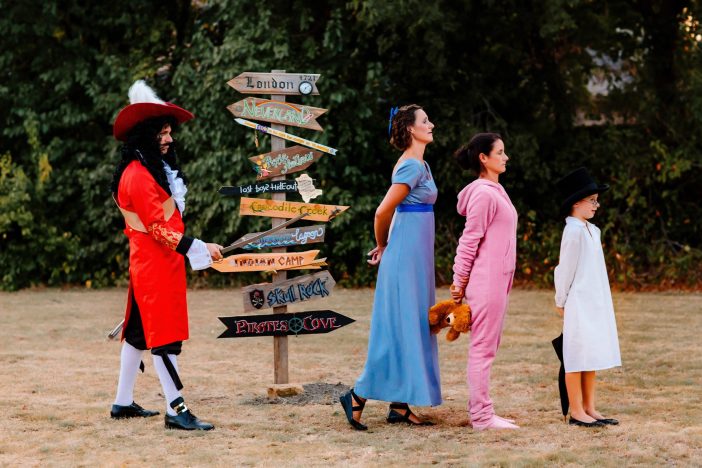 Hook's costume was the most involved and most fun. Thank goodness for a husband that goes along with my crazy because he really is a good sport. We were actually able to reuse a Prince Eric costume shirt for his pirate shirt. We were also able to reuse his Greatest Showman PT Barnum coat for Hook's coat, we just removed a few gold baubles from it. The half pants and socks I found 'used' while searching for renaissance wear on Ebay. The shoes are actually his own shoes, with colonial buckles that wrap around with elastic. My husband sewed the brown sash and neckerchief from extra pre owned fabric and his wig was an Amazon find at a crazy low price. Usually cheap wigs look cheap but this one was amazing (Smiffy's brand Pirate wig). The hat was the most difficult because my husband has a very large head. Most hats I found that looked like Hook's hat were for kids. Most men's pirate hats are black or brown or leaning more towards a Pirate of the Caribbean look. I looked for a LONG time for hats. I considered making my own from a wide brimmed red hat. Just when I was about to pull the trigger on doing it myself I found a costume store in Canada called The Costume Shoppe that sold a red feathered pirate hat. Concerned it was for a child I contacted them and they assured me that there was an employee with large head who worked in their store and this was one of the only hats that fit him. I was sold. I bought that hat and it could not have been more perfect.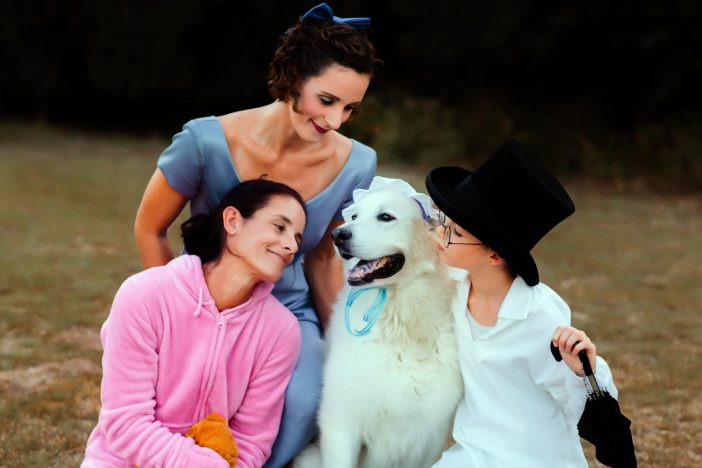 Nana was a last minute addition. She is my sister's dog and she is the biggest teddy bear of a dog you have ever seen. The day of our photo shoot we thought, hey bring your dog Riley! She would make a perfect Nana. Suddenly I needed a Nana cap. I had white fabric, blue ribbon, a simple headband a wire coat hanger and a glue gun. Fastest Nana cap made you ever saw.
The directional sign I made as well. I originally made it to use for a birthday decoration and was stoked that we would be able to get to use it again. I basically painted one sign a day for a week. It was all freehand painted and then embellished with trinkets that I found at Michaels, Hobby Lobby, or Joanne's. Having the sign helped add to the whimsy of our costumes.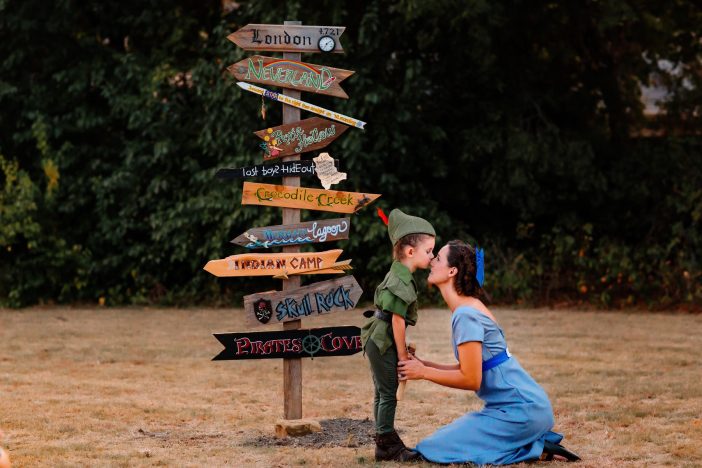 So my advice as always is to start early. This allows you to search for items and get the best possible price. The worst is to wait until last minute, because if you need it in a hurry you are gonna pay for it. Can't wait to see everyone's costumes this year and start the creative process for next year!
But wait – last year this bunch was the cast of The Greatest Showman. Check out all their beautiful The Greatest Showman Group Costumes!
Thank you again to reader Cassie Lee for sharing this inspirational post and to Jeanna Rae Photography for bringing Cassie's vision to life so beautifully!