Wish Gift Guide
Disclosure: Highlights Along the Way is a participant in the Amazon Services LLC Associates Program, an affiliate advertising program designed to provide a means for sites to earn advertising fees by advertising and linking to amazon.com. This site uses affiliate links.
With Disney's WISH magically flying into theaters in November 2023, it is sure to be the inspiration of many holiday wish lists. If your little one's Christmas list involves Asha and Valentino, we have the ultimate Disney WISH Gift Guide here! From simple Wish themed Little Golden Books, to Wish themed clothing, and of course Valentino Plush toys, you are sure to find something for your Wish fan! Your little princess will be thrilled to find a magical Wish themed gift under the tree this year.
This gift guide will continue to grow as more fun Wish themed gifts become available for purchase. We thank you for checking out our curated list and for coming back. If you are looking for a free Wish themed gift, you are invited to print out our free Wish Activity Packet.
The ULTIMATE Wish Gift Guide
While I am sharing this Wish curated gift guide for the upcoming Christmas season, I believe Wish gifts will be popular for years to come. Do not miss our Wish Birthday Party, Wish dress up, Free printable Wish activity pages, and Wish themed cup cakes! We are obviously very excited about WISH and hope that this serves Wish fans everywhere. I hope that you find something here to make a wish come true!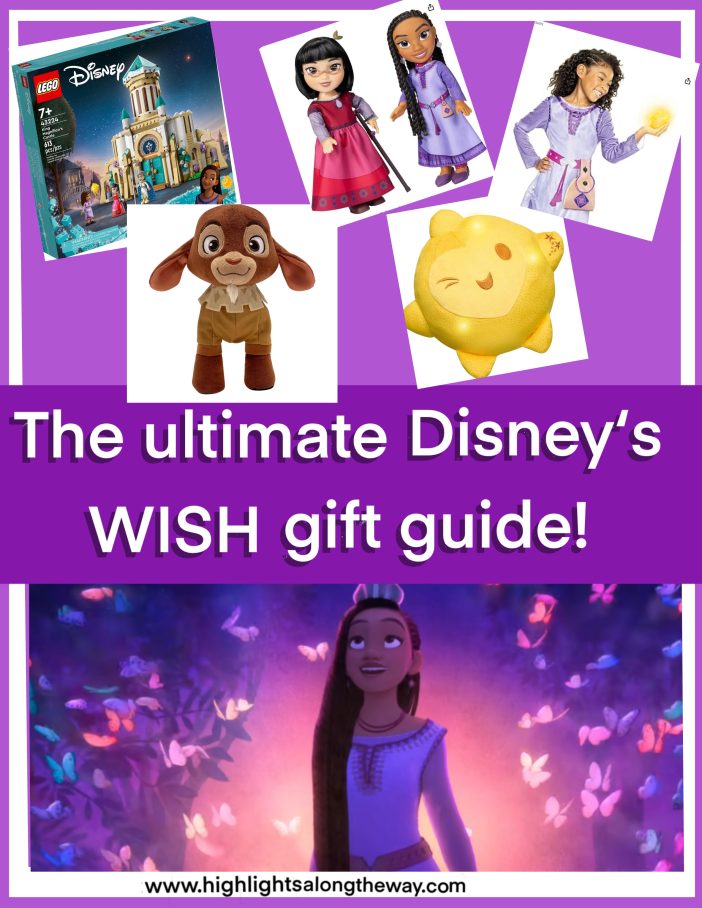 Valentino Plush
Disney never misses with their animated side kicks. Valentino is an adorable baby goat who wears pajamas! Because baby goats in pajamas is already a vibe, I assume this Valentino Stuffed animal will be the most popular plush sold this holiday season.
Disney Wish Castle LEGO Set
King Magnifico's LEGO Castle is a HUGE Disney set for kids ages 7 and up! Fun build and pretend play. Includes several LEGO figurines.
Ultimate Disney's Wish Castle Playset
This playset includes posable dolls, star figurine, more than a dozen little accessories, and more! This magical Disney doll house also lights up!
Disney Wish Asha Doll
A perfect present for a little one who loves Asha. The newest Disney Princess is sure to be the favorite doll of the holiday season. This Asha WISH doll is priced just under $10 on Amazon.
Disney Wish Home Decor

A beautiful framed print featuring Asha, Valentino, and magical Star. Wish Artwork is perfect for a Wish themed princess room!
Asha's dress is a beautiful purple color. Little girls and all kids who like to play dress up will want this lovely dress in their dress up box!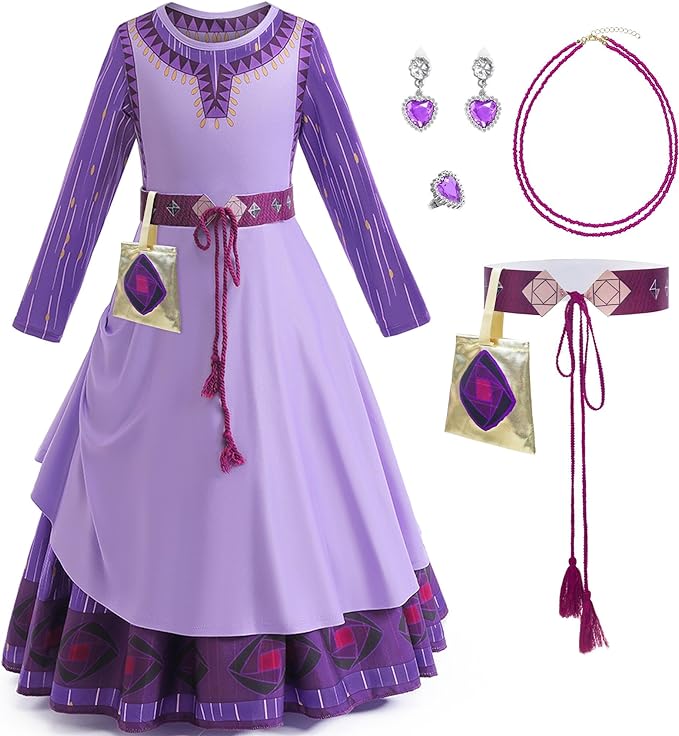 The Wish Original Motion Picture Soundtrack from Walt Disney Records will be available November 17 on all streaming platforms.
"Welcome to Rosas," performed by Ariana DeBose and "Wish" cast
"At All Costs," performed by Chris Pine and Ariana DeBose
"This Wish," performed by Ariana DeBose
"I'm A Star," performed by "Wish" cast
"This is the Thanks I Get?!" performed by Chris Pine
"Knowing What I Know Now," performed by Ariana DeBose, Angelique Cabral and "Wish" cast
"A Wish Worth Making," performed by Julia Michaels
WISH– Directors Chris Buck and Fawn Veerasunthorn shared details about Disney Animation's 62nd feature, an all-new original musical adventure that centers on one core belief: There is no greater power in the universe than someone with a true wish in their heart. Opening in U.S. theaters on Nov. 22, "Wish" takes place once upon a time in Rosas—a fantastical, fictional island where wishes can literally and magically come true. When Asha, a sharp-witted idealist, learns a hard truth, she makes a wish so powerful that it is answered by a cosmic force—a little ball of boundless energy called Star. Together, Asha and Star confront a most formidable foe—the ruler of Rosas, King Magnifico—to save her community and prove that when the will of one courageous human connects with the magic of the stars, wondrous things can happen.