Baby Yoda New Year's Eve Coloring Page
Disclosure: this site uses affiliate links. This is fan art inspired by the Mandalorian and drawn by me.
Baby Yoda is coming to your New Year's Eve party! Baby Yoda is an iconic character from The Mandalorian would be everyone's favorite New Year guest. Today we are sharing a printable New Year Baby Yoda coloring sheet. Enjoy coloring in a cute picture of little Grogu ringing in the New Year. Click and print this line art drawing of Baby Yoda and keep your littlest guests busy while you prep your feast.
Everyone's favorite character from the Mandalorian is also featured in this fun Baby Yoda Valentine's Day printable. Please see our other Baby Yoda holiday coloring sheets. More Baby Yoda coloring sheets are coming to Highlights Along the Way for other holidays as well.
Would Baby Yoda (Grogu) and the Mandalorian even celebrate the New Year? Actually? I think the cast of the entire Star Wars Universe would celebrate the new year. Many of the holiday Star Wars printables we share here on our blog we think are pure fantasy, but I think Yoda looks forward to this celebration wherever he is from too. People seem to love a little Baby Yoda in a holiday theme though so who am I to deny them Baby Yoda ringing in the New Year? I hope this New Year is full of happiness and wellness for you and yours and everyone in the galaxy!
If you enjoy these free printable coloring sheets inspired by little baby Yoda, make sure to check out our printable section featuring Go Dog, Go! Coloring sheets Gabby's Dollhouse Coloring Sheets , We Can Be Heroes Coloring Sheets, Sharkboy and Lavagirl Coloring Sheets, American Girl Doll Coloring Sheets , Olaf Coloring Sheets, Coco Coloring Sheets , Trolls Coloring Sheets , and so many more on our site!
Baby Yoda Hanukkah Coloring Sheet – click for FREE!
FREE Nature Themed Printables from WWF – click and print for FREE!
FREE Melissa & Doug Printables – print from home to learn and enjoy!
FREE Taco Bell Printables – so fun and may inspire a trip through the drive thru!
Baby Yoda New Year's Eve Coloring Sheet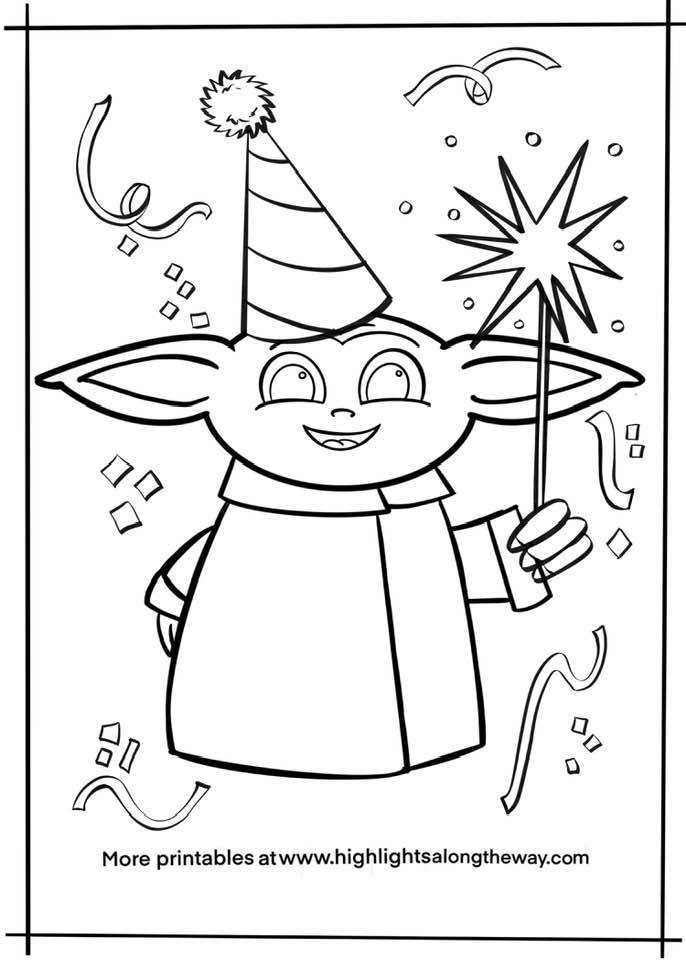 If you enjoyed this New Year Celebration Printables, please be sure to check out all our printables, coloring and activity sheets at highlightsalongtheway.com/printables throughout the new year! We have lots of Star Wars, Yoda, Disney and other cartoon inspired printables for your home or school.
Holiday themed activity sheets with Grogu are some of our favorite things to share on our blog. These coloring sheets are free to enjoy by clicking and printing. We will add more Mandalorian inspired coloring sheets and artwork in the future.
If you are a blogger or writer looking for printable coloring sheets for your blog, magazine, or book, please check out my website Kate Ham Art and follow my growing Instagram account @KateHamArt . Do not hesitate to reach out if you would like me to create printables or book illustrations for your next project. If you or your child colors one of our printables, please share it on social media and tag our page. I will always share printables in our instagram stories and I would love to feature you!