Big Hero 6 Party Ideas!
Disclosure: Sponsored by Birthday Express. Opinions are our own.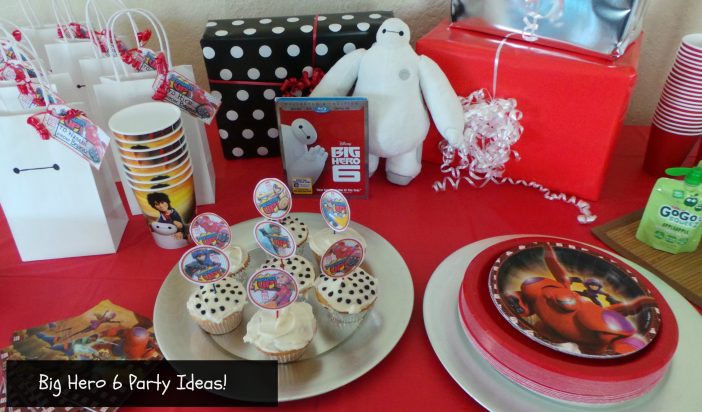 Last year our daughter turned 8 and she had a Frozen themed birthday party (like every other girl in America) – but this year she was all about Big Hero 6.  She could not wait to have a Big Hero 6 themed birthday party for her 9th birthday!  I was so excited to put together a fun Baymax, Honey Lemon, Hiro, Wasabi, and all the super heroes party for her.  If you are looking for some fun and easy Big Hero 6 Party Ideas you have come to the right place – this party was put together in ONE WEEK you guys!  So Easy!  We have tons of decor, food, and craft activities – check it out!
I was excited to find Big Hero 6 Party supplies are now available from Birthday Express! Birthday Express has awesome Kids birthday party supplies and I was super excited to find this new addition to their party supplies! Big Hero 6 is BRAND new and they were just in time for our birthday party.  There were only a few specifically Big Hero 6 licensed items but that was OK!  I ordered the few Big Hero 6 items but also a few items that I could modify easily to fit the theme – I also used some FREE Disney printables!
Together with Disney licensed items from Birthday Express, some creativity with black, white, and red party supplies from Birthday Express, and a little imagination we were able to put together a really cute party for our little Honey Lemon.
So let's start with some of the SUPER easy items – things you can just buy from Birthday Express!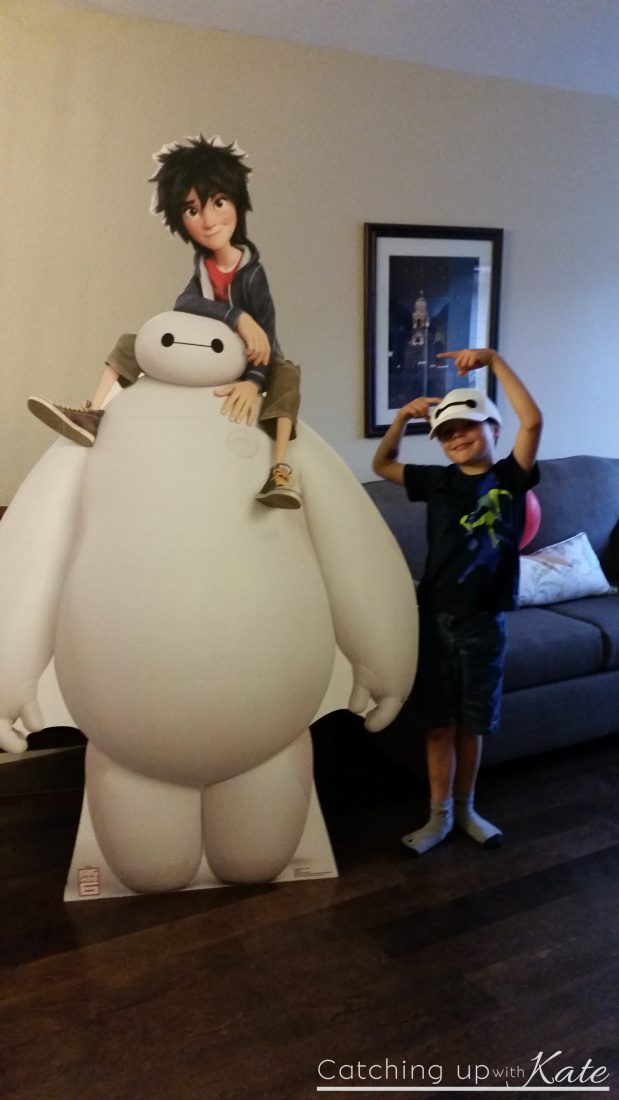 You may have noticed we like to have a Cardboard cut out of our theme at our parties. We have always made them in the past and while we don't mind making them, I know most are not going to take the time to do so. For just under $40 Baymax and Hiro will come to your home!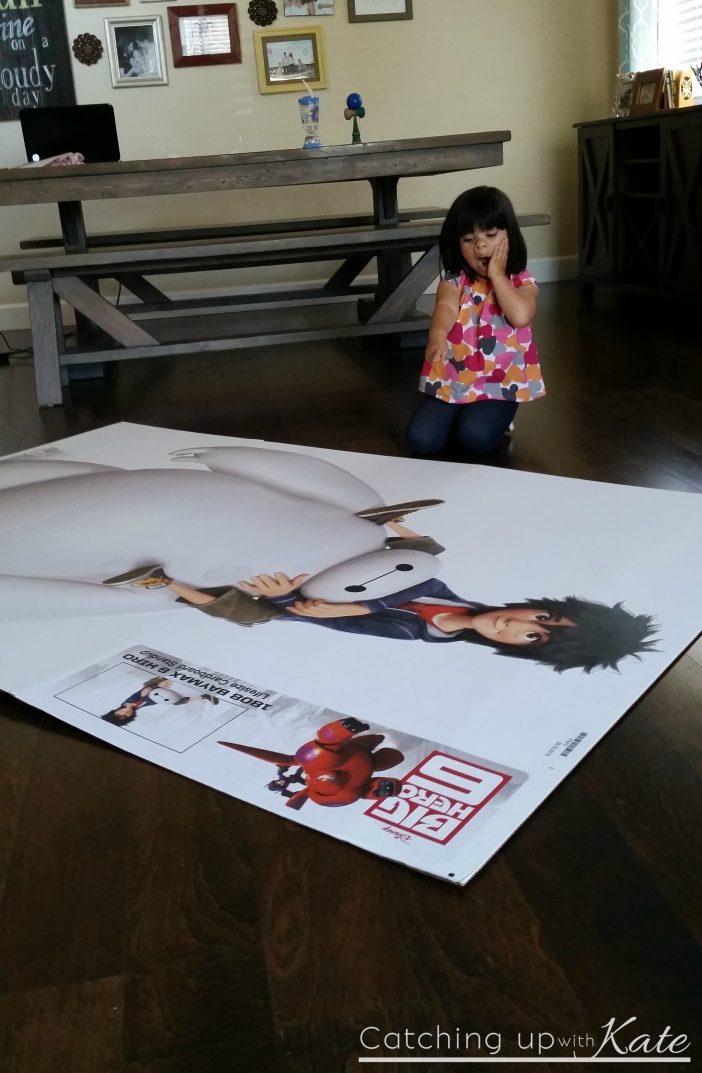 *She was so excited and posed herself!*
We love taking photos with the character and then printing out photos to send home as favors or use in our thank you cards.  These stand ups can be used over and over again – keep for future parties in your family or pass along like we did.  This came mailed flat and extremely easy to prop up – I highly suggest it!  It was *almost* like having real Baymax at our party.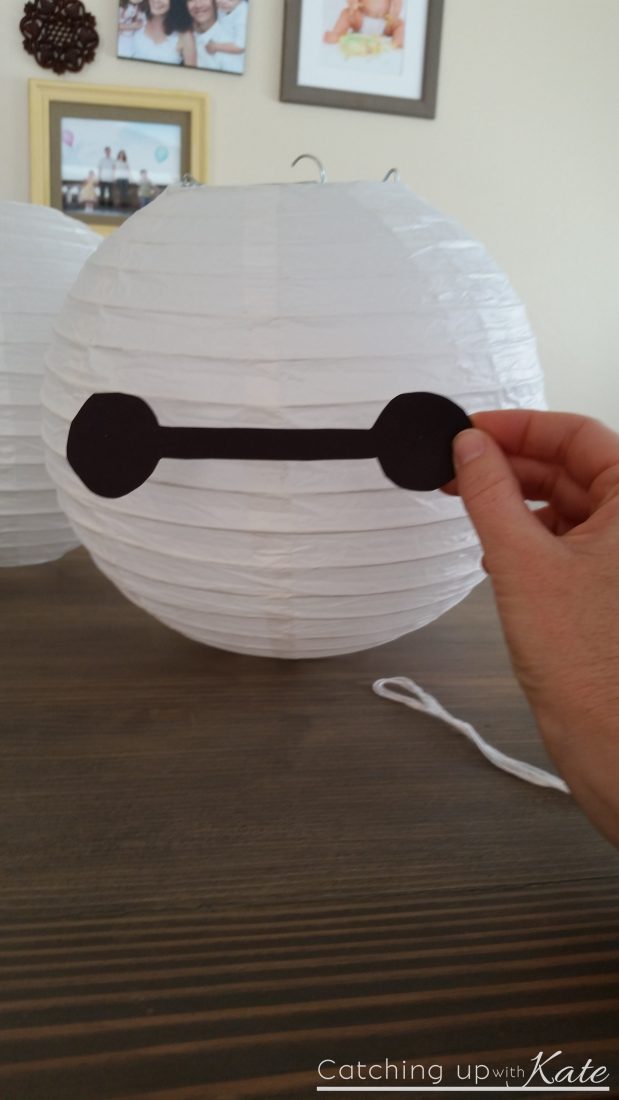 Baymax Hanging Lantern – when I first started planning our Big Hero 6 party I noticed that there were only a couple things licensed with Birthday Express (or anywhere!) so I went through and looked at Red, White, and Black decor items.  I thought I was being pretty clever until I saw this exact craft show up in my Pinterest feed only a couple days after I ordered the lanterns – I decided to search it and apparently a lot of folks had the same idea – oh well!  So I may not be super original, but this is REALLY easy and inexpensive!
Start with a three pack of white hanging lanterns (linked above) and simply cut out the signature Baymax Eyes in black construction paper and tape on – easy peasy! *note – her brother also made her a sweet Baymax inspired LEGO creation in this set up!*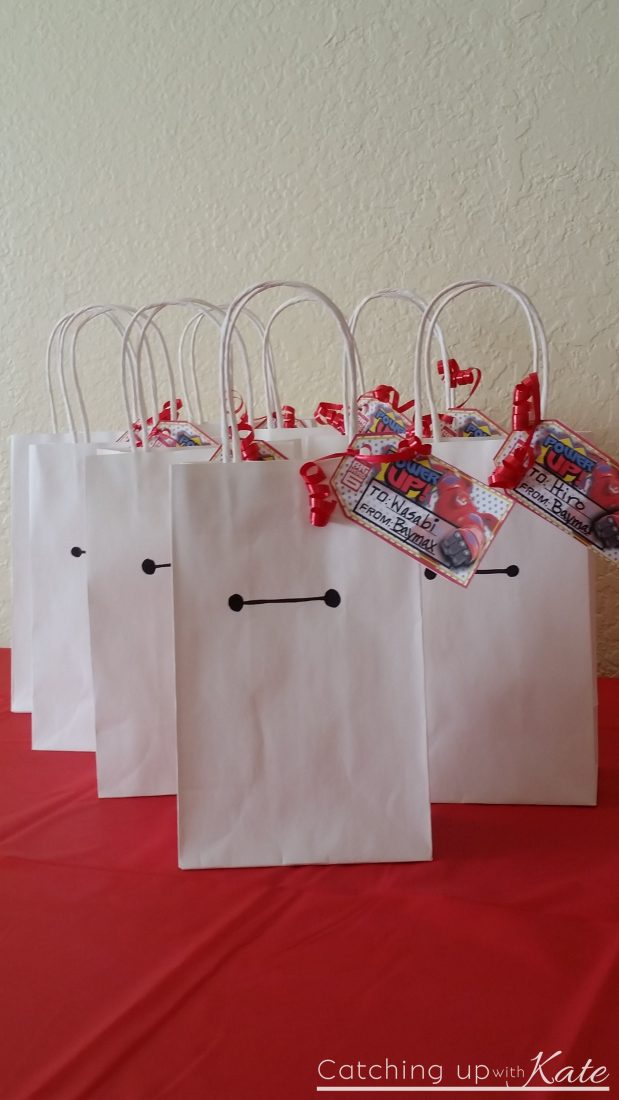 Baymax Goody Bags – These Baymax Goody bags doubled as extra party decor.  We ordered budget friendly plain white goody bags from Birthday Express which we drew a signature Baymax face on (I seriously cannot get enough of that design!) and used the free printable tags to address our friends. These work out to about 70 cents a piece and they are SO cute!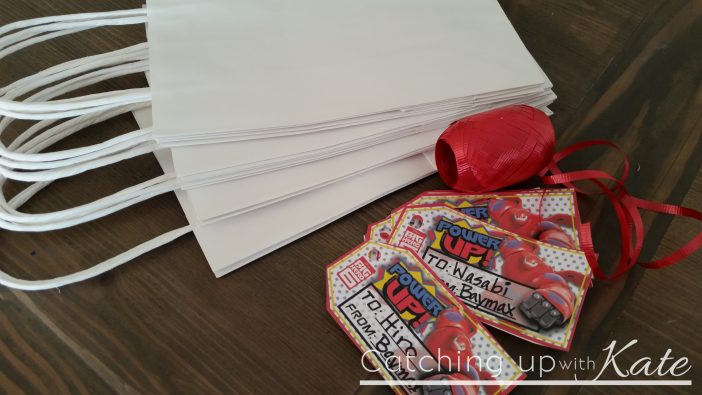 Yes, you gotta draw Baymax on them to make them appropriate – but seriously you cannot get any easier!  It took me only a couple minutes to turn them from basic white bags into Baymax Goody Bags.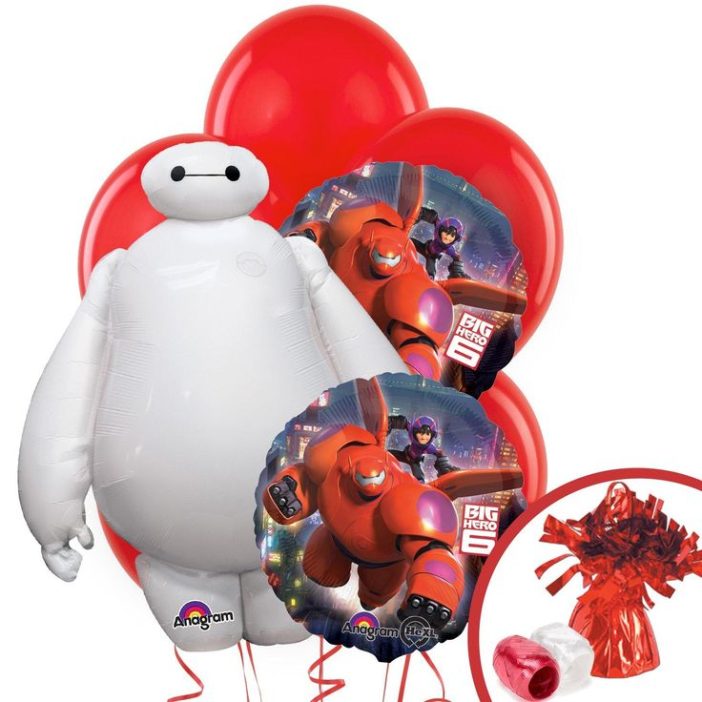 Image Source *Birthday Express*
Big Hero 6 Balloon Bouquet – this is a must have!  Included is a HUGE Baymax Balloon (my little one squealed 'I have a Baymax balloon like Disneyland now!') as well as two foil circle Hiro and Baymax balloons, and three basic red balloons.  At right around $12 it is less expensive than just one of those big Baymax Balloons at Disneyland and the kids were SO excited!  *Please note they will not come inflated – any local party store can help you with that.
Table Settings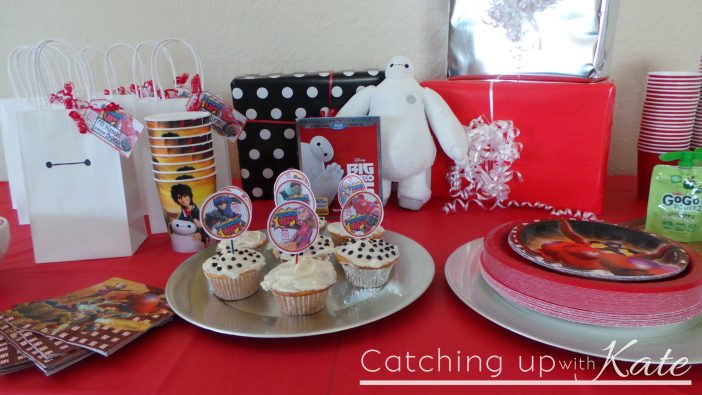 Big Hero 6 plates, napkins, and cups – all from Birthday Express – you can purchase items a la carte or they have packs that make it easy to order and even more budget friendly!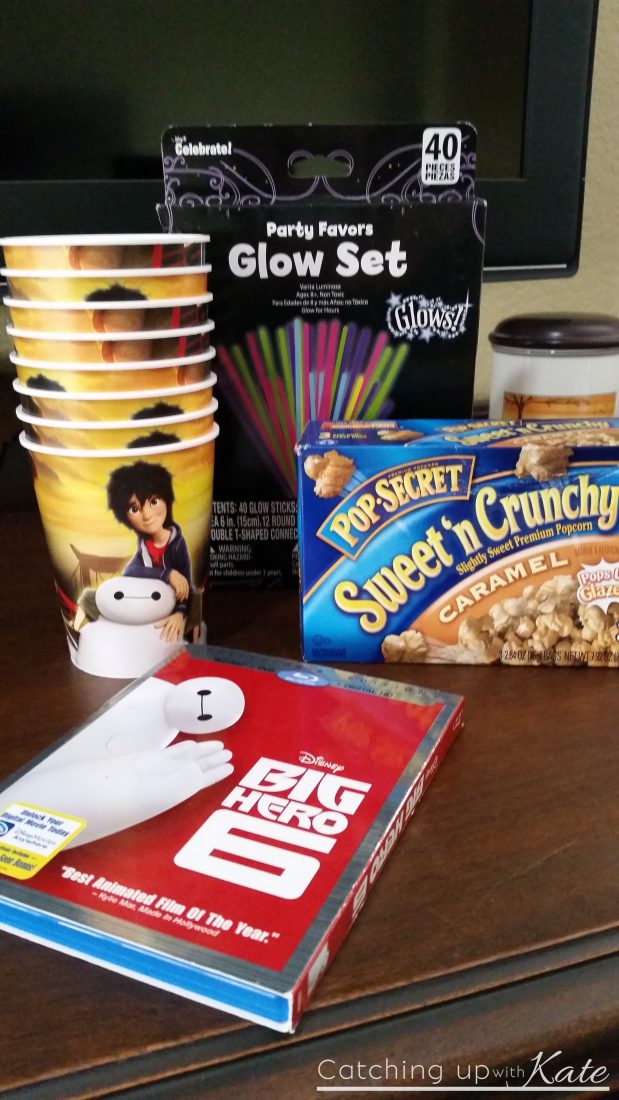 Big Hero 6 reusable cups – these are cool!  We hand wash them and still use them!  They were great little popcorn cups!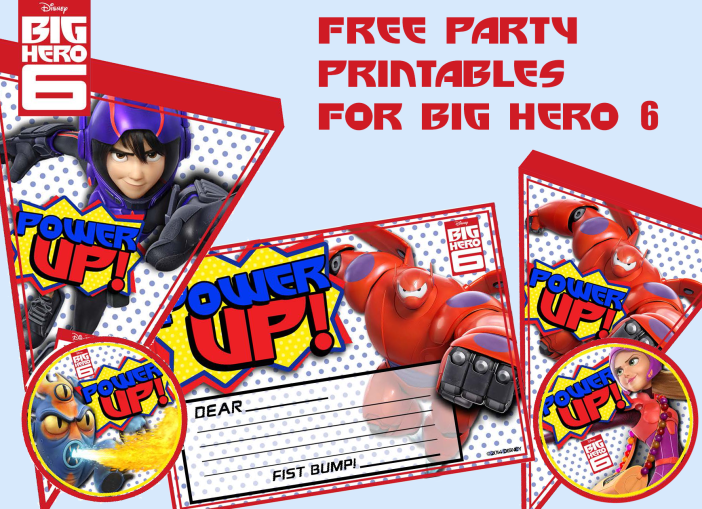 We used some fun FREE Big Hero 6 birthday party printables to make a banner, some food tents, and more to really complete the look!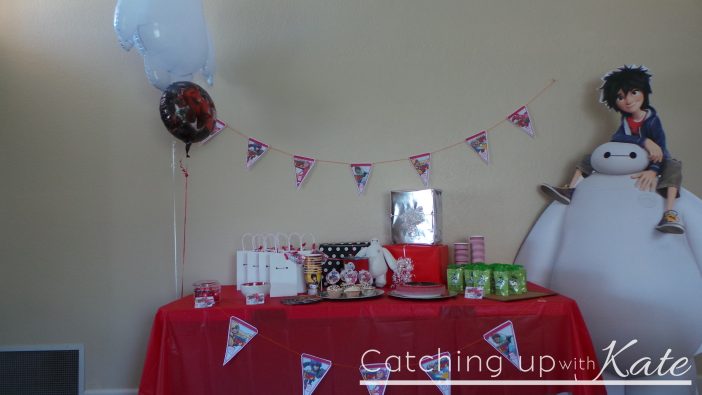 So now that you have your Big Hero 6 Party decor and your table set – how about some Big Hero 6 party food?  Keep scrolling – it is so cute!

Big Hero 6 Party Food!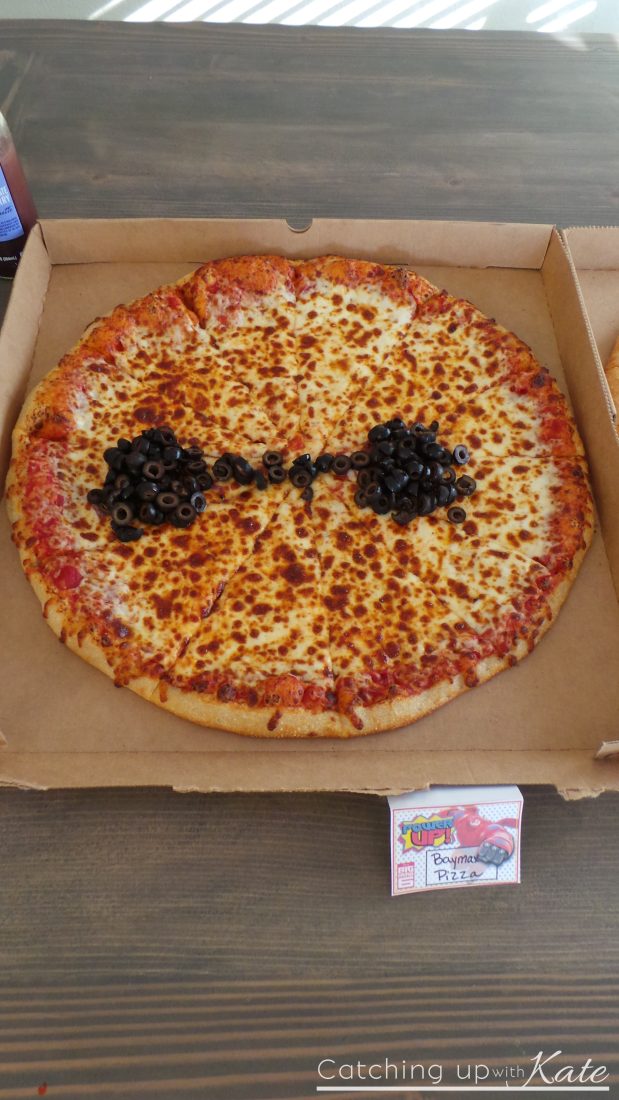 Baymax Pizza (AKA Big giant Costco cheese pizza that we put olives on in baymax form)
Honey Lemon – ade – Just Lemonade with a catchy name (I didn't even get a picture, you get the idea on that one right? 😉 )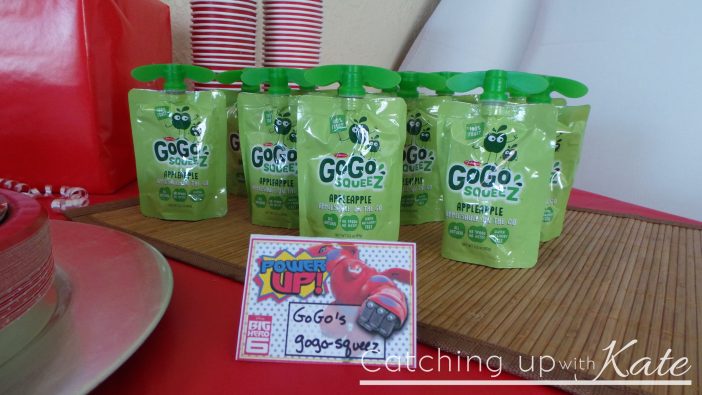 GoGo's GoGo Squeezes – I love it when a theme works out so that we can sneak something healthy into an otherwise not exactly healthy birthday party spread!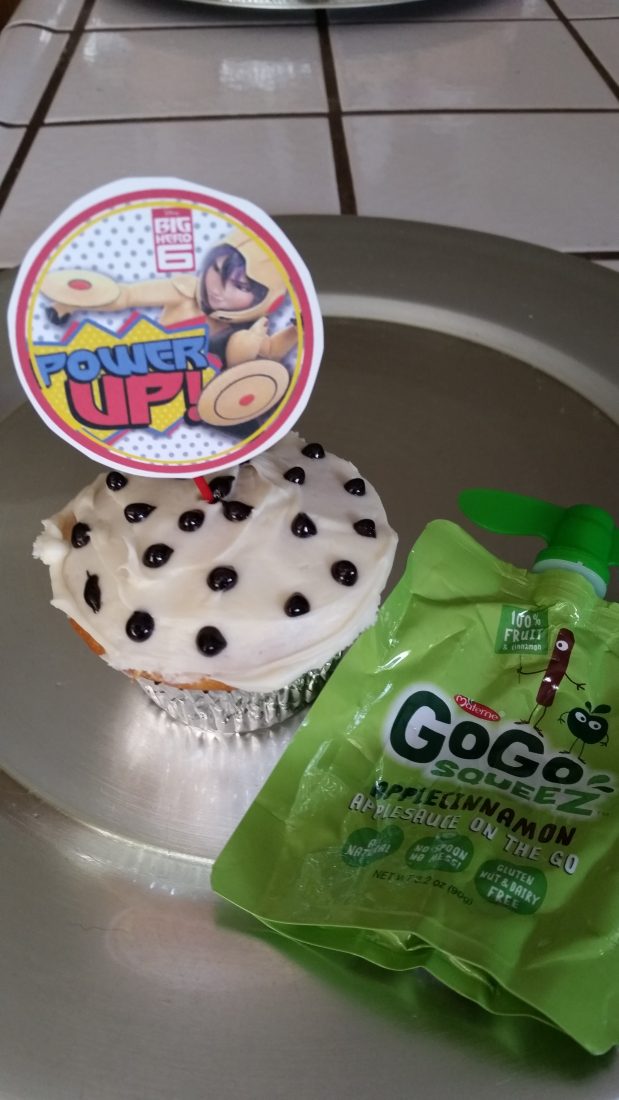 PS – I also used one GoGo Squeez in the cupcake mix instead of oil – the kiddies had no idea!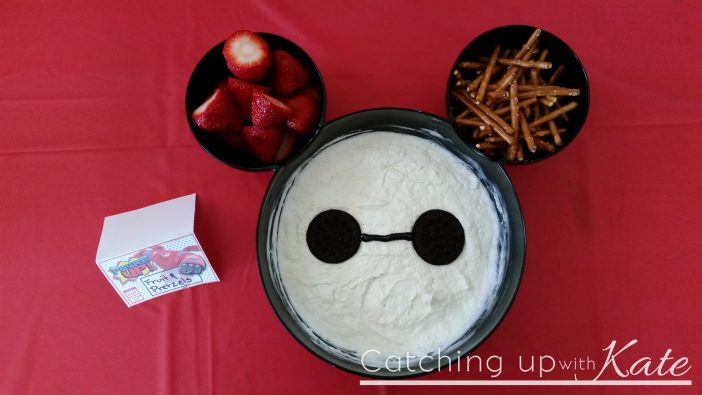 Baymax fruit & whipped topping – So easy!  My neighbor makes this for special occasions and it is always a hit.  I did my best to replicate it and of course it had to look like Baymax!  To modify to look like Baymax we just put two Oreo cookies in the middle and drew a straight line between the two with black icing – voila!  What is the dip you ask?  One jar of Marshmallow dip and one container of WHIPPED cream cheese – blend together.  So easy and always a treat for kids (OK, and grown ups).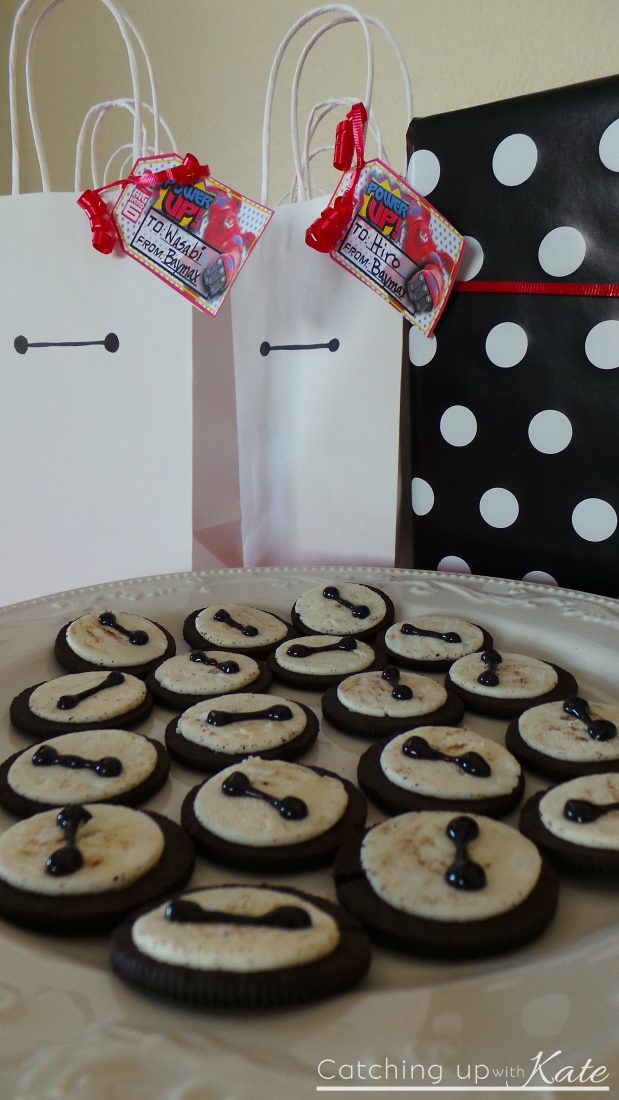 Baymax Cookies – this is an open face Oreo cookie – just one side and draw the signature "Two dots & a line" Baymax face – so easy and they were really popular!
Honey Lemon's Chem Balls – AKA Large gumballs in girly colors.  We also ordered these from Birthday Express.  We ordered Red and Pink but they have a variety of colors.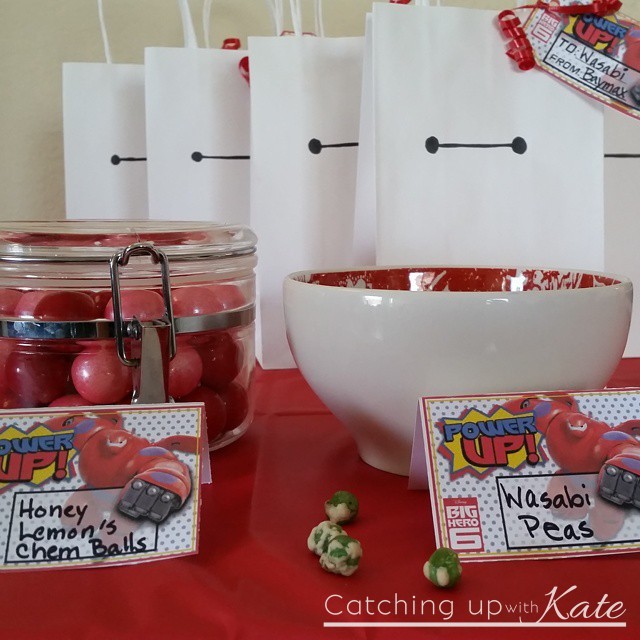 Wasabi Peas Trail Mix  – this is a slumber party and I am sure there is gonna be some dare game going on at some point during the night.  My kids are not into spicy anything but I thought this would be a fun addition.  One little girl liked them but the others were not fans.  That's OK, it went with the theme!
Keep reading for Big Hero 6 party DIY Crafts we made with our guest….
Big Hero 6 party Crafts with our friends
Make your own Baymax Mugs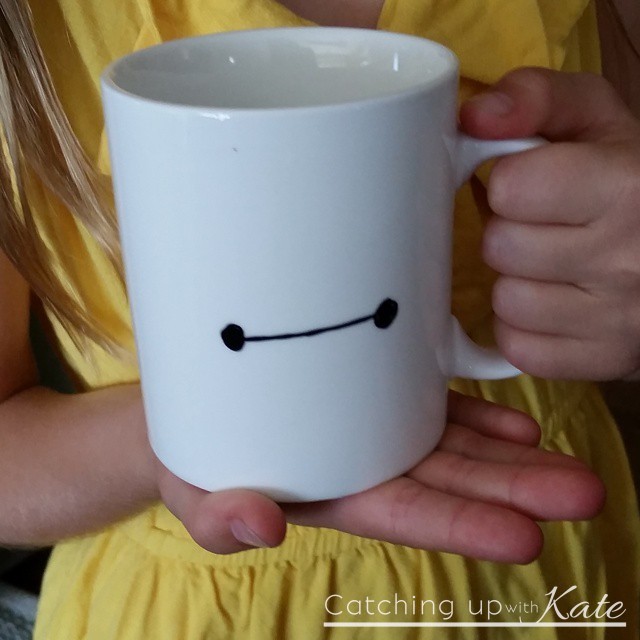 Every kiddo got to make one!  They took minutes to make and I baked them so they are now permanent.  This was inexpensive and something that I hope will actually be used (rather than just little throw away plastic stuff).  The girls used their mugs for hot cocoa with their breakfast the next morning and we packaged them all up as their party favor. Here is where you can get all the step by step instructions for your own DIY Baymax Mug.
On one side we pre wrote "Hello, I am __________, your personal beverage companion." and each girl wrote their own name & 'mug'.  It was a bit hard to write around the mug for their little hands so I thought writing most of the saying and letting them personalize was easier and made the project more fun.  On the front they drew their version of Baymax…. or in one girl's case, a cat.
Here are a couple more of our friend's creations…..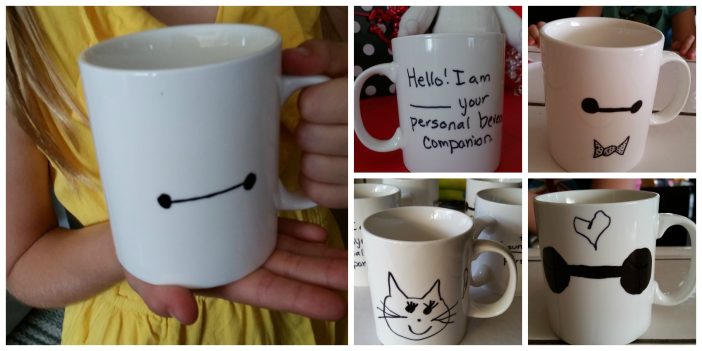 Our second craft I shared about  a couple days ago – our SUPER easy DIY Baymax Hat! <— click here for the so easy I can't even handle it instructions!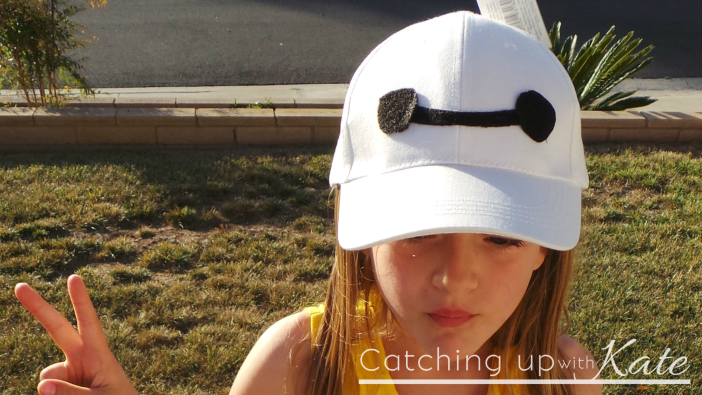 So there you have it, tons of fun ideas for your Big Hero 6 Birthday Party!  Have you had a Big Hero 6 Birthday Party that you blogged about?  I'd love to hear more Big Hero 6 Party Ideas. Link it in the comment section!