Bluey Halloween Coloring Page
Disclosure: Highlights Along the Way is a participant in the Amazon Services LLC Associates Program, an affiliate advertising program designed to provide a means for sites to earn advertising fees by advertising and linking to amazon.com. This site uses affiliate links.
Bluey and Bingo are ready to trick or treat! Please enjoy this instant download High-Resolution Bluey Halloween rcoloring page! We love Bluey and we love Halloween! Print out for your favorite Preschooler who loves Bluey, Bingo, and trick or treating!
Everyone's favorite blue baby is excited about trick or treating with his little sister. Here is little Bluey holding up his very own trick or treat pumpkin basket that he is sure to fill up with candy. Bluey's little sister, Bingo is dressed and ready in a pumpkin costume. Click and print this line art drawing of Bluey to celebrate Halloween in a not so spooky way.
Halloween is quite fun to celebrate, but do not miss our FREE Bluey Easter Coloring Page as well. All our fan art Bluey coloring pages are free to click and instantly download. Enjoy our growing library of Bluey holiday activity sheets for home and school use. We hope that teachers and fans of Bluey will share our Bluey Halloween free coloring sheets with others who many also love Bluey. We have thousands of coloring sheets (licensed and fan art) free to use for personal use on our site. Please take a look and help us grow!
Bluey Halloween Coloring Page – Instant Download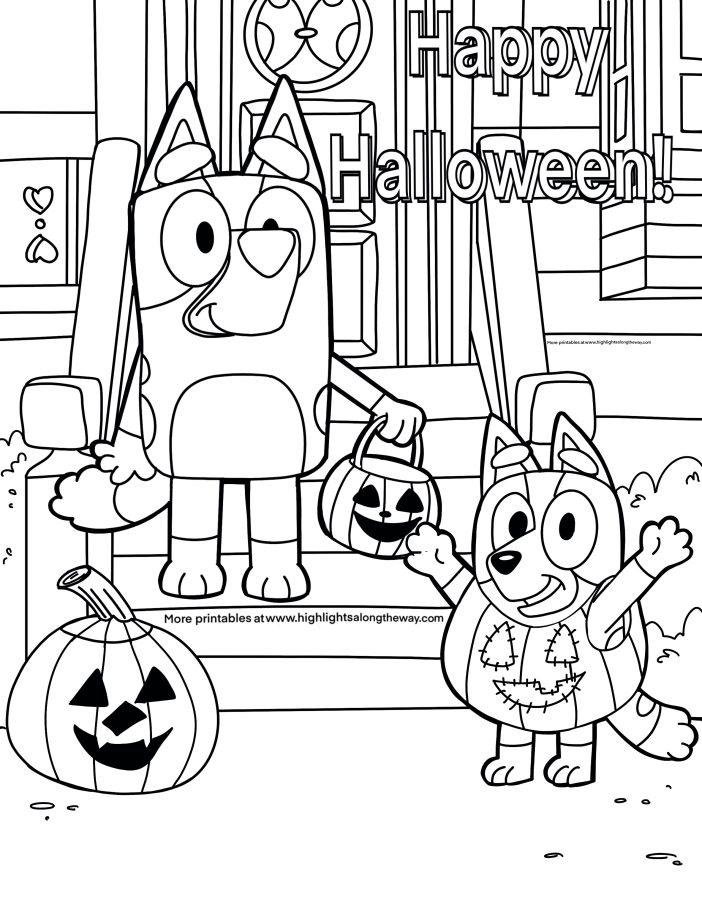 Who is Bluey?
Bluey is an animated series from Australia! Preschoolers can now watch Bluey on Disney Channel and Disney+. Bluey is a show that follows main character "Bluey", an anthropomorphic six year old Blue Heeler puppy through life. Bluey is often accompanied by his adorable baby sister "Bingo" on adventures. Bluey and his family teach audiences while going on imaginative adventures.
Bluey has won many awards and is well loved for how it teaches empathy and compassion to its young audience.
If you enjoy this free educational printable coloring sheet celebrating Black History MOnth, make sure to check out our educational printable section featuring California Missions, and so many more! We also have 'just for fun' coloring sheets featuring Gabby's Dollhouse Coloring Sheets , We Can Be Heroes Coloring Sheets, Sharkboy and Lavagirl Coloring Sheets, American Girl Doll Coloring Sheets , Olaf Coloring Sheets, Coco Coloring Sheets , Trolls Coloring Sheets and so many more on our site!
Teachers are welcome to share a direct link to this webpage to their students. Pretty please do not just copy and share.
We have also added a few paid printable coloring sheets in our Etsy shop to offset the price of keeping our site up and running. Once downloaded you can print as many as you would like. Use for an entire class and year after year.
MORE FREE COLORING SHEETS BELOW!
FREE Nature Themed Printables from WWF – click and print for FREE!
FREE Melissa & Doug Printables – print from home to learn and enjoy!