Kentanji Brown Jackson Coloring Page – Activity Sheet
Below is a downloadable educational coloring sheet featuring Justice Ketanji Brown Jackson. Justice Jackson has made history being the first black woman to be nominated for the Supreme Court. Justice Jackson is now the official first woman to serve on the Supreme Court. Click and print this instant download activity sheet for kids to color while learning about our justice system.
Justice Ketanji Brown Jackson is an excellent choice for lessons on Black History Month, Women's History Month, and learning about the American Judicial Branch. Click and print free coloring pages to use at home or school. Thank you for sharing our free educational activity sheets library with your friends who teach elementary, preschool, and homeschool.
Who is Ketanji Brown Jackson?
Ketanji Brown Jackson is an American attorney and jurist serving as a federal judge on the United States Court of Appeals for the District of Columbia Circuit since 2021. On February 25, 2022, President Joe Biden nominated Judge Ketanji Brown Jackson to become the 116th Associate Justice of the United States Supreme Court.
Judge Ketanji Brown Jackson was born in Washington, DC and grew up in Miami, Florida. Her parents attended segregated primary schools, then attended historically black colleges and universities. Both started their careers as public school teachers and became leaders and administrators in the Miami-Dade Public School System.
Judge Jackson stood out as a high achiever throughout her childhood. She was a speech and debate star who was elected "mayor" of Palmetto Junior High and student body president of Miami Palmetto Senior High School. But like many Black women, Judge Jackson still faced naysayers. When Judge Jackson told her high school guidance counselor she wanted to attend Harvard, the guidance counselor warned that Judge Jackson should not set her "sights so high."
That did not stop Judge Ketanji Brown Jackson. She graduated magna cum laude from Harvard University, then attended Harvard Law School, where she graduated cum laude and was an editor of the Harvard Law Review.
Judge Jackson lives with her husband, Patrick, and their two daughters, in Washington, DC.
Justice Ketanji Brown Jackson Coloring Page – FREE instant Download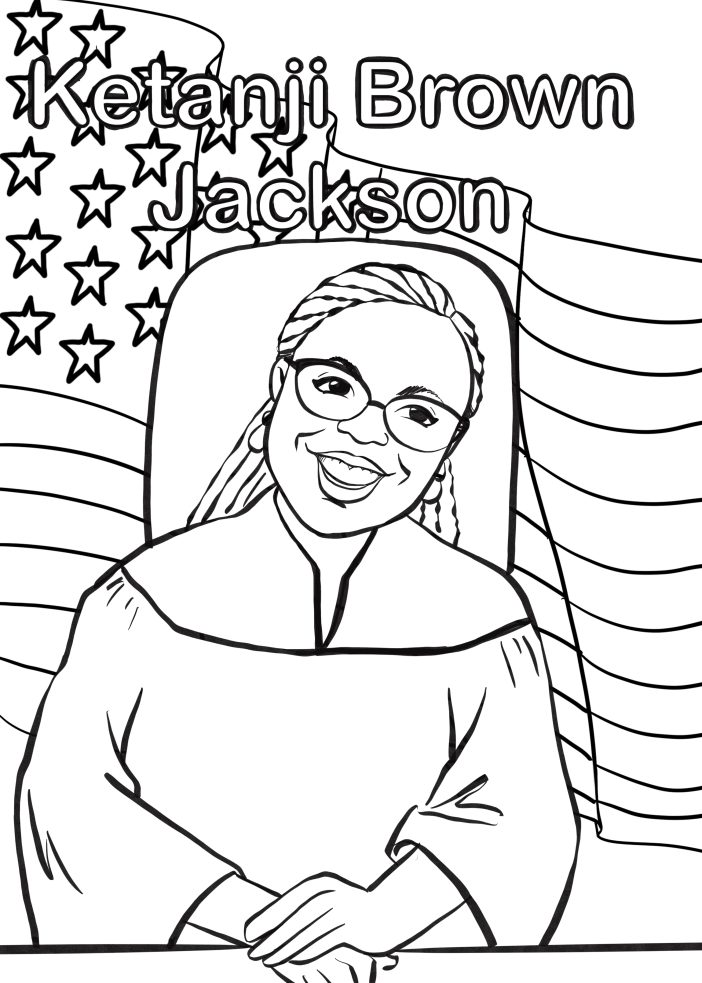 We do offer our coloring pages on Etsy as well, but please feel free to download for FREE simply for coming to our little site directly. We will be offering more free coloring pages here on Highlights Along the Way as a gift to educators for supporting our small business. Etsy and TPT are a great resource for teachers, but they continue to take higher fees for my work. While I may leave some items there, I will continue to load our library here with free items, please share this free resource with your friends who work in education!
In this blog we also have several other coloring sheets featuring prominent figures in our society. Please check out our collection of Black History Month Coloring Pages, President's Day coloring pages, and Women's History Month coloring pages.
Teachers are welcome to click and print as many as they would like. Once downloaded I hope you will print them out year after year; but I do ask that you do not share the downloaded item without the watermark. I try to keep the prices very low; but these educational coloring sheets are helping supplement my back to school journey too. I appreciate every sale!
If you enjoy this free educational printable coloring sheet celebrating Women's History Month, make sure to check out our educational printable section featuring California Missions, and so many more! We also have 'just for fun' coloring sheets featuring Gabby's Dollhouse Coloring Sheets , We Can Be Heroes Coloring Sheets, Sharkboy and Lavagirl Coloring Sheets, American Girl Doll Coloring Sheets , Olaf Coloring Sheets, Coco Coloring Sheets , Trolls Coloring Sheets and so many more on our site!